Upper Thames Brewing Company: great beer and love for the community
This craft brewery takes local love to a whole new level.
Rediscover Craft Beer and Community Vibes at Upper Thames Brewing Company
Belly up at the bar, grab a chair at the tables or pick a spot on the patio. No matter where you decide to settle down at Upper Thames Brewing Company (UTBC), you'll feel right at home. Woodstock's first brewery, Upper Thames Brewing Company is based around high-quality ingredients, local partnership and of course, amazing craft beer.
Started by four volunteer firefighters back 2015, UTBC was created with growth in mind. That's why they've been able to house a sizable taproom, canning line, brewing equipment and bottling production all in their original building.
Becoming a community hub of sorts, their journey has been nothing short of pretty darn cool (if we do say so ourselves). Want to skip ahead? No problem. Read about:
The Beer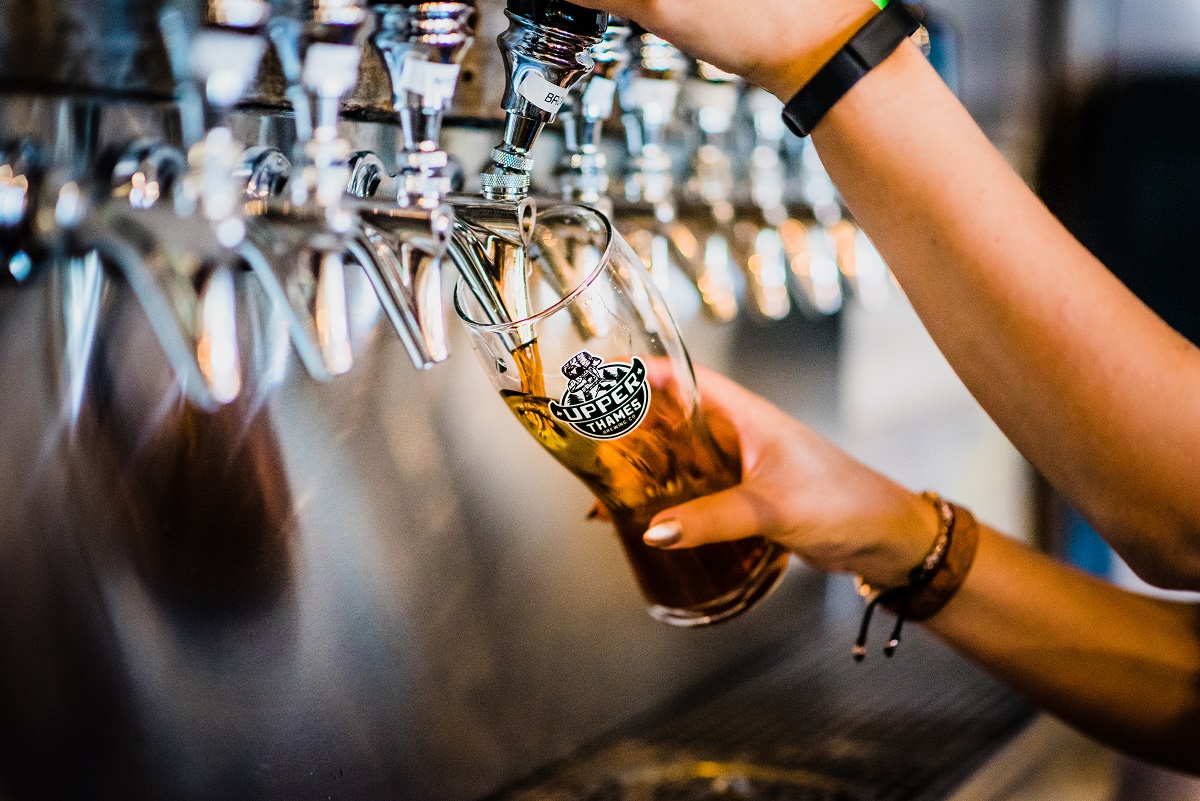 Of course, you can't talk about a craft brewery without talking about the beer, so let's start there. Brewmasters Drake Merritt and Nigel Inglis brew small-batch beers with fresh local ingredients.
That includes hops from Tavistock Hop Company and VQH Hops (both located in Southern Ontario), Barn Owl Malt from Belleville, and BSG out of Guelph among many other local ingredients in individual brews like local chocolate, coffee, fruit and more!
The brewery has seven flagship beers plus their non-alcoholic root beer that are always on deck. Those flagships include staples like their Lazy Fox Amber Ale and their Portage IPA to their Welcome to the Dark Side Chocolate Stout that uses cacao nibs from a local chocolatier to bring a burst of flavour forward.
Want to try something really special? The Dead Reckoning OPA (that's Ontario Pale Ale) uses exclusively Ontario ingredients including a blend of locally-sourced hops, rich malt and more. It's pretty neat!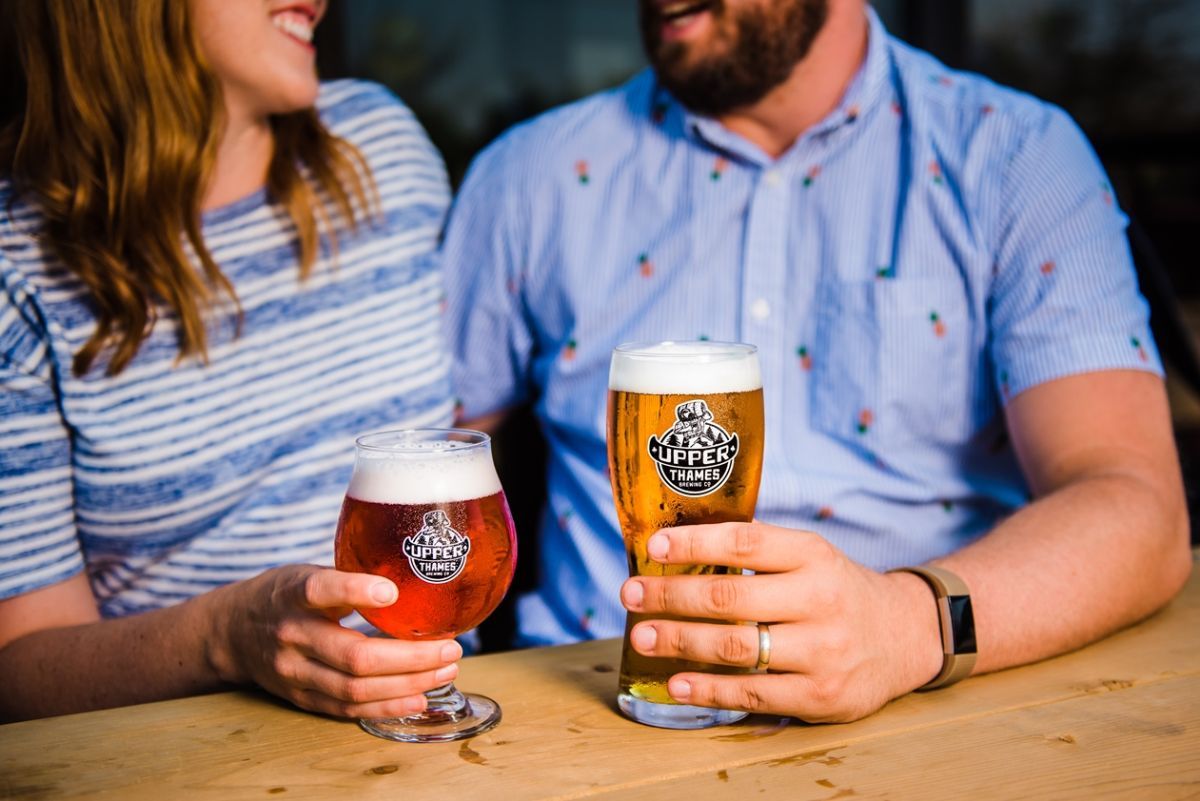 Because the brewery has eighteen taps in total, there's also room for some experimentation. With a rotating selection of special releases, Upper Thames Brewing Company has something new to try every month (or more)!
Past favourites have included their Making Waves Fruited Kettle Sour, the Dusk to Dawn White Stout and the Trailbreak Tangerine Milkshake IPA among many, many others. It definitely gives you a reason to come back again and again!
Want to get your hands on some? You can get beer from UTBC at the brewery itself, at their sister location Brickhouse Brewpub or by ordering online for delivery. You can also find several of their flagship beers at the LCBO.
Brewery Vibes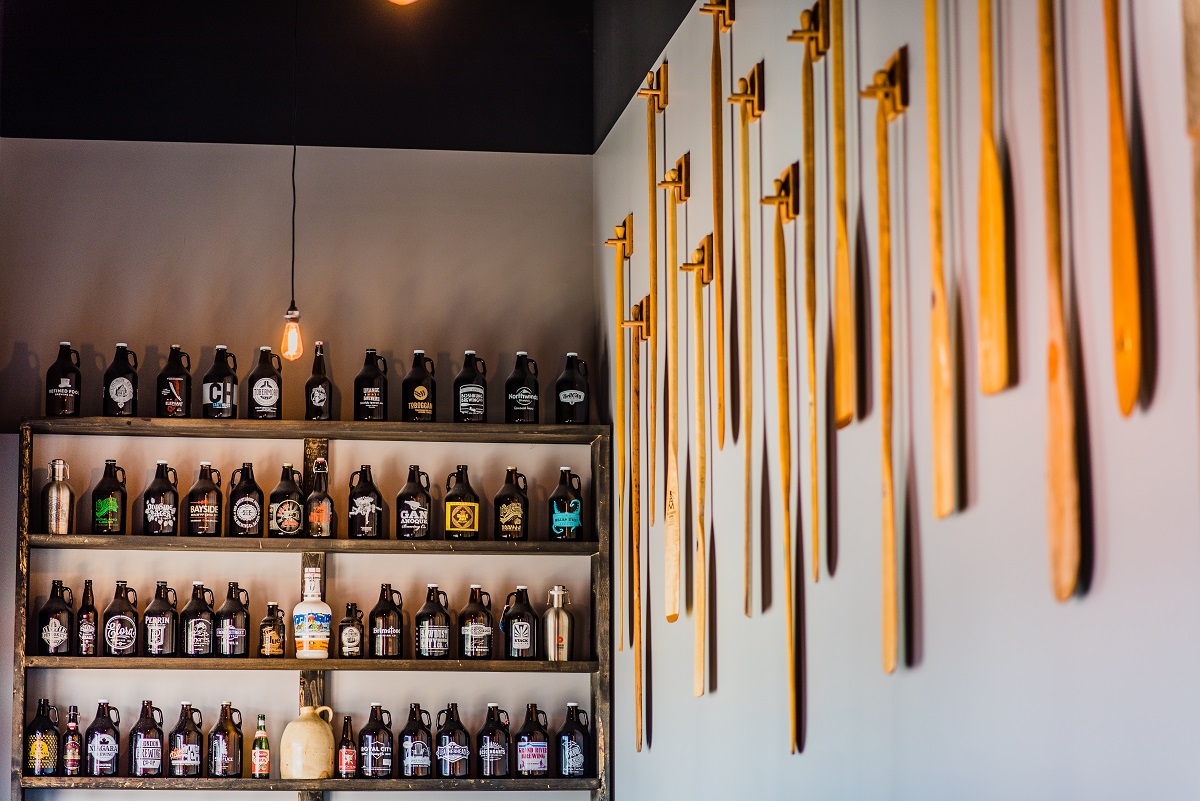 The brewery itself is inspired by the founders' love for the great outdoors and, as the name suggests, The Thames River, which flows right through Woodstock!
With a sizable taproom, the décor is woodsy and open. There are two canoes hanging from the ceiling, and beautiful slabs of live edge lumber at the bar, as the tabletops and in the bottle shop.
Rough wood canoe paddles, a large mural of their lumberjack logo and a sizable fireplace give the brewery that extra coziness. Another feature of the brewery is a large growler wall filled with growlers from all over Ontario that the owners have visited. Check it out and see how many you have visited!
Events and Experiences
One of the coolest things about Upper Thames Brewing Company is what a community hub they've become. With something different to do most nights of the week, there's something for everyone to enjoy whether you're a beer drinker or not.
Athletes love UTBC's run club and yoga classes in the brewery. Music fans cozy up on Sunday afternoons for live music from local talent. Trivia fans geek out over what is possibly the best trivia nights around hosted by Wes Mitchell from Prime Barbershop in downtown Woodstock.
Then of course there are brewery classics like BINGO, Food Truck Fridays and comedy nights.
Ready to visit? Common out, have a pint and kick back! Whether you're there for the beer, the atmosphere or to have a good time with friends, you're sure to enjoy it.
When is pizza coming to Upper Thames Brewing Company?
Pizza is available every Friday (3-9 pm) and Saturday (2-7 pm) with expanded hours soon to follow!
What is your most popular beer?
Backpaddle Blonde (our very first style brewed!). Followed closely by Take A Hike Dry Hopped Pale Ale and Logger Lager.
What are those cool mugs on the wall at the brewery?
Ahhhh...our Voyageur membership. Lots of benefits and swag along with a super cool mug of your own to hang on the wall at UTBC. Interested? Talk to a staff member for details!
What is your capacity for rentals?
Our rentals are very reasonable at $495 any night after 7:30 pm and the capacity is 100 inside and 30 outside.