The Oxford Hills
The Oxford Hills is a hidden gem filled with rich greenery and a state-of-the-art clubhouse that offers a variety of different amenities like their comfortable carts, well-maintained course and much more.
Tucked in the North East corner of Mount Elgin, The Oxford Hills has 18 holes that are each unique in their own way.
Ready to go? Book your round now.
Experience The Oxford Hills
If you're looking for a course that offers elevation change, scenic ponds and water fountains that are in play all while being easy to navigate then the Oxford Hills is the place for you.
Course Difficulty and Core Info
This is a golf course that is perfect for groups who have a wide range in golfing abilities. The Oxford Hills offers a diverse selection of difficulties off the tee with the blue tees playing at 5653 yards per 18 holes and the yellow tees playing at 4399 yards per 18 holes.
Price
The pricing is low to medium depending on what time of the day you go. Check out the prices on their website.
Dress Code
Regular golf attire is a requirement. This excludes:
Denim Garments
Cut-off Shorts
Sweat Pants
T-shirts
Please note, the Oxford Hills is a soft spike facility.
Inclement Weather
If, due to inclement weather, you do not complete the first seven holes, you will receive a full 18-hole rain check.
If you complete between 7 and 13 holes, a nine-hole rain check will be issued. Once golfers have teed off on the 14th hole, no rain checks will be issued.
Location
This course is located in Mount Elgin very close to centres like Woodstock, Ingersoll, Tillsonburg and London. It is only a few minutes off the 401 making it easily accessible no matter where you are coming from.
London: 36 minutes and 49km
Kitchener: 54 minutes and 80.4km
Toronto: 1hr 45 minutes and 164km
Kalos: Restaurant at the Oxford Hills
Kalos, the restaurant at The Oxford Hills, offers a wide variety of food options ranging from small to large portions including a wood-fired pizza oven, craft cocktails and a wide range of rotating specials.
Reservations can be made by booking online or calling them directly.
Also note, during your round, consider stopping into Theo's, the on-site halfway-hut for a drink!
Other Things to Note
This venue is also available for weddings, banquets, corporate events and more.
Enjoy your round
We hope you enjoy this course as much as we do, and enjoy your Oxford County golf experience.
Contact Information
324183 Mt. Elgin Rd., Mount Elgin, ON N0J 1N0
Trip Ideas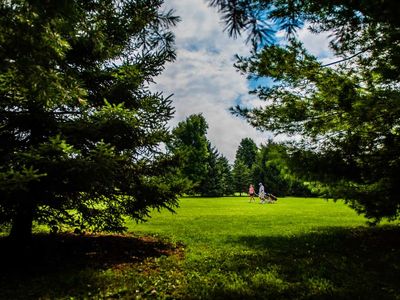 The grass is green, the beer is cold and an afternoon of golf awaits! As golf courses open up in Oxford,...