Goat Yoga
Pose a little, laugh a lot when you try Goat Yoga at Udderly Ridiculous Farm Life!
Goat Yoga at Udderly Ridiculous
Balance takes on a whole new meaning in this yoga class.
Relax, destress and let your hair down (actually keep your hair up since goats love to nibble and it's an extra charge for their goat hairdressing studio)!
Udderly Ridiculous's certified yoga teacher will guide you through a gentle 60 minutes class while the instructors in training (aka a delightful pack of Nigerian and Pygmy goats) do their best to distract you from your zen poses. Don't be surprised if one tries to give you advice on posture while standing on your back!
The class will enable relaxation and a little fun – nothing reduces stress like a downward goat pose! The class ends with refreshments and a treat for you and our goats to say thank you and be well.
Things to Note
Price: $45, ages 16+
Duration:75 minutes total which includes 15 minutes pre-class for goat snuggles and your actual class
If the minimum number of participants is not reached for the day and time you have booked, you may be asked to reschedule.
You may want to wear clothes that can get a little dirty.
Do the goats actually jump on your back?
Yes, some of our goats love to do this and so be prepared for that to happen.
What should I wear?
Wear comfortable clothing you don't mind getting goat hoof prints on. Also we do not recommend crop tops - as a goat may jump on your back and their hooves might scratch your exposed skin.
Will I have a chance to take pictures?
We know you want to get that special moment with our goats, if you miss it while deep in pose, our Yoga teacher can help you recreate it at the end of the class, and take pictures for you.
I don't have a yoga mat. Do you have any available?
I don't have a Yoga mat. Do you have any available? We do have some loaner mats that are sanitized after each use. Please make a note or call ahead to let us know you will require one. If you have an expensive mat you don't want to get dirty, we have some yoga mat covers you can use during the class that get washed after each use. Simply ask when you arrive.
Trip Ideas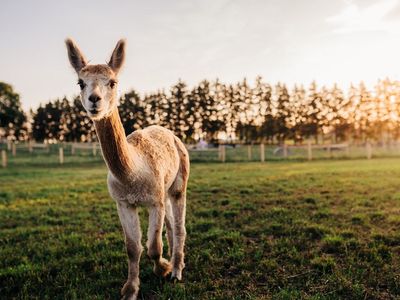 The time has never been better to explore Ontario's scenic back roads. Rather than a busy city or small...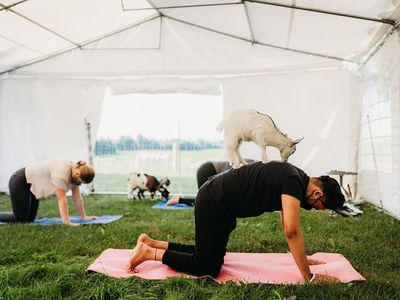 Explore new hidden gems as you discover the best Ontario experiences this summer in Oxford...