Ingersoll Golf Club
Welcome to Ingersoll Golf Club, an 18-hole golf course that is located in the middle of the city of Ingersoll. This course is lined with old trees and multiple levels of tee decks that makes for an amazing experience for all levels of golfers.
Ready to go?
Experience Ingersoll Golf Club
Course Difficulty and Core Info
Ingersoll Golf Club offers multiple tee decks ranging from 5237 yards at its shortest and 6408 yards at its longest. (Click here) for a full course overview from Hole 1 to hole 18.
Price
The price depends on when during the day and what day of the week you play. Check out the price list on their website.
Dress Code
Men
Golf shirts (collared)
Bermuda-style shorts
Slacks
Woman
Golf shirts or collared sleeveless shirt
Appropriate length shorts, skirts, skorts or dresses
Slacks
Location
Ingersoll Golf Club is quite close to London and Middlesex county centers. Ingersoll is right off of the 401 and is under an hour drive from Waterloo County and Brantford.
London: 32 minutes and 39km
Toronto: 2hr 4 minutes and 163km
Kitchener: 51 minutes and 73km
Brantford: 39 minutes and 58km
Restaurant
Ingersoll Golf Club has a restaurant that offers an all-day menu.
Contact Information
Club House: 519-485-3030 Pro Shop: 519-485-3030
51 Holcroft St. W., Ingersoll, ON N5C 3K1
Trip Ideas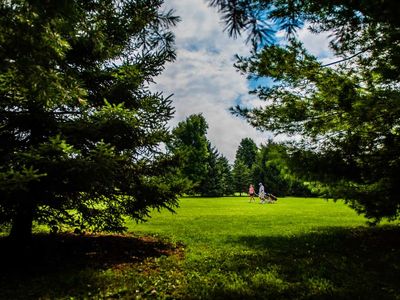 The grass is green, the beer is cold and an afternoon of golf awaits! As golf courses open up in Oxford,...