Goat Cuddles
As we head into the cold & wet weather, goats like to be curled up inside. Join the facilitator in the barn as you learn all about the unique skills and personalities of goats. You will get up close and personal with the Pygmy's, Nigerian Dwarf Goats and even Queen Elizabeth our Nigerian/Nubian Cross at Udderly Ridiculous Farm LIfe.
You'll enjoy lots of time for pictures, play, snuggles and hand-feeding the goats during your time. Don't forget to head to the marketplace store for treats for you and one last wave goodbye through the goat viewing window!
This spring, join Udderly Ridiculous in April to snuggle up with the babies.
Please Note: As this experience is in the barn we will require proof of vaccination and masks must be worn when physical distancing cannot be maintained.
What do we need to bring with us?
The experience is currently done indoors but we recommend wearing clothing you don't mind getting a bit dirty.
Can we bring our dog with us?
Please leave your pets at home as the animals are not used to dogs which creates anxiety and stress for them.
Are we allowed to take pictures?
Absolutely, we encourage you to bring your camera or cell phone to capture memories, we will also help you to capture moments during the experience if needed. We also love it when you share those on your social channels and tag @udderlyridiculousfarmlife!
Trip Ideas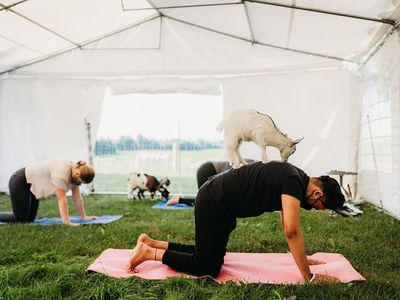 Explore new hidden gems as you discover the best Ontario experiences this summer in Oxford...