Gunn's Hill Artisan Cheese: pull over for award-winning local cheese
Discover Award-Winning Cheese at Gunn's Hill Artisan Cheese
Tucked into the rolling hills of Oxford County, Gunn's Hill Artisan Cheese specializes in crafting Swiss-inspired wheels of cheese. To paint a picture, visitors wind their way down a gravel road and up to a cheerful green door to the cheese shop.
Out the side of the building, you can see the cheese plant and a few hardworking employees through the windows.
Want to know more? Keep reading or skip ahead: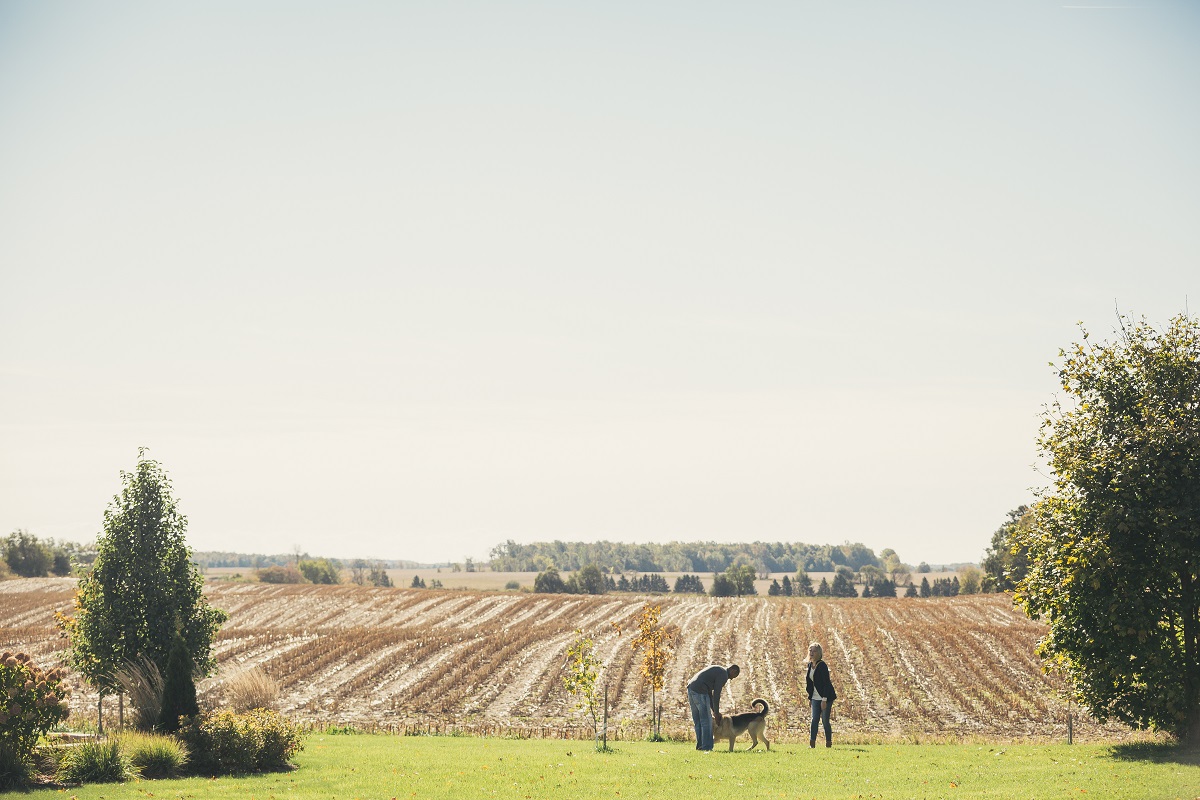 Upon entering you'll be met warmly with a cheesy aroma. A viewing window out the back of the shop allows you to see the cheesemaker working away and shelves of local products line the walls.
To your left is the piece de resistance- a cheese counter full of award-winning cheese made on site. Ask the person behind the counter any questions you might have about the cheese, sample a few and of course, bring some home with you to enjoy!
Also in-house, you can pick up local chocolates, charcuterie from a neighbouring farm, preserves made in the area and even handcrafted cheese boards made by a local woodworker.
The Cheese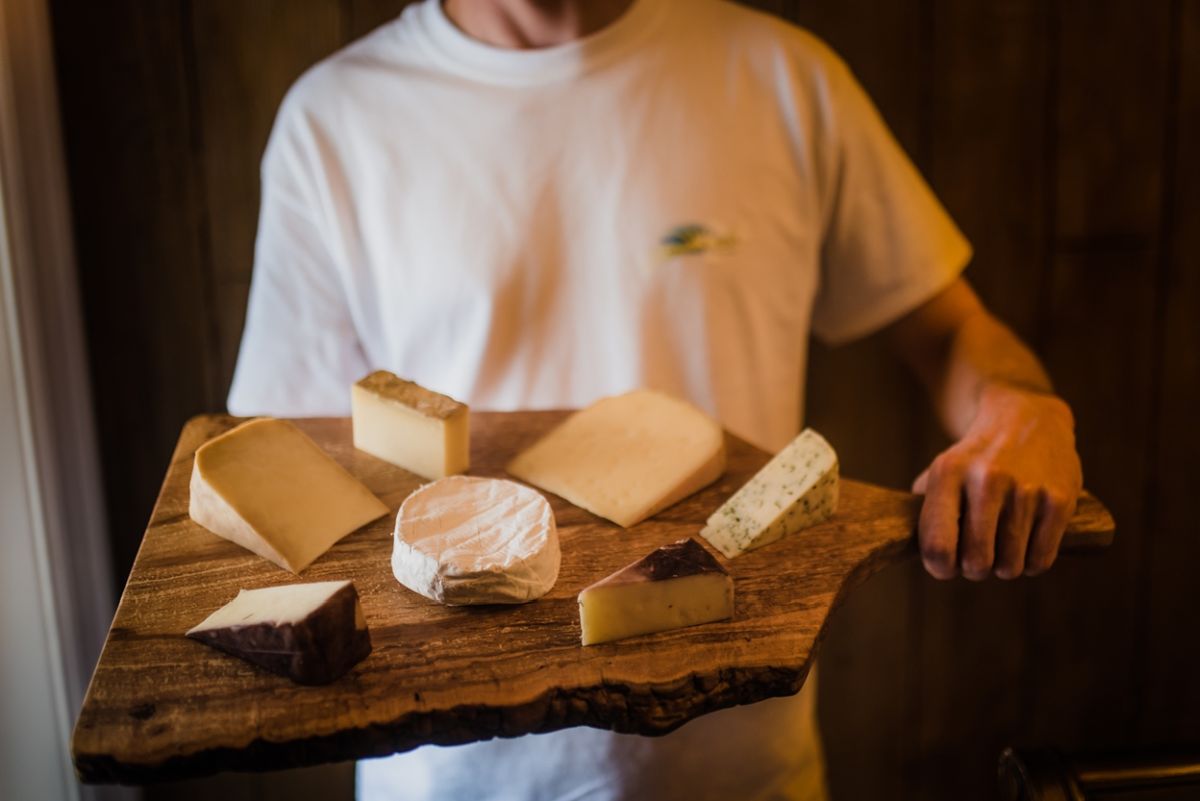 Opened in 2011 by Shep Ysselstein and Colleen Bator, the folks at Gunn's Hill Artisan Cheese make wheels of cheese from recipes that the cheesemaker, Shep, learned while studying to be a cheesemaker in the Swiss Alps and New York State.
Like every respected cheesemaker, Shep knows that good cheese starts with good milk and so Gunn's Hill sources their milk from the family dairy farm just down the road.
Crafting an array of aromatic and delicious cheeses, it's almost impossible to name them all but four core cheeses come to mind. Among the superstar lineup is their signature Handeck cheese, a washed-rind firm cheese with nutty undertones, their 5 Brothers Cheese named for the cheesemaker and his siblings the delightful Brigid's Brie, a creamy mild brie named after Colleen's mom and Oxford's Harvest, a mild and creamy cheese with buttery flavours.
They have cheeses soaked in local beers and wines, cheeses made with delicious herbs like garlic and chives and a major favourite: hot, squeaky curds that come out fresh every Friday afternoon.
During the holiday season, they also release two specialty cheeses, extra-aged versions of their Handeck and 5 Brothers. Feeling hungry? Browse the full array online.
Winning a number of accolades over the years including two Grand Prix and two first-place prizes at the Royal Agricultural Winter Fair, Gunn's Hill Artisan Cheese is known for its attention to quality and for its expertise in the aging process. When you try their cheese, you'll realize it's no wonder why they won in the first place.
Today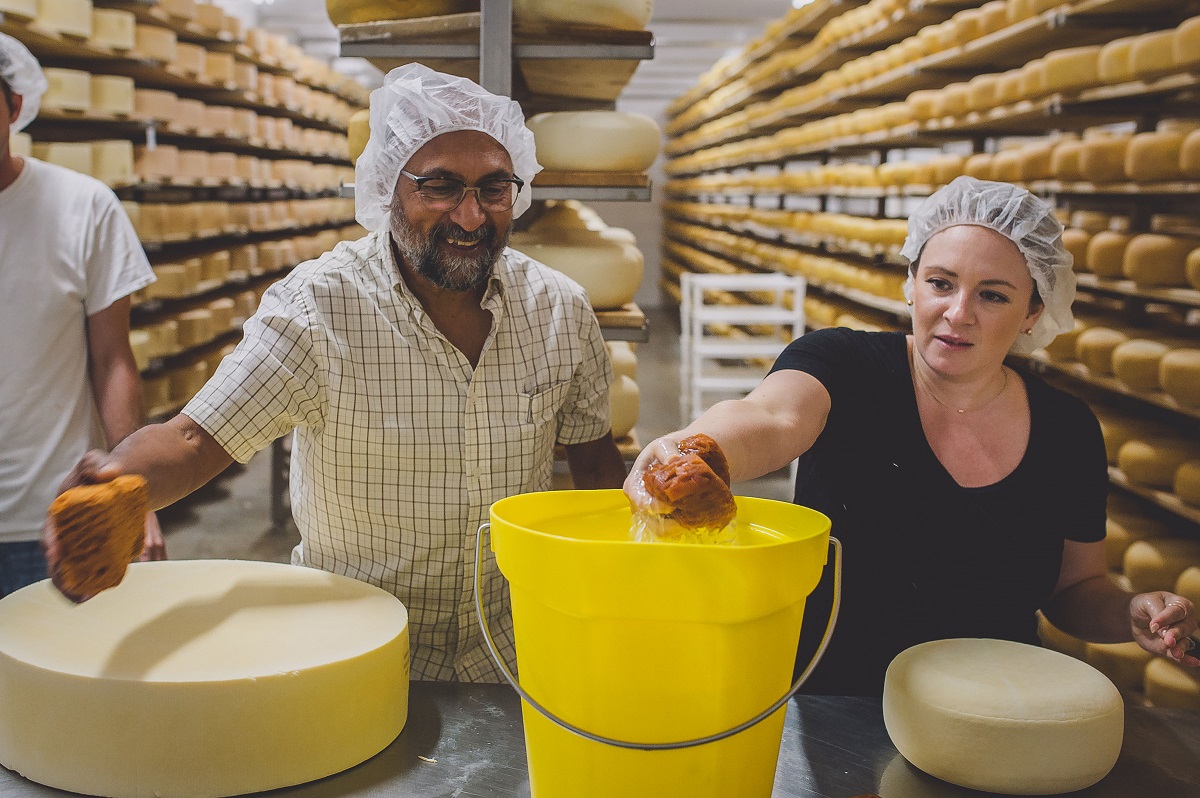 After years of growing the business, Shep and Colleen have done an excellent job making their cheese available across the province. With over 300 locations to find their cheeses in Ontario, the love for Gunn's Hill Artisan Cheese is growing.
In 2014, Shep was awarded $100,000 and the title of Canada's Best Young Entrepreneur from a pool of hundreds of applicants across the country. This award allowed them to expand their large aging room by 6000 square feet and expand the business significantly.
Today, a visit to Gunn's Hill Artisan Cheese can include more than just sampling and purchasing! While tours and experiences are currently paused due to COVID-19, regularly, visitors have the chance to book a more exclusive look behind the scenes through a tour or the brand new Affinage 101 Experience.
A tour includes a walk through the cheese-making process as well as the aging room and learning about what sets Gunn's Hill apart.
Affinage 101 takes things a little further. Focusing exclusively on the art of aging cheese, visitors get a chance to see what happens after the curds and whey have been separated and the wheels have been pressed.
You'll learn how aging a wheel affects the taste profile and the care that goes into this part of the cheese-making process by tasting different batches and years of the same cheese. You'll even be put to work flipping and washing wheels!
Finally, you'll bring your small group together to make some wicked fondues served up with crusty bread and made using the cheeses made on site. These experiences can be booked through the website when available.
Your Cheese-Filled Adventure Awaits
So what are you whey-ting for? Find amazing cheese, experience cheese making and so much more at Gunn's Hill Artisan Cheese.
What are the hours at Gunn's Hill Artisan Cheese?
Gunn's Hill Artisan Cheese is open Monday-Saturday 9 am-5 pm. Hours change on holidays.
Where else can I go nearby?
The Gunn's Hill area is a great place to visit because there are some really great stops nearby! Just a minute down the road, you'll find artisan soapmakers,
Wild Comfort Body Care
. Want to check out some nearby farms?
Berrylicious Fruit Farm
is just a 5-minute drive away and is a perfect summer spot to pick your own blueberries,
Greener Pastures Eco Farm
is 9 minutes away and
Oxford Honey
is just a 7-minute drive away. You're also a short 15 minutes to downtown Woodstock!
Can I order Gunn's Hill Artisan Cheese online?