Thames River Melons: A pick-your-own paradise and cozy farm market
Enjoy Farm Life at Thames River Melons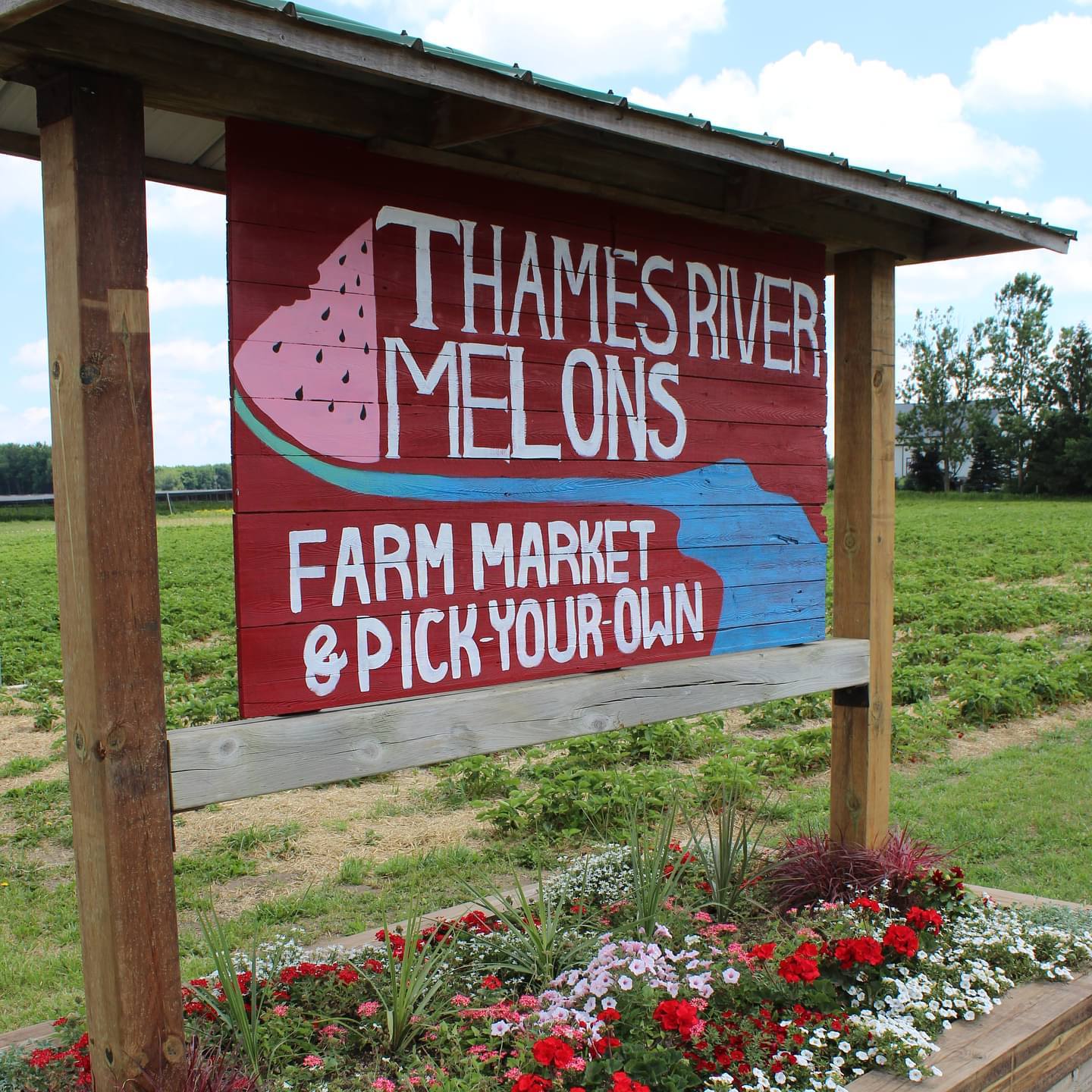 Picture this: your windows are rolled down, you've got your best road trip playlist on, and you're cruising down a scenic backroad past farms, forests, and big blue skies. If finding hidden gems along back roads is your idea of a great summer or fall day, look no further than a visit to Thames River Melons, just outside of Innerkip.
Just minutes from Woodstock, the city will feel like a world away.
How do we describe all that Thames River Melons is? A farm market? True, but that's not all. A place to pick your own fruits and veggies? Definitely. Overall, it's a place to connect with what you eat and learn about it in an approachable way.
Only selling what they grow, a day at Thames River Melons is probably a little different than most of the farms you've visited before. Want to learn more? Keep reading or skip ahead!
The On-Farm Market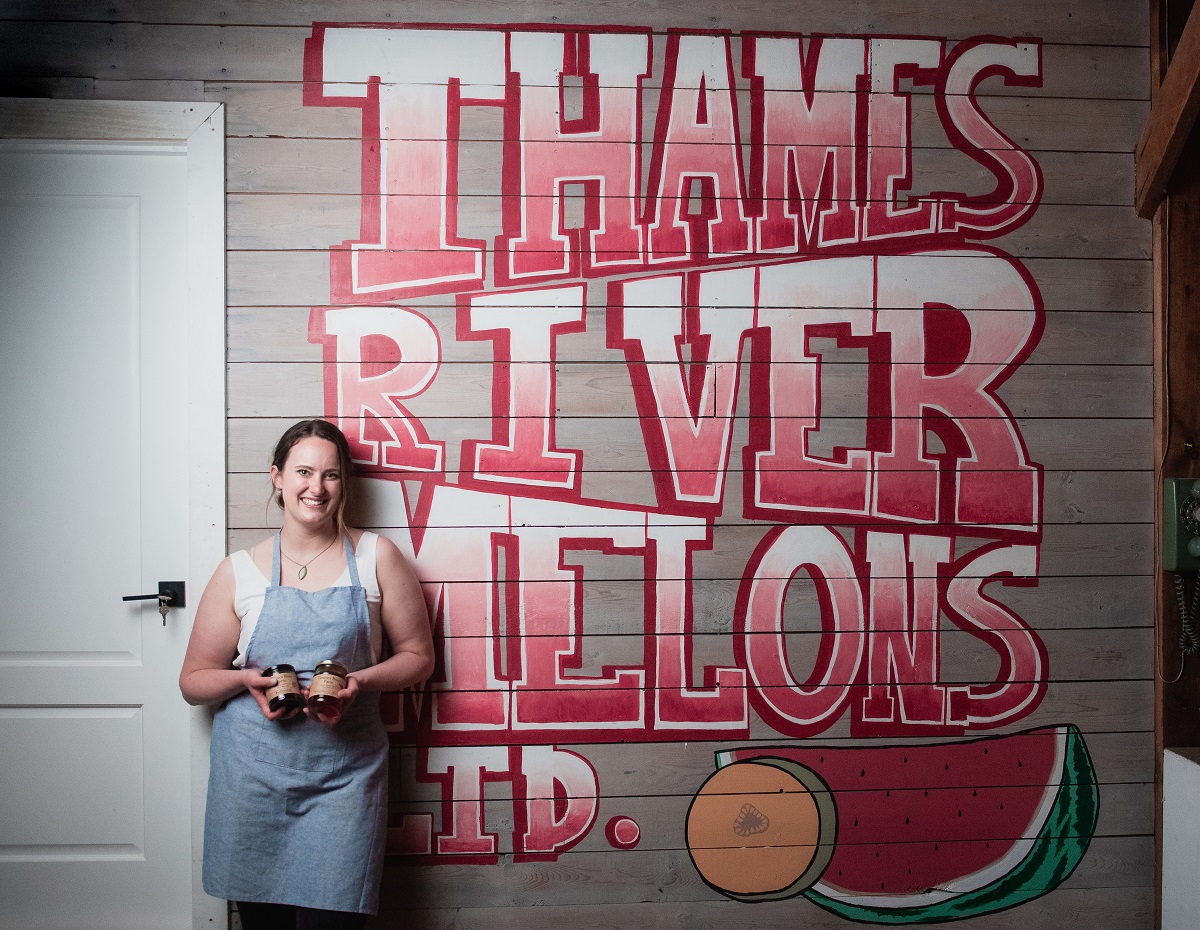 The first thing you'll notice when you pull into Thames River Melons (make sure you put in the address for the market and pick-your-own patch and not the farm proper), is a cozy market.
Changing with the seasons, this market is home to pretty well everything that Thames River Melons grows. In the spring it's filled with rhubarb and asparagus, followed by strawberries, tomatoes, zucchini, blueberries, and every vegetable under the sun from carrots to okra.
Of course, you'll also find plenty of their specialty: melons. We're not just talking regular watermelon either (although there is that), we're talking yellow watermelon, muskmelon, sangria watermelon, honeydew, and more. It's a treat for the eyes and the mouth!
On top of all that fresh goodness grown on-site, you'll also find a few other goodies. Thames River Melons has a wonderful selection of preserves made with their own produce as well as baked goods, pies, fresh bread, soft pretzels and even soups made on-site in the farm kitchen! Keep an eye out on their Facebook for what's available throughout the season.
They have staples like raspberry jam and pickles alongside quirkier (and TASTY) flavours like their garlic scape mustard, strawberry barbeque sauce, and melon blossom honey which has a unique flavour profile one can only get from bees who feast on (you guessed it) melon blossoms!
If this sounds like the beginning of a beautiful cheese board to you, be sure to pick up some cheese from local Oxford County cheesemaker, Gunn's Hill Artisan Cheese, sold on-site as well as meats from Greener Pastures Eco Farm.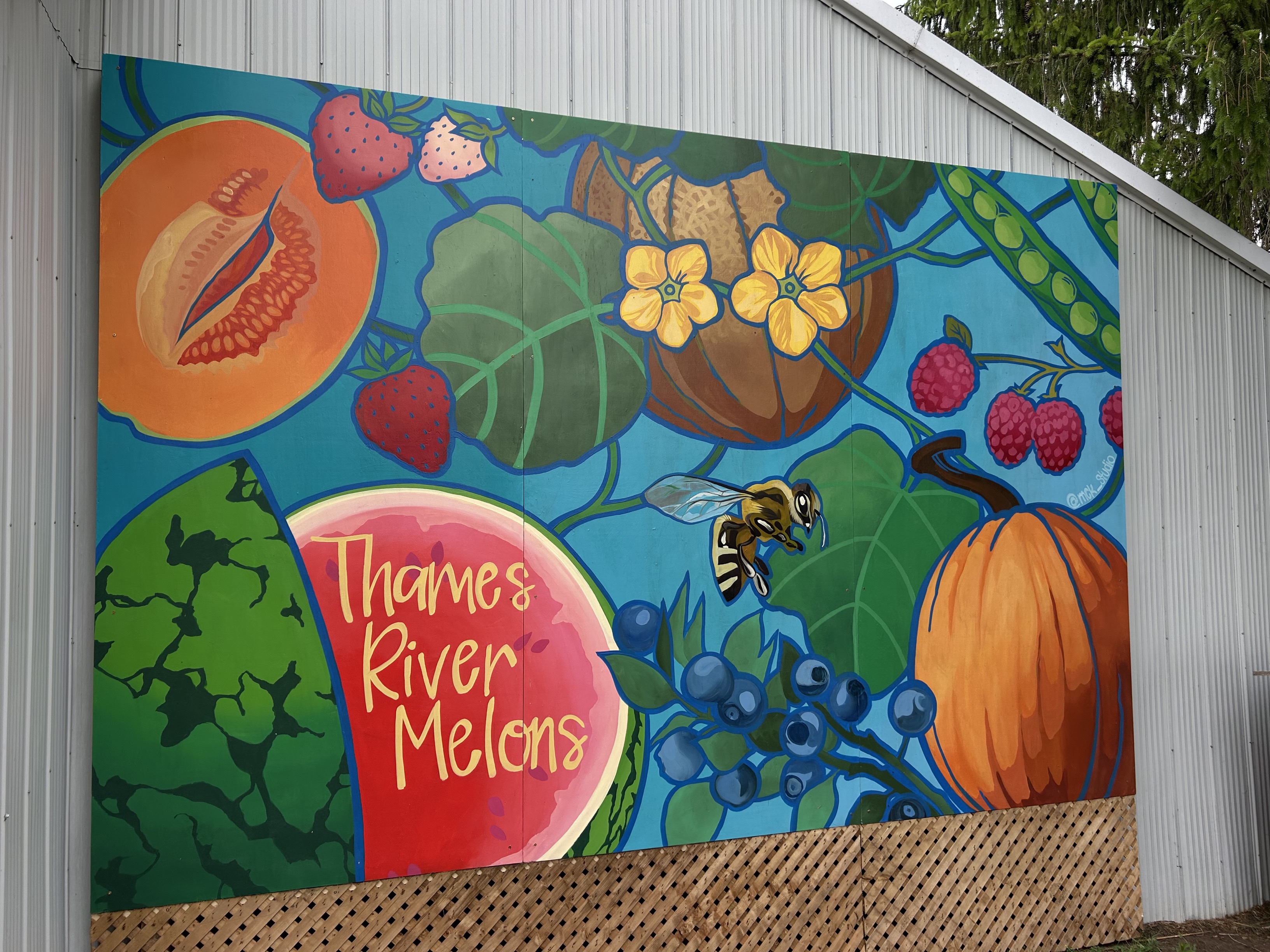 Finally, enjoy the farm views and snap a selfie at Thames River Melons' NEW Mural. It is berry stunning!
The Pick-Your-Own Patch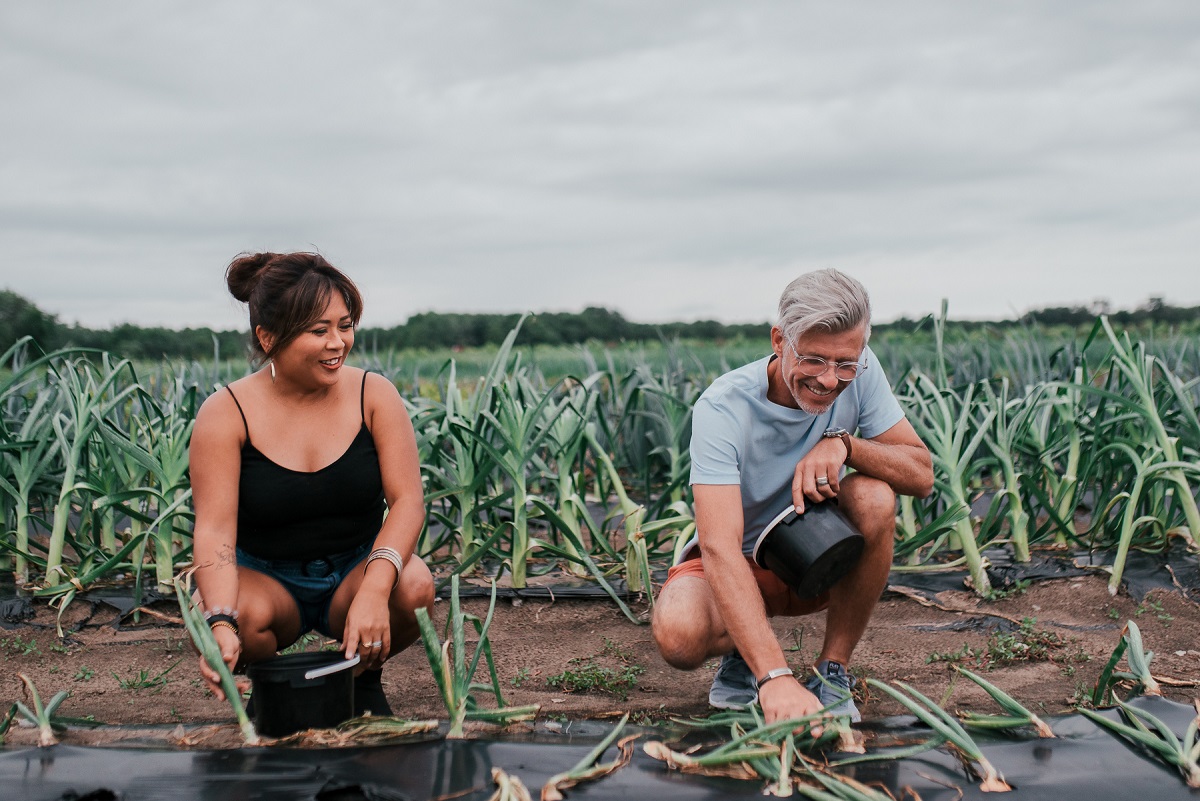 Chances are, if you live in Ontario you've picked strawberries, blueberries or raspberries by now but what about carrots? Have you dug your own potatoes or picked your own green beans? How about cut your own sunflowers? When we say Thames River Melons has a pick-your-own patch like no other, we mean it.
Visit the staff when you first arrive, and they'll set you up with a big ol' bucket and a shovel before sending you off into the field. A large painted sign will indicate what is in each row of the patch and staff are always available to help you. Have a question about how to pick something? They can help with that too! Now it's up to you to fill that bucket.
We recommend loading up on sunscreen and grabbing your refillable water bottle and bug spray if it's recently rained at this point. Head out into the field and tap into your inner farmer. You'll be amazed at how therapeutic getting down and dirty in the patch can be.
Listen to bees buzzing, feel that satisfying tear as your rip up the root of a carrot, and be astounded by the bounty of an Ontario harvest. You won't believe all the amazing crops that can grow here! It's free to go out into the patch, you just pay for what you pick!
Experience Agriculture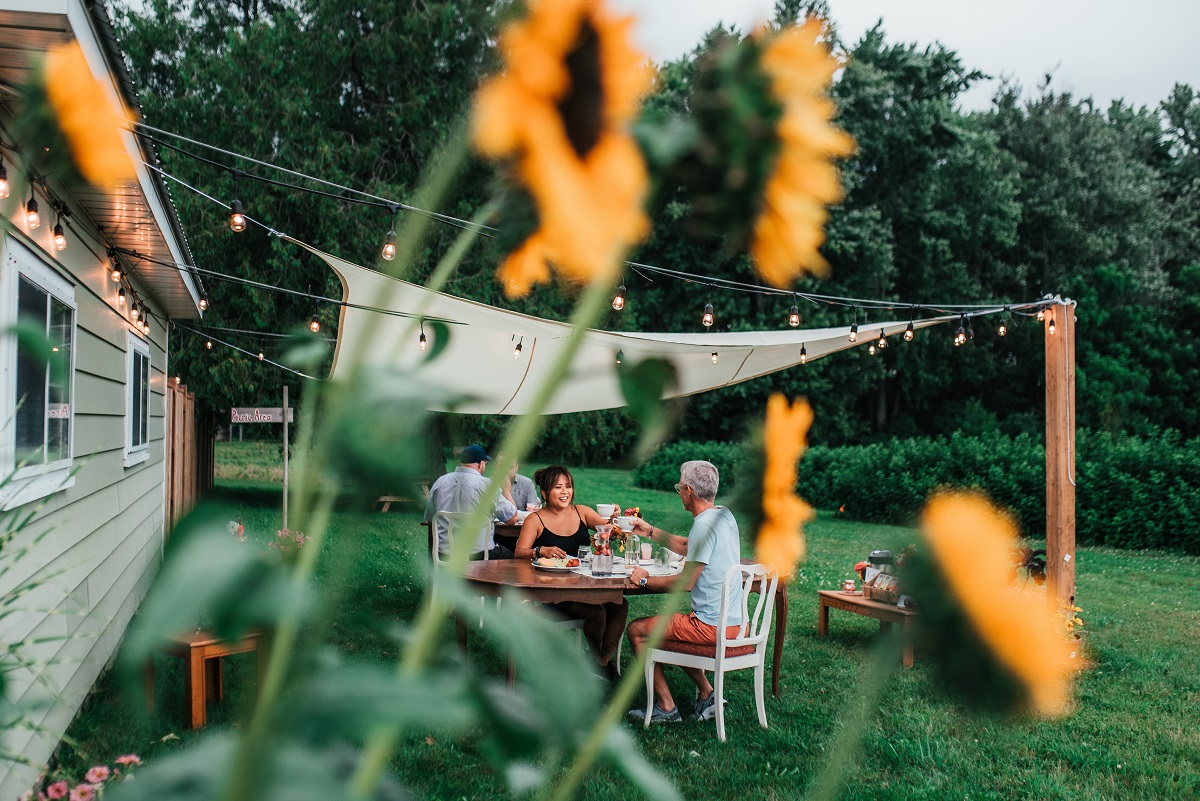 Perhaps the most special thing about Thames River Melons is the way they invite people to experience agriculture alongside them. In addition to the pick-your-own patch and farm market, Thames River Melons hosts activities throughout the season that bring people to the farm.
The fall offers up a corn maze and pick-your-own pumpkin patch alongside drinks from local cideries and nature walks to get out of the city and stretch your legs. TRM also shares recipes online by farmer and Registered Dietitian, Alex Chesney, to inspire you to incorporate more local fruits and vegetables into your diet.
Hit the Thames River Melons' Food Truck, on site! They'll be serving up their beloved fro-yo as well as burgers and fries and other options for those looking to spend a little more time on the farm.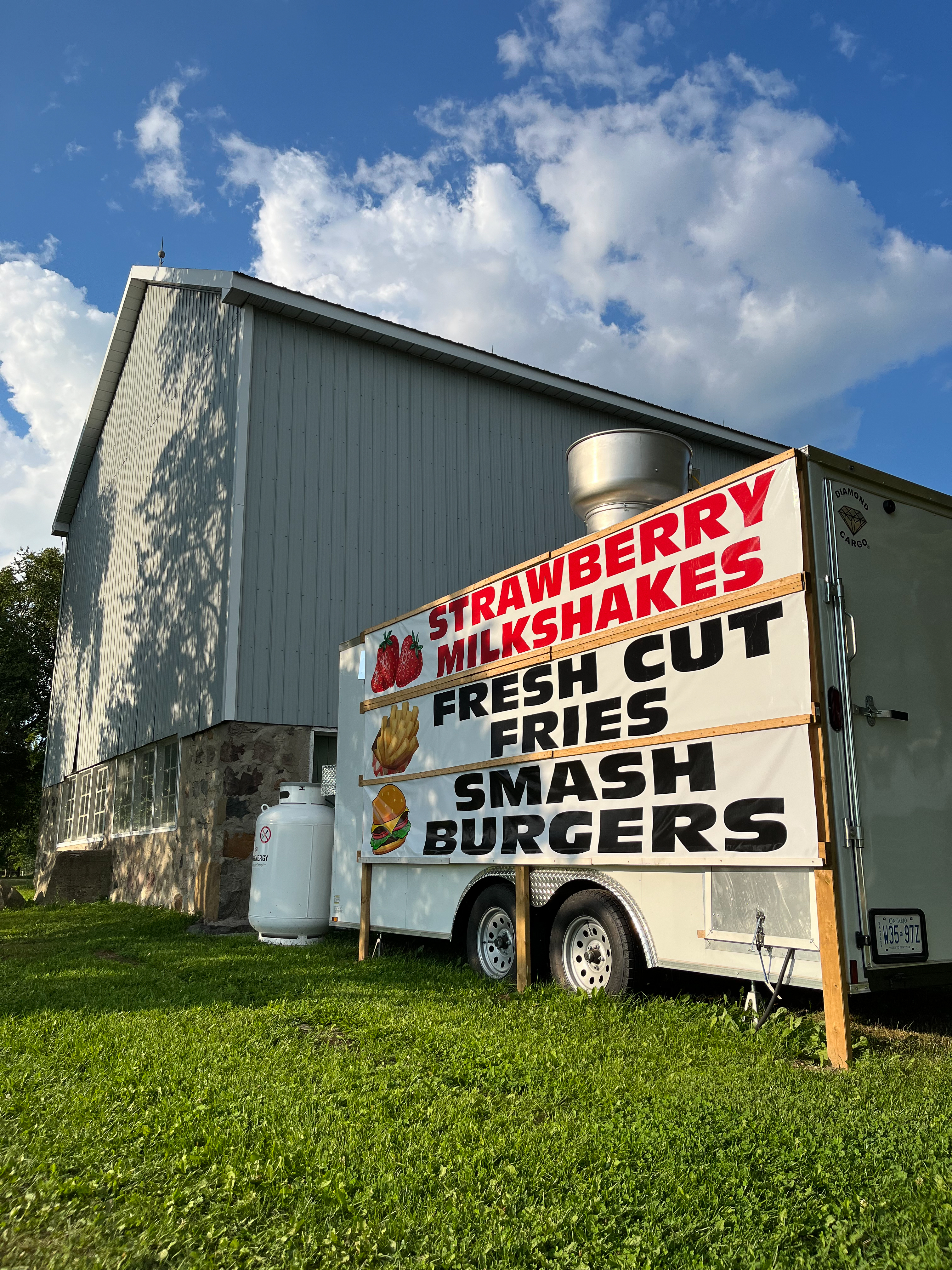 Our favourite way to enjoy the farm though? Thames River Melons' Harvest Brunch Experience! You'll get to harvest your own vegetables and bring them back to the farm kitchen to cook a lovely long-table brunch with a registered dietitian and farmer, Alex Chesney.
You'll enjoy the season's freshest veggies and fruits, spend time outdoors and eat a delicious meal. Plus! New this year, Thames River Melons is welcoming guests to the farm for Harvest Date Nights with events on June 22 and July 6 (limited spots available).
Get Your Thames River Melons On
This year, get off the beaten path and explore Thames River Melons. Learn about where your food comes from, teach your kids, and enjoy some time outside in Mother Nature.
If you're interested in getting their local food delivered to your door- great news! Thames River Melons also offers up a local market box in three different sizes. Each week you'll get a box of produce delivered to your door so you can discover the changing seasons through food. Find out if you're in their delivery area here.
How much does it cost to visit the farm?
Thames River Melons is proud to say that there is no gate fee for their farm. Fees for produce and food range from $2 - $20 per item. Experiences and small events are booked separately, for additional fees.
Do we need to book in advance?
No booking is required to visit the farm to shop or pick-your-own. Advance booking is required for the Harvest Brunch, though!
What are the hours of Thames River Melons?
Hours change slightly throughout the season, but typically they are open 8am - 6pm during May, 8am - 8pm during June, July, and August, then back to 8am - 6pm in September. In October, as the days shorten, hours will also shorten to 9am - 5pm.
Can I bring my own containers to pick produce?
You are more than welcome to bring your own containers to take produce home in, but harvest must be done using the farm's containers. This means you will pick into the farm's containers, and then have the option to either transfer into containers brought from home, or they can transfer into a bag for you. This policy ensures the checkout process is as efficient and food-safe as possible.
Is there a bathroom at Thames River Melons?
There are portable toilets on site available for your use. They aren't the most glamorous, but they'll get the job done!