Tillsonburg
194 years ago, one Mr. George Tillson discovered a beautiful area nestled along the banks of the Otter Creek. While he claimed the land then as Dereham Forge, this was the true beginning of the town know today as Tillsonburg. Throughout the town's history, it's been known for everything from oatmeal and tobacco (hello Stompin' Tom) to an Olympic basketball team, vintage military aircrafts and a hockey empire. One thing that has truly stood the test of time though? Tillsonburg's entrepreneurial, innovative spirit that has grown roots in farming, health and wellness, culture and more.
With a population of 17,000, Tillsonburg has only grown and flourished since its inception. When visiting, Annandale National Historic Site is a must-see. This historic home belonging to the town's first mayor is the country's best example of a house decorated in the Aesthetic Art Movement style (popularized by Oscar Wilde). Tillsonburg's quaint downtown offers up a few specialty shoppes and cafes. The Tillsonburg Station Arts Centre is a great spot to stop for hands on art classes, exhibits and more. Right in town, The Indigo Lounge offers yoga and wellness classes alongside fun events and an organic cafe. Explore scenic trails like the Carol Trail and Trans-Canada Trail and enjoy heritage planes at the Canadian Harvard Aircraft Association.
Trip Ideas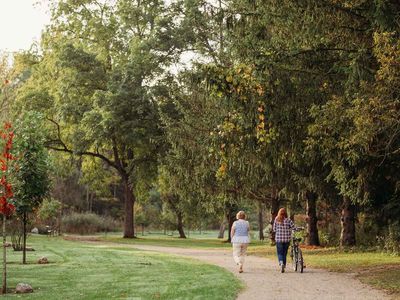 Tillsonburg is a town of many talents and therefore has many interesting things to do! From a fascinating...
While a way down in Southern Ontario, (recognize those lyrics from Stompin' Tom?) be sure to check out...