Sally Creek Golf
Sally Creek Golf Club is a visually pleasing 9-hole golf course located in Woodstock. Sally creek's motto is, 'A Public Golf Course with a Private Atmosphere' This 9-hole course features a lot of different elements like dogleg hole par 5's, large creeks playing into holes, bridges and streams, and sand traps. It is also ideally located beside a craft brewery restaurant for post game refreshments.
Ready to go? Book your round now.
Experience Sally creek
Want to play golf but don't have time for 18 holes, this is the place for you.
Course Difficulty and Core Info
This is a great course for the casual golfer and golfers new to the game. With the range in tee decks, experienced and non-experienced golfers can play together with no problem. The Tee decks range from 3,027 Yards the longest of the four and 2,127 Yards the shortest of the four.
Price
The price is low to medium depending on when your round is. This is a very affordable course. Click here for prices on their website.
Dress Code
Sally Creek has a strict dress code in effect. This means,
No denim or cut-offs
No metal spikes
Shorts & skorts - Tailored and mid thigh length
Men - Golf approved shirts with collar or mock neck
Ladies - No tank/halter or bare midriff tops
Location
This course is located in Woodstock, it is a short drive away from London, Kitchener, and Brantford.
London: 44 minutes and 55km
Kitchener: 49 minutes and 59km
Brantford: 40 minutes and 46km
Toronto: 1hr 48 minutes and 143km
Food and Drink: Brickhouse Brewpub
Sharing the same parking lot as Sally Creek, Brickhouse Brewpub is a local favorite spot to grab a drink and a bite to eat and a craft brew.
Contact Information
190 Fairway Road, Woodstock, ON, N4T 1W3
Trip Ideas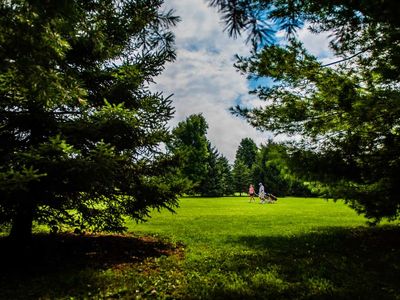 The grass is green, the beer is cold and an afternoon of golf awaits! As golf courses open up in Oxford,...