Berrylicious Fruit Farm
Berrylicious Fruit Farm invites you to experience our delicious and nutritious berry patch. Blueberries, Elderberries, Raspberries – fresh picked/frozen available. Vegetables: fresh picked potatoes, sweet corn, beans and tomatoes. At our on farm retail stand you will find frozen, ready to bake pies, jams, syrup, soap, freeze dried berries, teas, gift baskets and more! Saturday snacks including Gluten free desserts offered each Saturday during berry season. (July to Oct)
Berrylicious Picnic Experiences
Enter the canopied blueberry patch and join Wendy and Don, farmers at Berrylicious Fruit Farm, for blueberry taste testing. Learn about blueberry cultivation and best picking techniques, before heading to the blueberry patch to pick your own 1 Gallon (3.78 Litres) of farm fresh blueberries. End your 2 hour experience with a delicious picnic. Please book ahead!
New for Summer 2023: Marian's Country Tea
Marian's Country Tea is unique as the countryside road you will drive down to visit the farm! Your country tea will begin with a short tour of the berry patch where you will pick a few fresh blueberries or raspberries to adorn your 3 tiered china dessert tray. Loose leaf Blueberry/Elderberry summer tea will be served in the canopied blueberry patch where you will build your own 3 tiered dessert tray, based on time honoured recipes from Marian Warren.
PYO Blueberries and Raspberries - Please book ahead
Visit our website for directions, hours, what you need to know before you come, recipes and learn about our family farm story.
Contact Information
519-761-9457 or 519-532-0009
425533 Substation Rd, Burgessville, ON N0J 1C0
Hours change throughout the year. Summer hours:  Mon -Sat. 8–6;  Fall hours: Fri, Sat 9 - 5, Winter hours Fri 1-5
Trip Ideas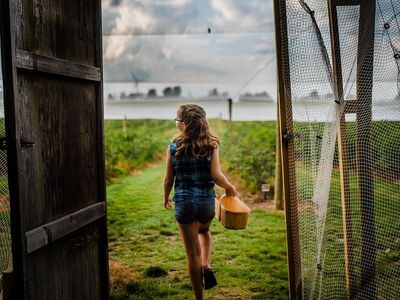 This summer, skip the crowds in favour of the wide-open spaces and chances to get outside in Oxford County....