Pickled and Preserved: Where and What to get in Oxford
Tucking into a spicy ceasar with pickled asparagus. Dipping a fresh-baked pretzel into a grainy mustard. Smothering blueberry jam onto warm toast or a fresh-baked croissant. While summer gets all the glory and attention when it comes to local food, we're loving all these delicious options to eat year-round. A big part of that? Pickled and preserved items. Consider them your time machine to warmer days and full flavours. Read on for just a few of our fav preserves and where you can get them in Oxford County.
Dill Pickles
Where to get it: Greener Pastures Eco Farm; 774766 Oxford Rd 14, Woodstock (View Map)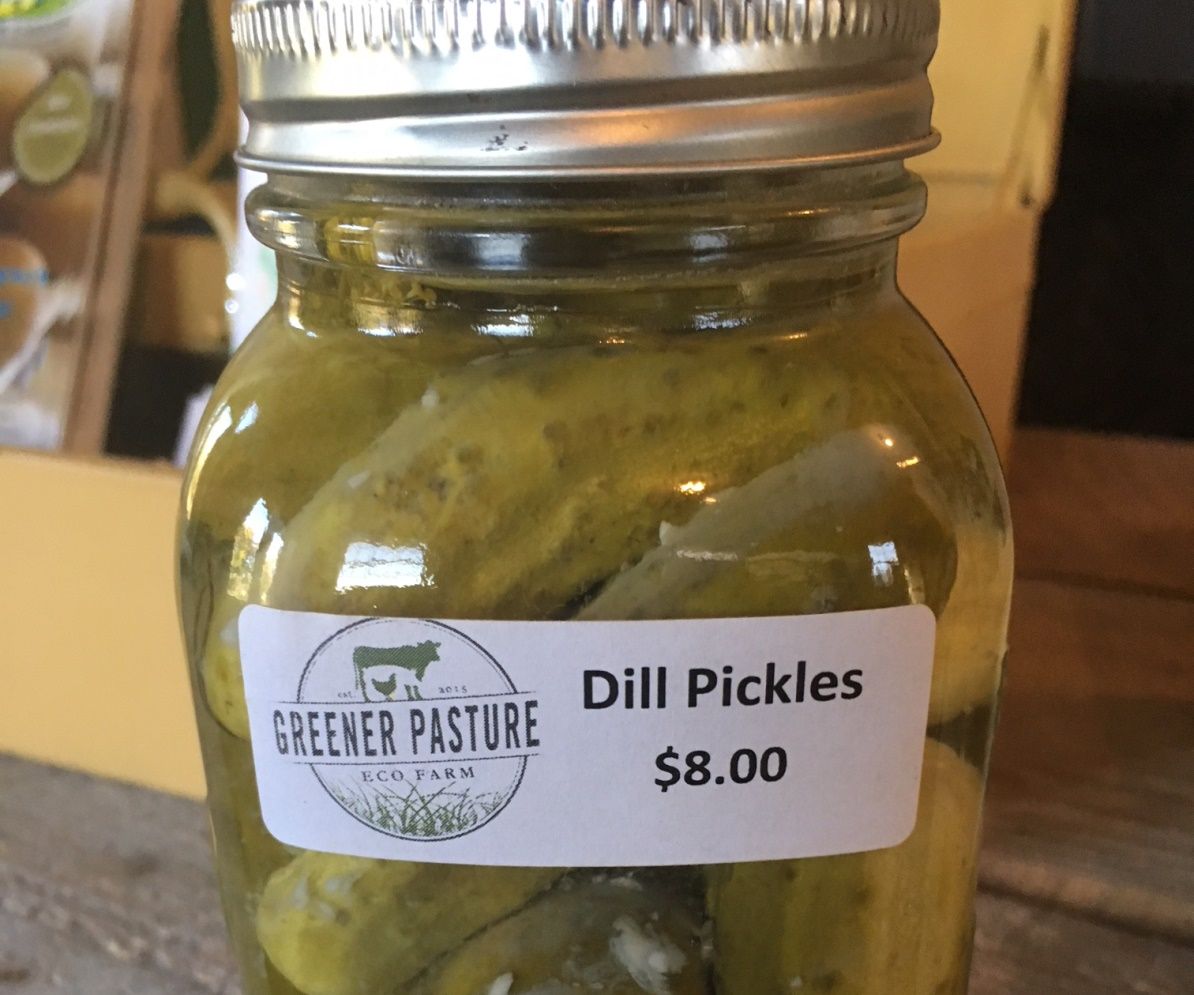 Where else to start in a pickled and preserved blog than with pickles of course? At Greener Pastures Eco Farm they're known for more than just their meat (which is also delicious). Stop by their farm store to grab a jar of tangy dill pickles perfect to top off your club house sandwich or just crunch on for a snack. Seriously, we eat these by the jar.
Elderberry Apple Jelly
Where to get it: Berrylicious Fruit Farm; 425533 Substation Rd. Burgessville, ON. (View Map)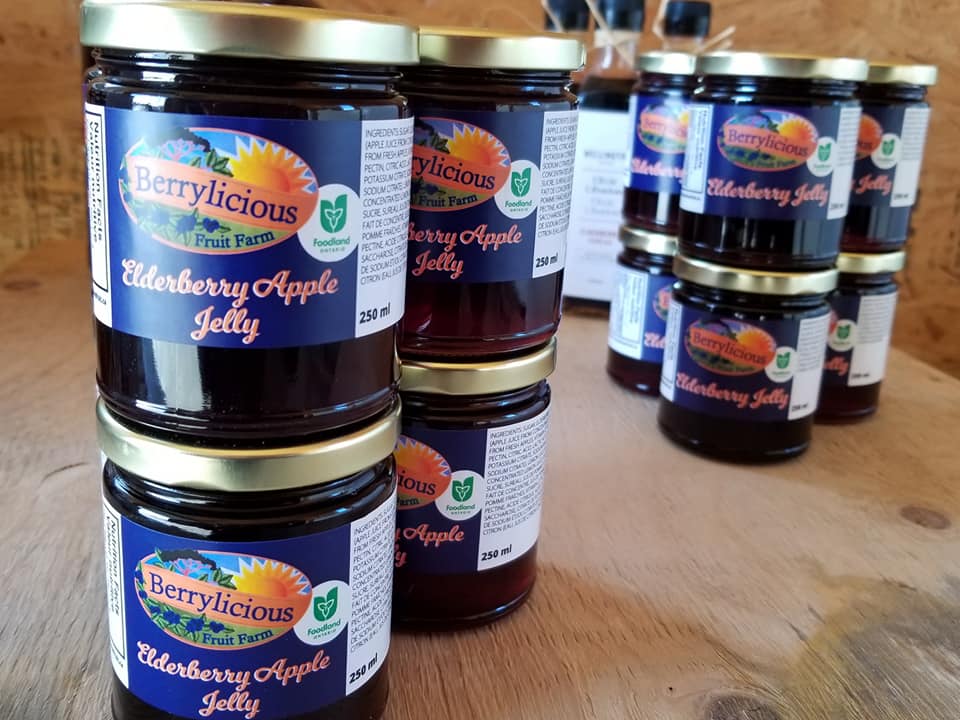 Berrylicious Fruit Farm in Burgessville has a great selection of preserves including their blueberry jam and elderberry syrup. That being said, our absolute favourite one they make is their elderberry apple jelly. The unique flavours in this jam make it perfect for just about anything. A sweet, unique flavour, this jelly is wonderful on toast, shortcake or even your morning porridge. Be right back, our stomachs are grumbling.
Just-Sweet-Enough Maple Syrup
Where to get it: Jakeman's Maple Farm; 454414 Trillium Line, Sweaburg ON. (View Map)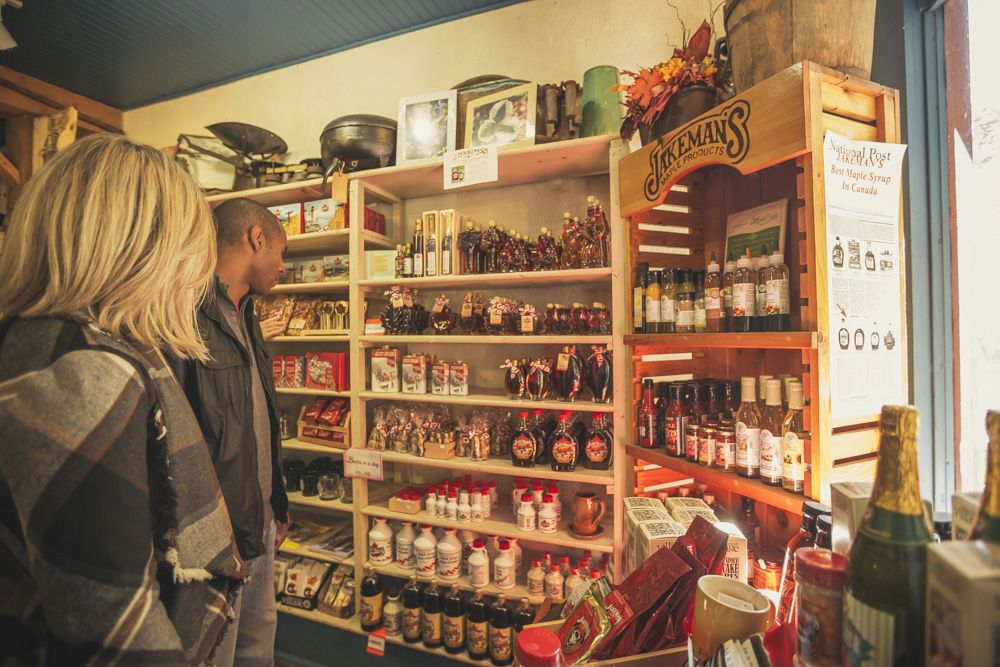 Award-winning maple syrup is easy to find in Oxford. Jakeman's Pure Maple Syrup has been operating since 1876 and it shows. You know the drill: drizzle it on pancakes or waffles, use it in your baking or drink it straight from the bottle (we won't judge). If you want a truly unique flavour, be sure to try their maple ice wine syrup too. It tastes like blueberry pancakes!
Maple Pickled Beets
Where to get it: McCully's Hill Farm; 4074 Line 9, St. Marys, ON (View Map)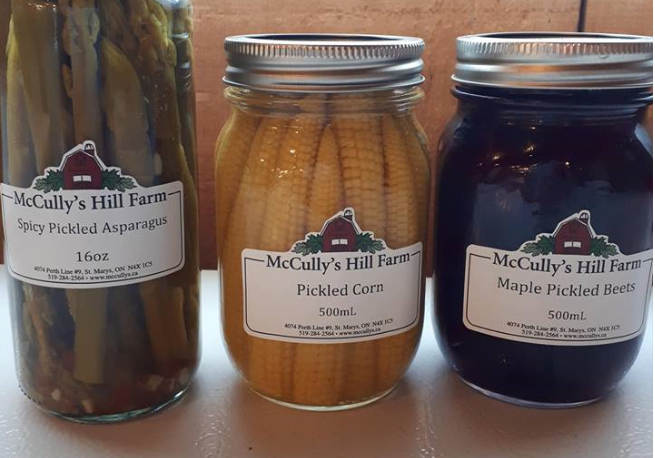 Mmmm mmm mmmm! If you've never had a maple-pickled beet before, you're in for a real treat. Taste how these two flavours combo together perfectly. Toss it together with arugula and goat cheese for a refreshing salad. McCully's Hill Farms has a hugely developed line of preserves from their famous maple syrup straight from the sugar bush to carrot cake jam, pickled beans and asparagus and so much more.
Honey Fresh from the Hive
Where to get it: Oxford Honey; 385954 Salford Rd. Burgessville, ON. (View Map)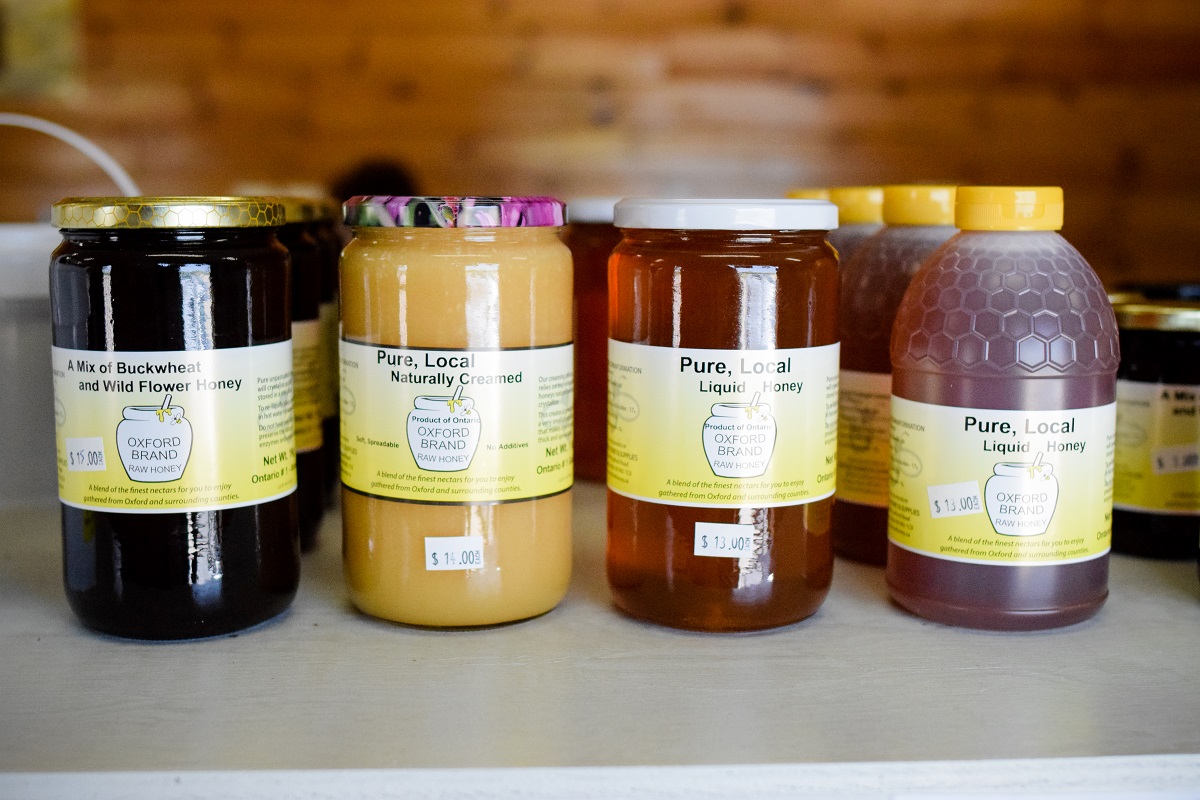 Fresh honey is on tap all year round at Oxford Honey. Well-respected in the bee-keeping community, owner John VanBlyderveen ensures top quality product hits his shelves in the most environmentally responsible way. You'll be able to taste the difference. Whether you like your honey creamed, liquid or buckwheat and wildflower style- there's a jar (or tube, or tub) for you.
Garlic Scape and Horseradish Mustard
Where to Get it: Thames River Melons; 765875 Township Rd. 5, Innerkip, ON. (View Map)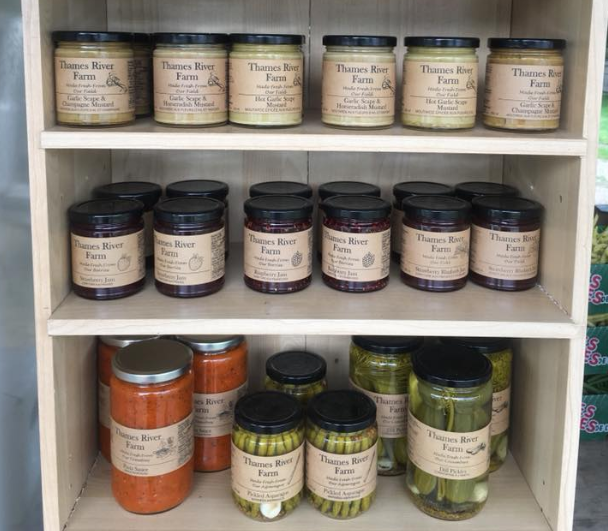 Let's just take a second to appreciate Thames River Farms' amazing selection of preserves. Seriously- from pickled beans and salsa made with their fresh tomatoes to amazing jams, it's enough to satisfy us all winter long. We're absolutely head over heels for their garlic scape and horseradish mustard though. That spicy spread will hit your palette with a zing and makes for the perfect addition to a warm pretzel, sandwich, cheese board and just about anything else. Okay, maybe don't spread it on a cookie.
Soup Bases, Salsas and Chili Sauce
Where to get it: Dee-Lights Bakery & Fine Foods; 379 Dundas St. Woodstock, ON. (View Map)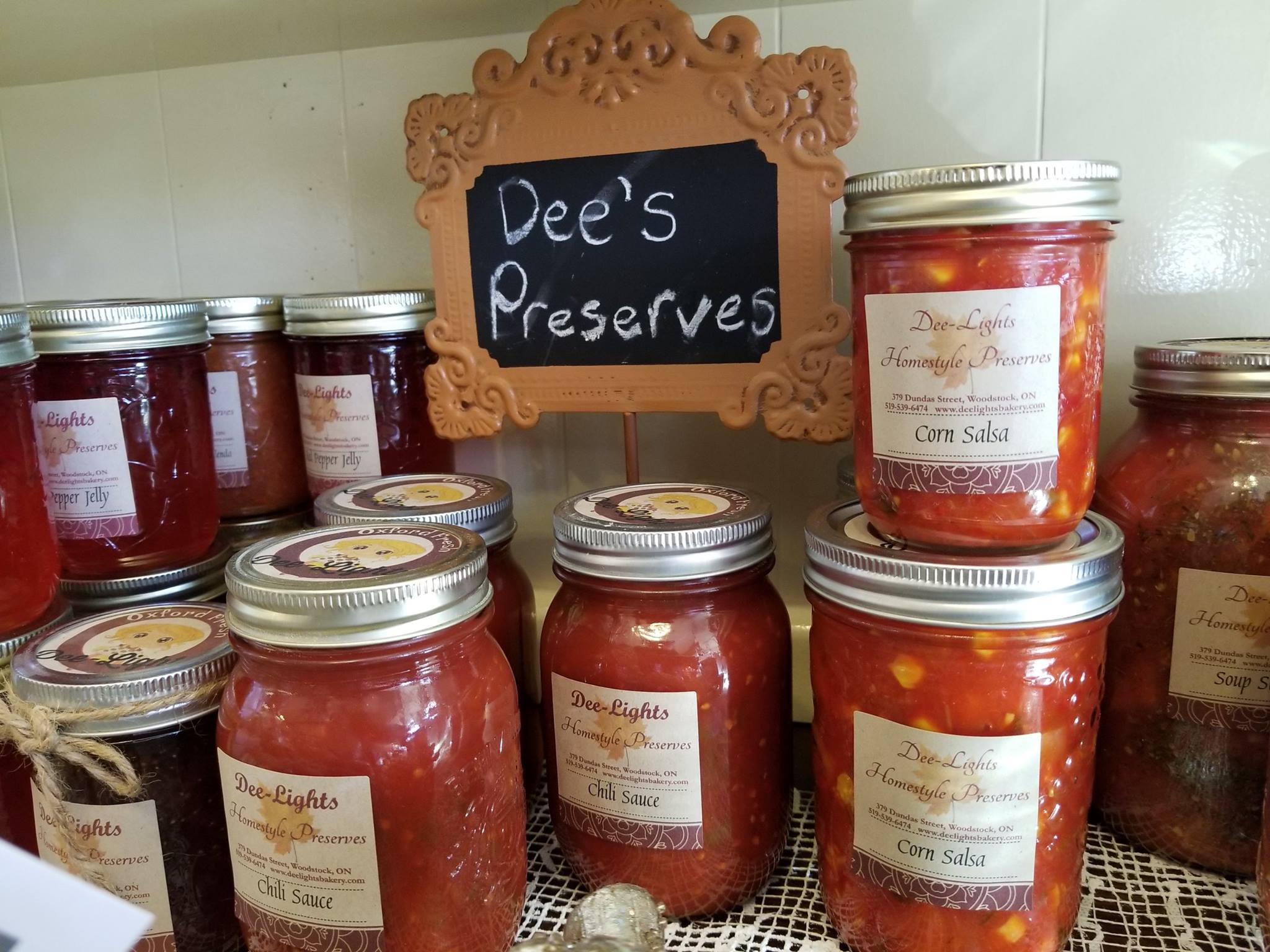 Stop into Dee-Light's Bakery and Fine Foods for all the feel-good treats you desire: fresh-baked pies, comfort food and more. One of our fav things to pick up? Food from Dee's own line of preserves. We're talking everything from corn salsa and soup bases to homemade chili sauce. Looking for a little inspiration? Try her preserves in the food she makes in house like her homemade meatloaf with scratch made chili sauce.
Pickled Asparagus
Where to get it: Koteles Farms; 164700 New Rd. Tillsonburg, ON. (View Map)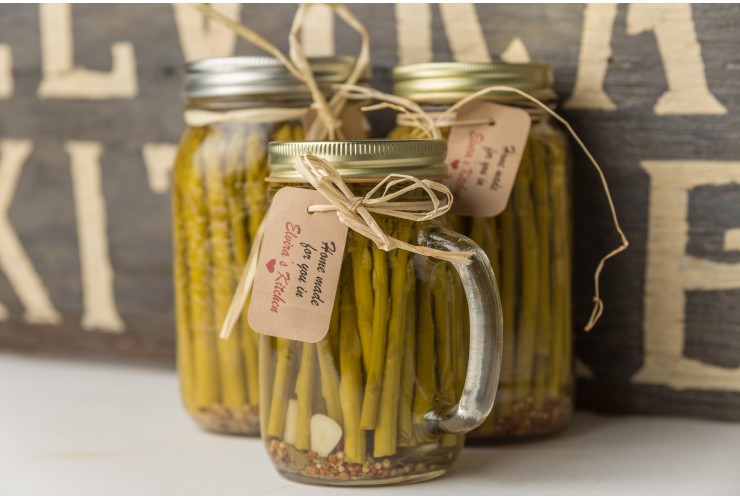 Koteles Farms in Tillsonburg doesn't grow a whole bunch of different fruits and vegetables. They do a really, really great job growing one- asparagus. So it only makes sense that their jars of pickled asparagus are the best of the best. These green veggies are perfect popped into a ceasar, baked into a chicken lasagna or anything in between.
Canned Peaches
Where to get it: Quehl's Restaurant; 33 Woodstock St. S. Tavistock, ON. (View Map)

Quehl's has been around since 1931 back when it was called Joe's Place. Stop in for a delicious and hearty meal full of local ingredients made into delicious country dishes. Grab a pie or select from a number of locally made goods in their gift shop including a scrumptious line of homemade jams, relishes and canned fruits that include these delicious Ontario peaches.
Quince Jelly
Where to get it: Order online for pickup at 744716 County Rd#17 Woodstock, ON. (View Map)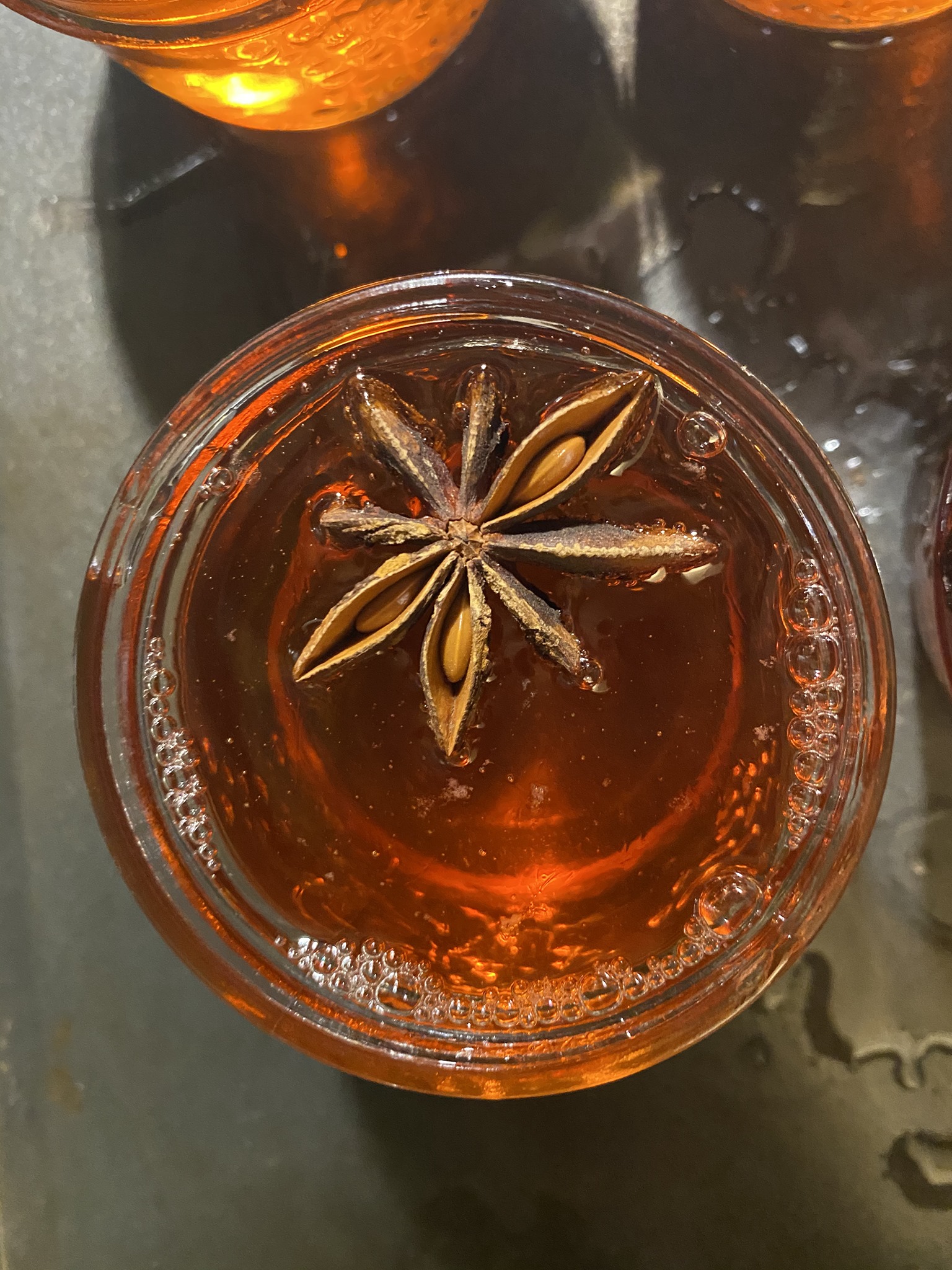 Made from quinces grown right on the farm, Red Barn Berries packs a truly unique flavour into each jar. Want to really up that game? Check out their quince jelly with a star of anice on top! You'll love the twist on this heritage fruit.
Raspberry Jam
Where to get it: Sheldon Berries; 276347 27th Line, Lakeside, ON (View Map)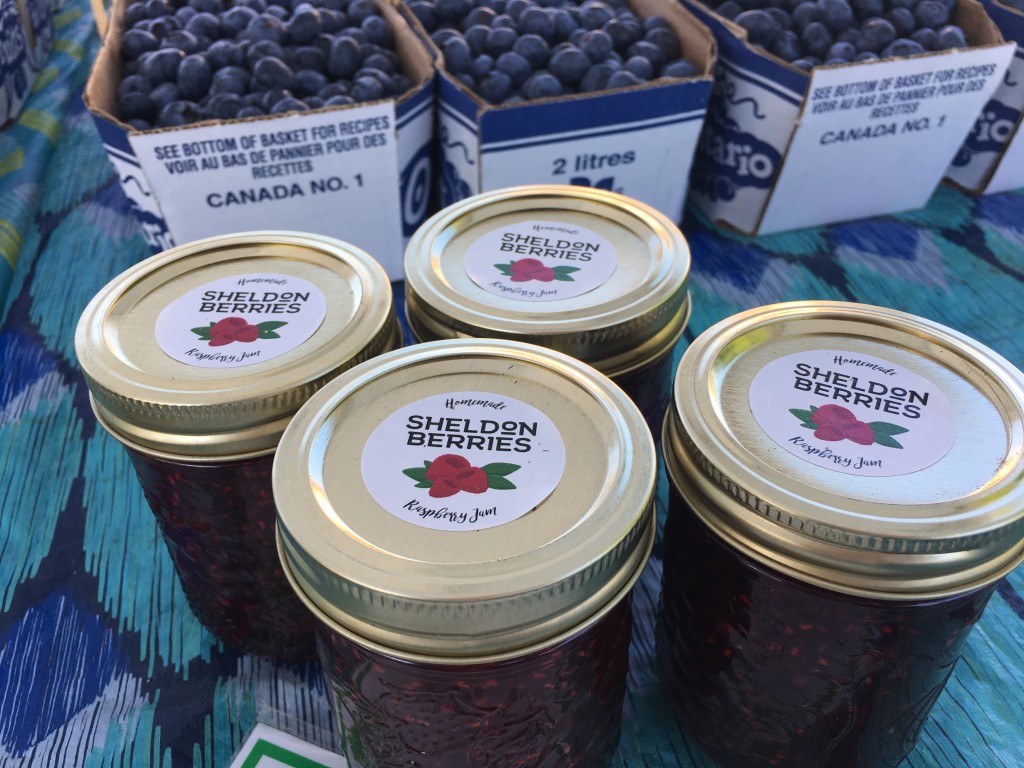 The dream of Sheldon Berries started with a Sunday drive through the country. Planting blueberries to start on bare farm land, Sheldon Berries has grown into a beautiful berry farm north of Embro, Ontario. You'll think it's mid-summer as you slather their raspberry jam across your morning toast. The sweet full flavour is going to make your morning. Seriously.
Want more local food news? Sign up for our Culinary Insider newsletter.