Explore Reverend George Leslie Mackay Sites in Oxford County
Part of learning about history is understanding that often legacies can be marred with conflicts and challenges. Yet these conflicts do not take away from the importance of the history before you, rather they add to it. They work in tandem with the good to create a truer picture of the past, and to help educate the public in understanding that certain legacies and the 'perfect story' if you will, have a wealth of information that possess both the good and the bad. We encourage you to keep this in mind when engaging with certain histories, so that in the goal to achieve justice for the past, present and future, we do not completely erase the story to be told.
Reverend George Leslie Mackay was the first foreign missionary to be commissioned by the Presbyterian Church in Canada when he travelled to Taiwan on December 29, 1871. From there his legacy began, and starting with an itinerant dentistry practice for lowland aborigines, he eventually expanded to establish churches, schools, and a hospital rooted in Western practice. He had a significant impact on the people of Taiwan and much of his legacy remains today. Born right here in Oxford County, you can explore many of the sites listed below that are associated with Mackay when you come to visit.
Site #1: The Birth Place of George Leslie Mackay
Where: 495688 10th Line Woodstock (View Map)
Private property, please keep to road.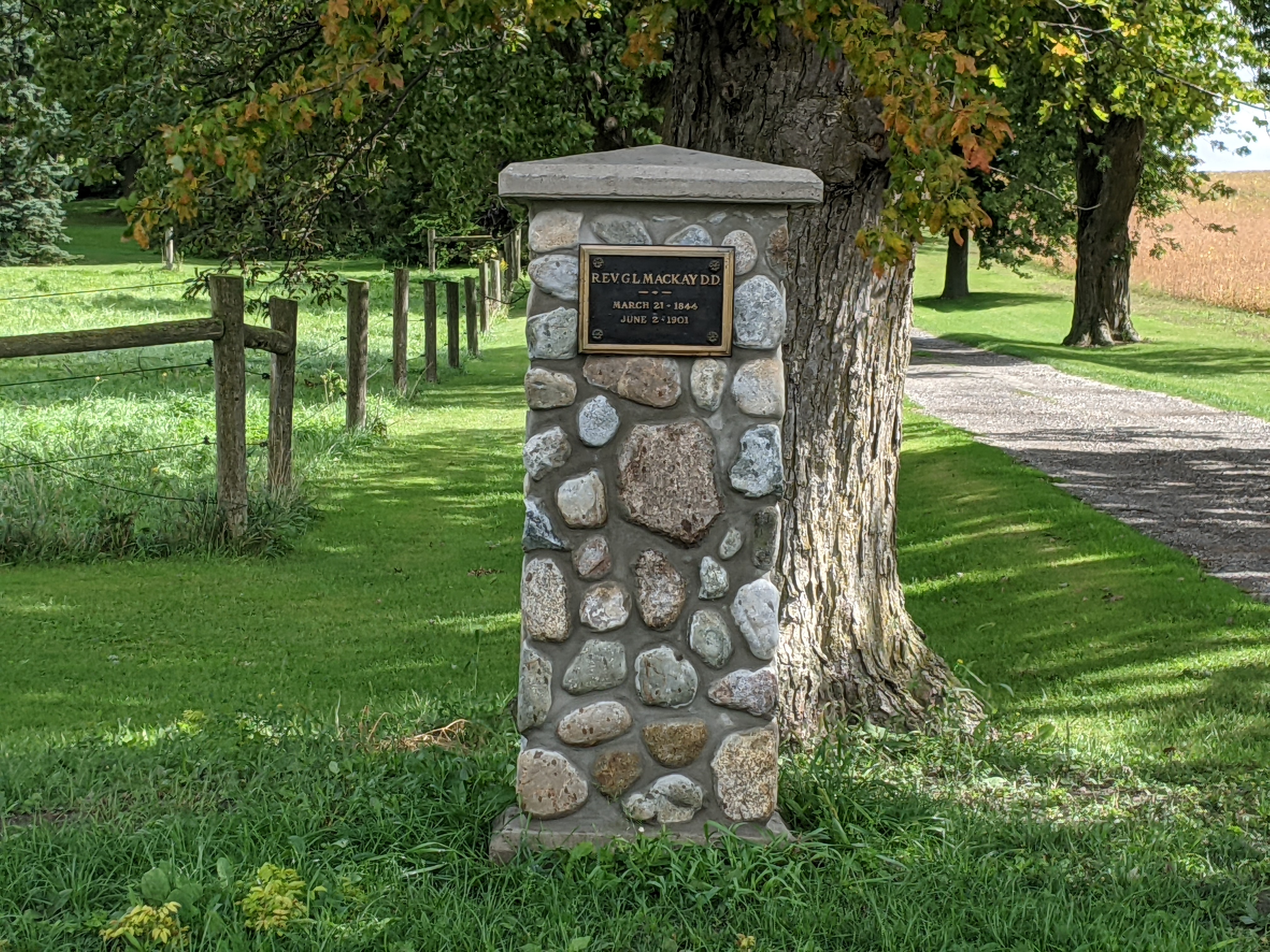 Mackay's parents came here in 1830 along with tha Zorra Pioneers who were refugees from the Sutherland Clearances in northern Scotland. Mackay was the youngest of six kids, and acquired many of the traits and skills he used as a missionary in Taiwan because of the Scottish Catechism he was surrounded by in the community. This first stop is where you can see his birth place, and where he eventually decided to become a missionary for the Presbyterian Church at only the age of ten. We do ask that you keep to the road as this is a private property, but if you look beside the laneway, you can see a plaque on a stone cairn which is dedicated to George Leslie Mackay.
Site #2: The Old Log Cemetery
Where: 435618 43rd Line, Embro (View Map)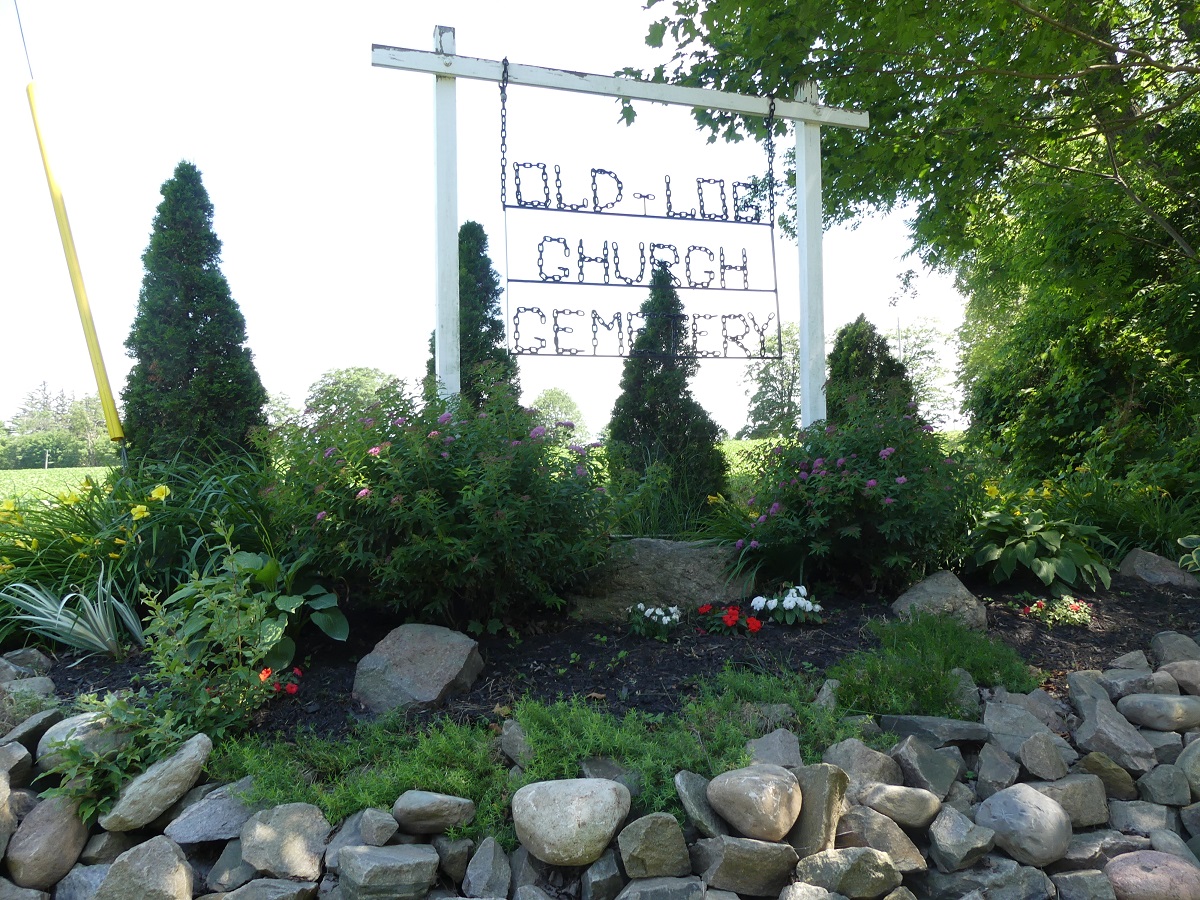 Just 5km from his birth place, The Old Log Cemetery was the site of the first Presbyterian Church ("The Old Log Church") built by the Zorra Pioneers in 1833. It was built three years after the first pioneers arrived from Scotland, and was used frequently for many years after by its members until a new church was built in the village of Embro in 1836. The cemetery is now the final resting place for many of the Zorra Pioneers, including those of Mackay's immediate family. You can wander through on a nice day and take in the history prevalent throughout. You should note the frequency of the highland Scots names, especially Mackay, Ross, Sutherland, and their place of birth: it would be hard to think that this wasn't a predominatly Scottish community long ago.
Site #3: Ontario Hertiage Plaque & Two Knox Churches
Where: In Embro, on the north side of St. Andrew St. Less than a block east of Huron St. (View Map)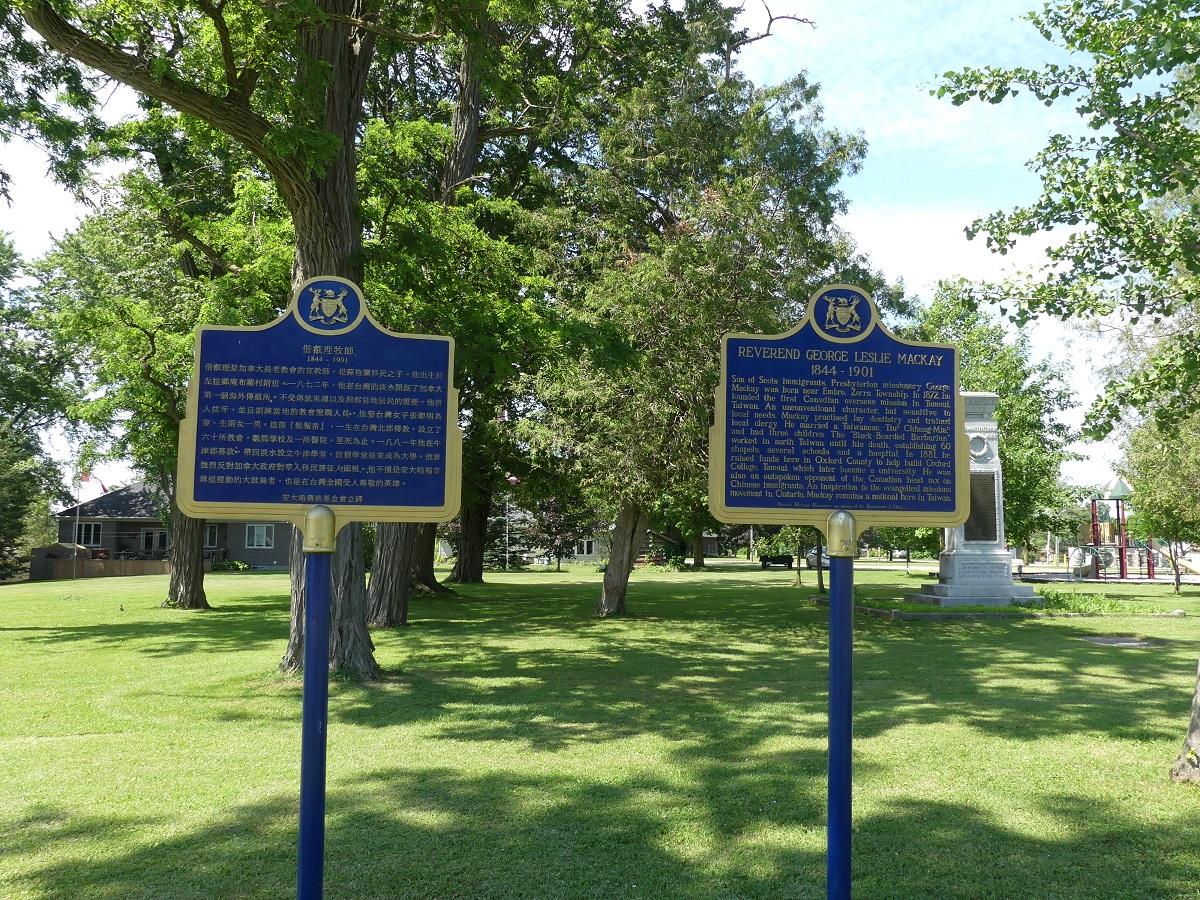 There are two plaques standing on this site that are written in a total of 4 languages – a rather unique site to see in Canada. The first plaque, written in French and English, was installed on June 2, 2001, the centenary of Mackay's death. The second, in Chinese characters and Romanized Taiwanese (the language Mackay spoke in Taiwan), was added in 2003. You can learn more about Mackay's story and how he has been remembered by the Taiwanese people by reading the plaques.
To the north of the park is the original Presbyterian Church built in 1863 to replace the 1836 church. eventually, the congregation entred the new United Church of Canada in 1925. As for physcial markers, there is a model of the old Log Church that sits in front which you can stop to view. This is where Mackay would have worshipped as a young man and on his return visits to Canada after he left for Taiwan. As well, a magnificent sanctuary retaining almost all the original features of the 19th century church contains among others a memorial plaque to Mackay.
The "continuing Presbyterians" worshipped in the schoolhouse and finally built Knox Presbyterain Church in1834, on the south side of the park. It also contains several items commemorating Mackay and his family. If you wish to see the church please call ahead 519-475-4816.
Knox was also the home church of G.L. Mackay as he was baptized here in infancy. In his youth, Mackay was highly influenced by another missionary, Donald Mackenzie, who created aspirations in Mackay to be a missionary himself. This church eventually became known as school for prophets as 41 ministers were to emerge from its walls.
Site #4: The Beachville Museum
Where: 584371 Beachville Road, Beachville (View Map)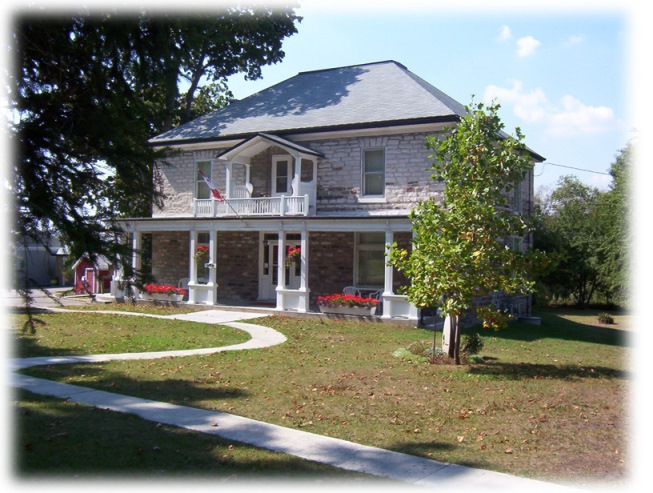 Beachville was once the heart of Oxford County. It developed as one of the area's earliest settlements and, as a result, has rich histories to share. The Museum is situated on 4.5 acres of lush parkland with the Thames River runnning behind the house. The grounds are dotted by antique harvesting equipment, and is the perfect area to bring the family to go for a stroll or to even stay for a picnic. This museum also has a small exhibition on Mackay that's worth a stop in.
Site #5: The Bust of George Leslie Mackay
Where: The Woodstock Court House: 415 Hunter St. Woodstock (View Map)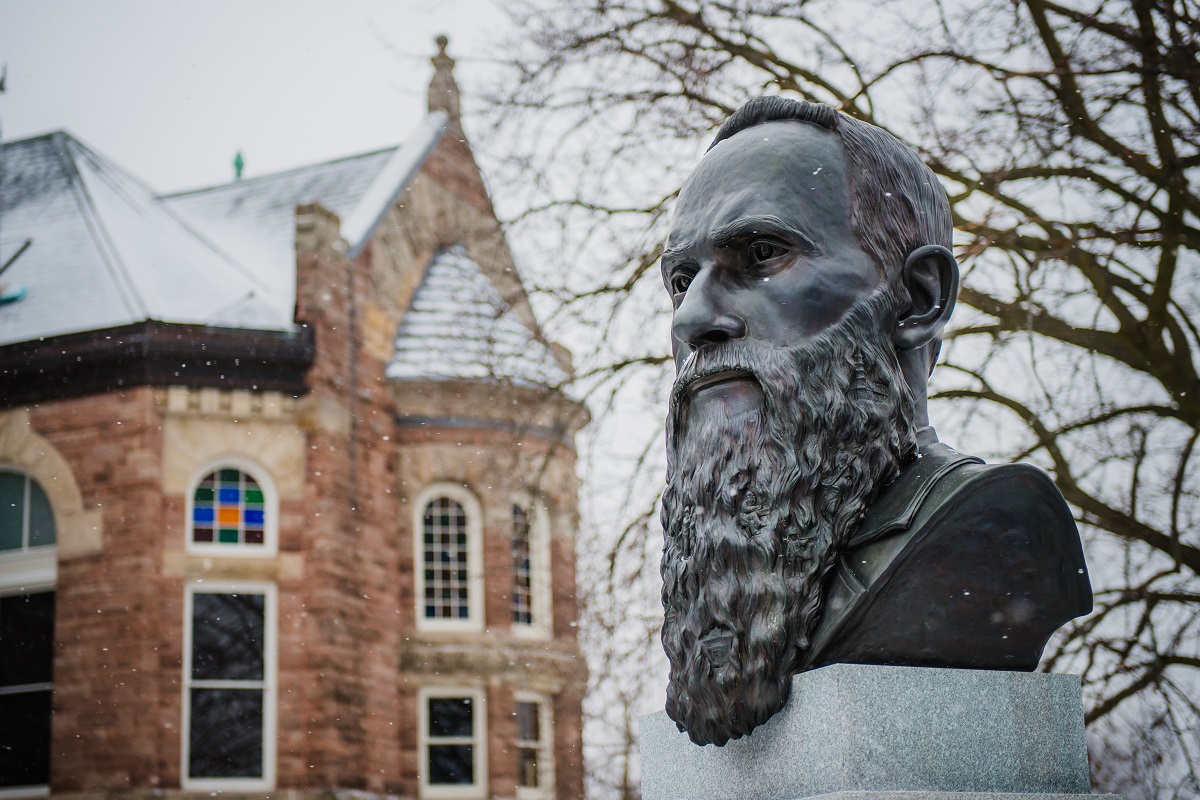 See the story of Rev. George Mackay woven throughout this bust created by Neil Cox. If you inspect the beard, you will see that small sculptures have been hidden throughout the beard depicting major accomplishments and milestones in Mackay's life. Some of these include setting up schools in Taiwan, practicing dentistry and even a farmer winnowing rice in Taiwan. Erected in 2004, this bust stands on the front lawn of the Oxford County Courthouse.
Site #6: Former Canada Methodist Church
Where: 34 Riddell St. Woodstock (View Map)
Now housing, please keep to sidewalk
In 1881 this was the largest building in Oxford County. On October 14, 1881 a group of Christian churches held a farewell ceremony for Mackay who was returning to Taiwan from his first furlough. Attended by many dignitaries, including Sir Oliver Mowatt, the then Premier of Ontario, the people of Oxford County presented Mackay with $6214 to build a school in Taiwan – Canada's first overseas development aid project. This college, Oxford College, still stands on the campus of Aletheia University in Tamsui. This ceremony also marks the first time Mackay spoke out against the Chinese Poll Tax (now known as the Head Tax) as 'unfair and unjust'. This would become a greater passon for him as time continued.
Site #7: Woodstock Museum National Historic Site
Where: 466 Dundas St. Woodstock (View Map)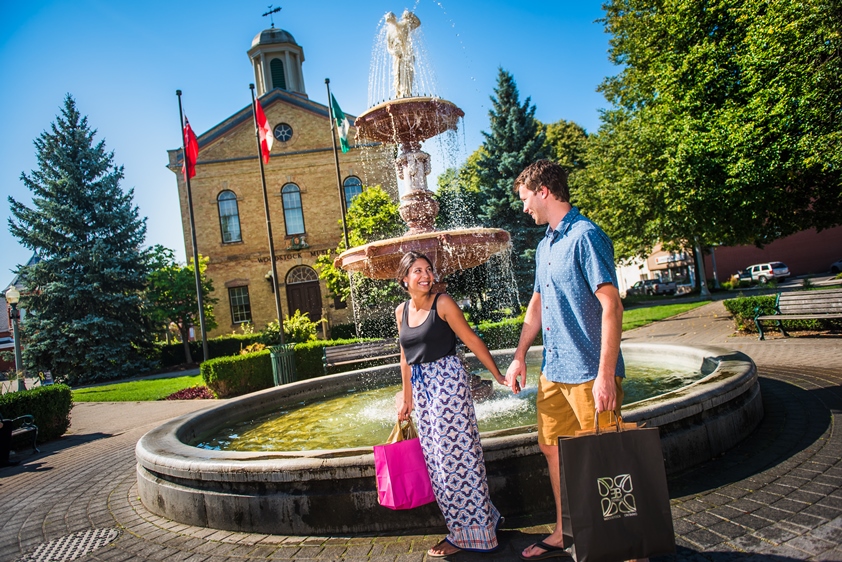 Wander through this old City Hall, now a National Historic Site, and learn more about settlement of this region and the amazing people who shaped it. In the second floor hall, on November 17, 1893, Mackay began his outspoken cross-country campaign against the Chinese Poll Tax (now called the Head Tax) in a large "public indignation meeting".
The museum has several items in their collection related to the Rev George Leslie and Minnie Mackay. If you wish to see these artifacts sepcifically, we recommend calling ahead as the artifacts may not always be on display (519-539-2382 ext. 2901).
Want to learn more about Oxford's historical past? Check out the history section on our website.