Alpaca Picnics
Experience farm life from a whole new perspective as you meet some quirky new friends.
Alpaca Picnics at Udderly Ridiculous
Alpaca Picnics are an awesome way to experience fun, time with animals and delicious Ontario food at Udderly Ridiculous.
Join the beautiful alpacas that are called Udderly Ridiculous Home as you have a picnic lunch in the alpaca pasture. The picnic is full of tasty Ontario-made treats like cheese, crackers, snack food and refreshments. Of course, you'll also get some of the award-winning Udderly Ridiculous goat milk ice cream to end things on a sweet note.
Options
Choose to enjoy your picnic either at a private table in the pasture or old-school picnic-style on a blanket. Either way, you'll have the chance to take in sweeping views of the hayfield and be provided with endless entertainment watching the alpacas wander or perhaps coming to greet you!
Things to Note
Price: Starting at $90 for up to 2 people for Lunch, Starting at $140 for up to 2 people for Sunset
Duration: 75 minutes
This experience is limited in availability and is not suitable for young children. Please respect our alpaca's space and their well-being – absolutely no running in the alpaca enclosure.
Trip Ideas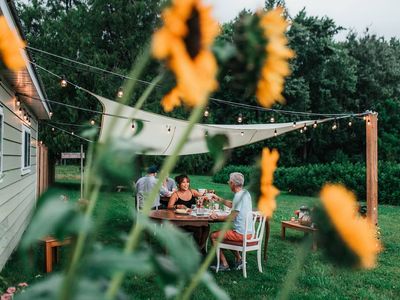 Fall is here and we've created the ultimate fall bucket list to get you out and exploring our beautiful...