7 Best Cycling Rides in Ontario
Discover the best cycling rides in Ontario when you point your two wheels towards Oxford County. There's something for everyone with a combo of road cycling, gravel road rides, and trail rides. These seven rides are awesome, especially in the fall when the colours start to change.
Jump to the section you'd like to read about:
Best Cycling Rides in Ontario through Oxford County
Whether you want a cruise along rolling hills, a gruelling gravel ride or a peaceful trail ride, you'll find it in Oxford County. Read on for ways we've paired our rides with great eats, fun activities and more.
Road Cycling Routes
Hop on your bike and head out for a delightful day of riding. These rides range from 34-156 km and can be split in two if you'd like to stop halfway. We've paired them up with places to eat, rest your head or do something fun along the way.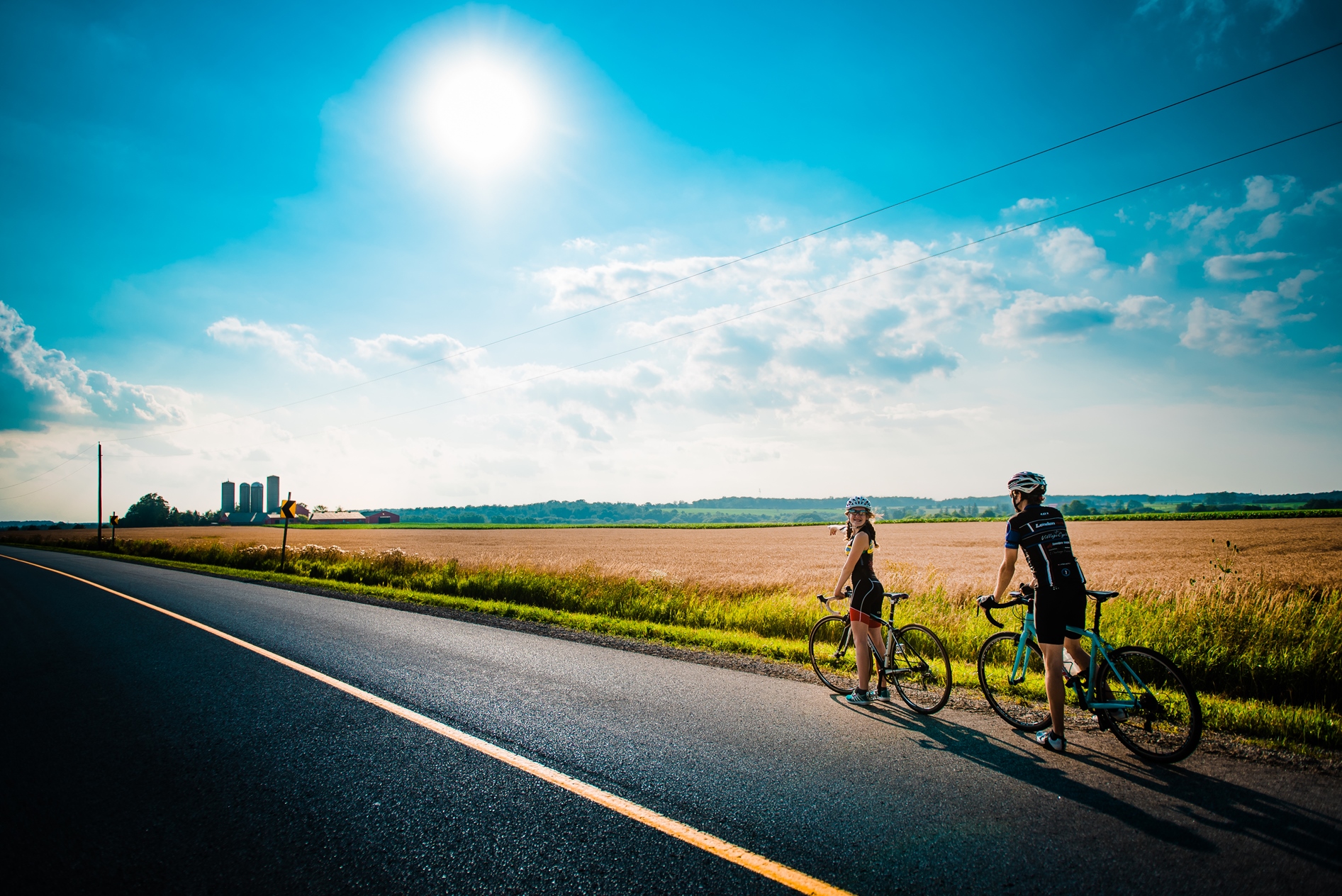 1. Short: Foldens to Sweaburg (17 km with the option to extend)
Looking for an even shorter ride? No worries! The Foldens to Sweaburg route clocks in around 17km but if you decide you're legs are still feeling fresh, there's an option to extend it to 31km.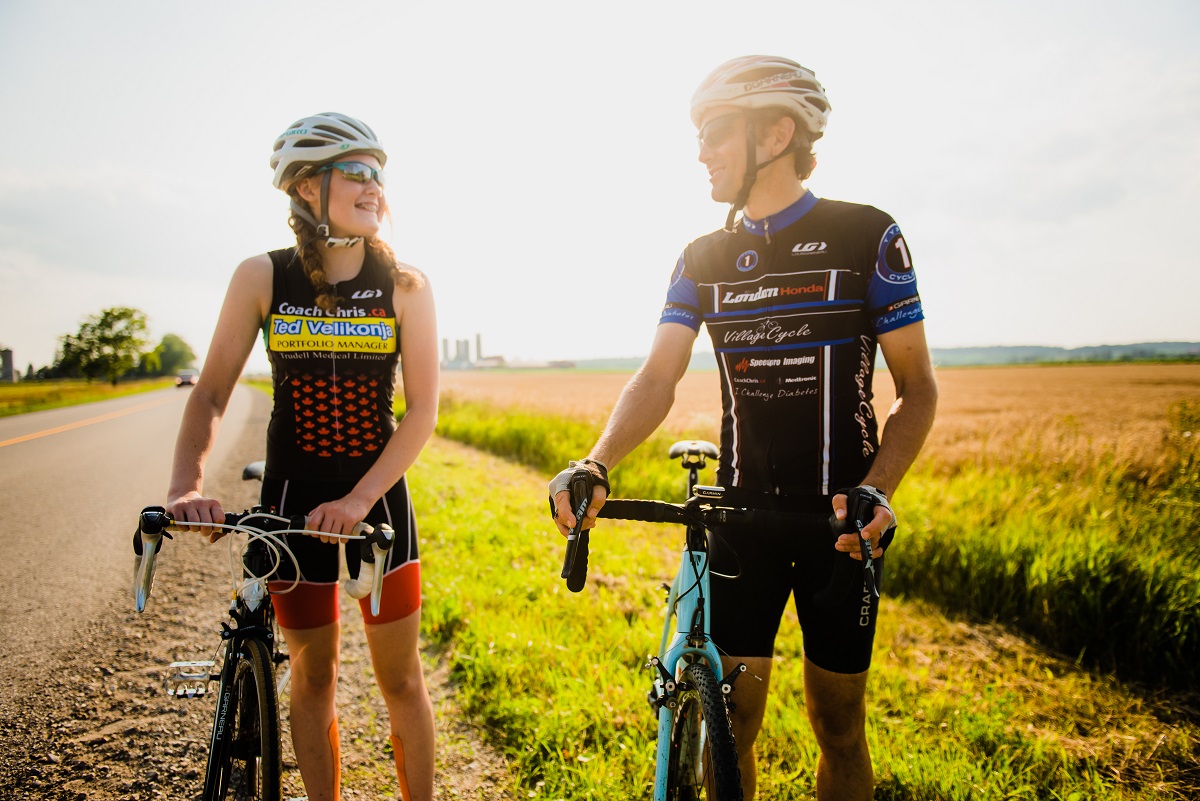 This short loop is paved except for a short detour on Trillium Line that you'll definitely want to check out. Starting in Foldens, park your car at Folden's Hall and head out. You'll loop through the back roads of Ingersoll and Sweaburg for a wonderful country ride.
We highly recommend trying this loop in the fall when the colours are at their peak. Take a quick detour onto Trillium Line in Sweaburg to check out Trillium Woods for a quick walk. This 1km loop brings you through a mature maple sugar bush that will be bursting with oranges and yellows.
Afterward, head across the road to Jakeman's Maple Farm where their shop is filled with mapley goodness. This maple coffee, maple popcorn, maple cotton candy and of course, their award-winning maple syrup.
Also on your route down Clarke Road, you'll pass by Leaping Deer Bakery Café. This on-farm café is a perfect spot to enjoy coffee and fresh baked good on the patio. Want an inside scoop? We're pretty obsessed with their maple syrup butter tarts so you should definitely try those!
Looking for more short cycling routes? Check out the Tillsonburg Airport Run or Woodstock to Pittock Route.
2. Medium: Norwich to Otterville (34km)
This short and easy to moderate ride is 34km of paved road through our beautiful countryside. Starting on Airport Road, you'll head East onto Windham where the views continuously provide beautiful sweeps of farmland.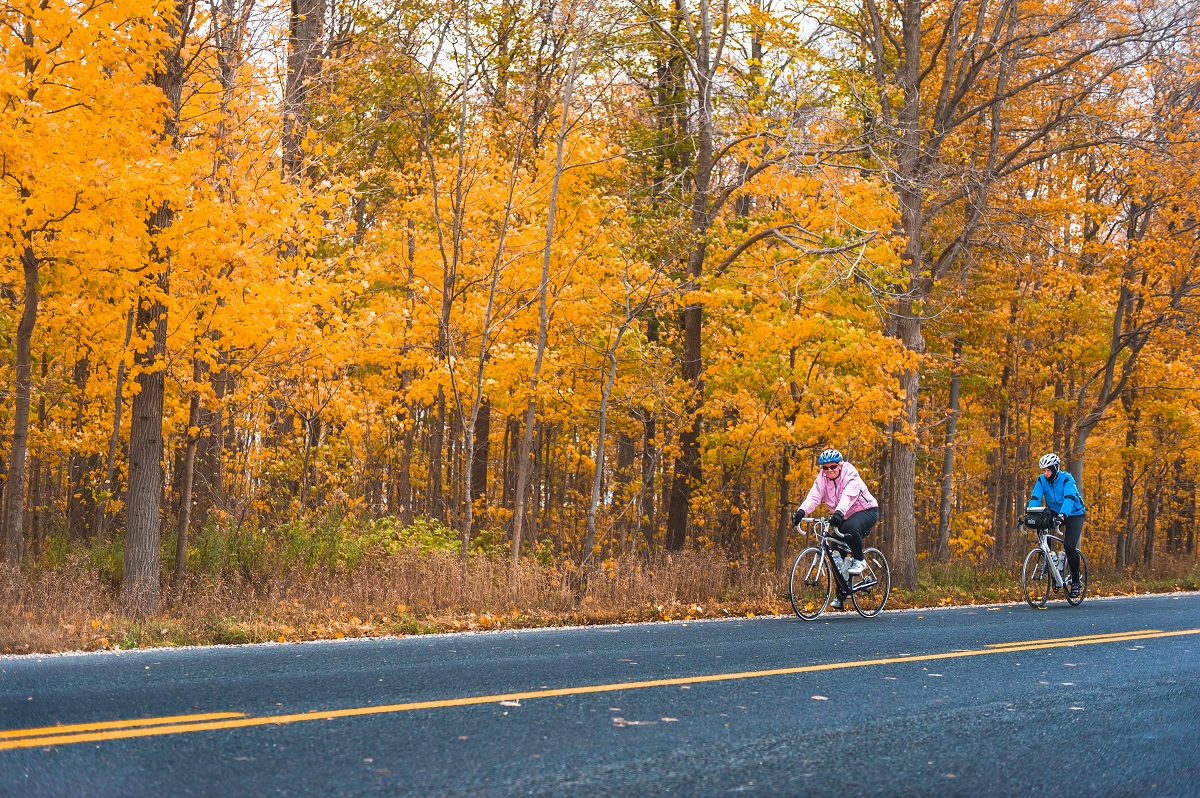 Turning onto Coal Line, you'll head under a small tree tunnel which is stunning in fall as colours change. As you come into downtown Otterville, check out The Market by the Falls. This shop features hot lunches like soups and pizzas, Dutch specialty items and a variety of groceries as well as an LCBO outlet.
Those wishing to laze away their afternoon will love Otterville Park with an outdoor pool that provides a great place to cool off in the warmer months and a beautiful stone bridge entrance. Before heading in, be sure to stop and read the historical sign out front which provides details on the area's rich Black history and settlement in the area.
From Otterville, you'll ride along the scenic Middletown Line into historic Norwich. History buffs will love the Norwich Museum NHS where you can learn about Norwich's Quaker past as well as the area's dairy heritage and apple farming heritage.
If you're looking for an extra-fun activity, call ahead to book a spot in the Churn Back Time experience where you'll churn your own butter like a pioneer and enjoy your hard work on freshly baked bread.
Ready to grab a bite? Check out the patio at The Village Restaurant and Pizzeria for a sit-down meal or drink.
Want something a little quicker? Head down the road to Ritchies Ice Cream and BBQ (open until the beginning of November) for a burger, brisket or hot dog as well as freshly cut fries or an ice cream cone from Shaw's Ice Cream! This roadside burger joint is a perfect spot for cyclists as you enjoy your meal at a picnic table or spread out on the grass.
3. Long: The Oxford Century Ride (100 miles or 156 km)
Look at you, ready to conquer Oxford's most challenging ride! Not for the faint of heart but definitely worth the views, The Oxford Century Ride is 156km (100 miles) of quiet, paved roadway. Fairly flat but wonderful for those training for longer distance rides, you'll go back sweeping farmscapes, rivers and streams and so much more.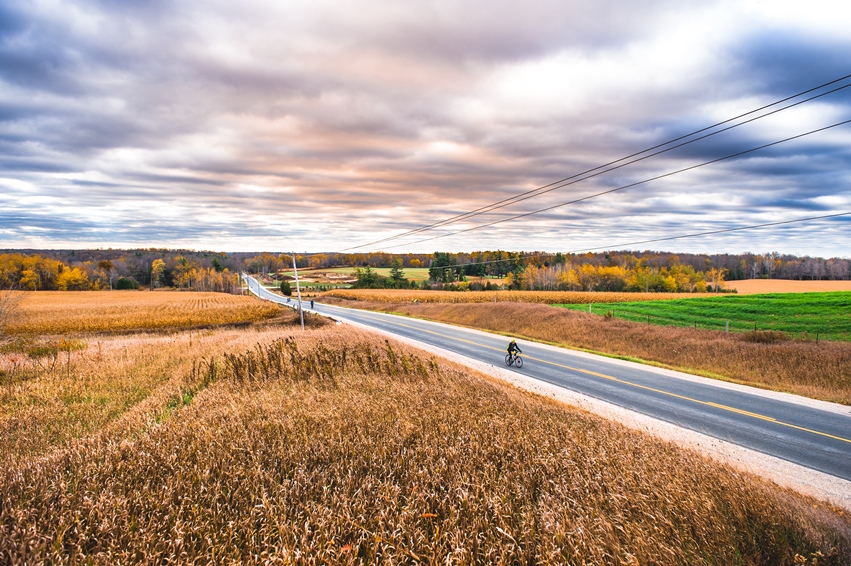 Start your ride in either Woodstock or Tillsonburg and work your way through this loop. If you starting Woodstock you'll head out Devonshire Ave out to Hwy 4 for a short stretch before hopping onto the beautiful Middletown Line.
Sail through the beautiful Oxford Centre into Burgessville where you can hit up the Burgessville Market if you need a quick spot to refuel. Continuing down Middletown Line, this long stretch will bring you right into Norwich, and eventually right to Tillsonburg.
Those looking for a healthy and refreshing bite should check out The Indigo Lounge, just slightly off your route. Lock up your bike on-site and try their healthy twists on delicious favs like zucchini pad Thai, their curry momos and more. Their licensed patio is the perfect place to enjoy tea on a crisp fall day before heading back onto your bike. If you'd like to check out more, be sure to keep riding right into downtown Tillsonburg! About halfway through your ride, if you'd like to stay the night before going on, check yourself into 7 Gables Bed and Breakfast or The Howard Johnson.
You'll take a turn into Ostrander afterward (nearby businesses include Bre's Fresh Market and Makkink's Flower Farm where you can cut your own bouquet). Continuing, you'll head up Derheman Line all the way into Mount Elgin where you could detour to The Oxford Hills Golf Course for a bite and then into Salford where we urge you to check out Red Dragon Dairy for fresh curds and delicious cheese as well as some other delicious treats.
The ride isn't done there though! Cutover on Salford Road to Culloden Line and right into Ingersoll. This small town is a great place to grab a bite, do a little shopping and of course, rest your head for the night if you'd like to break this ride up a bit.
Ingersoll is considered a bike-friendly community by Ontario by Bike for its ample bike lock-up, certified bike-friendly businesses and dedication to making it a great and easy place for cyclists to visit!
From Ingersoll, you'll head up beautiful 31 Line, past Happy Hills Resort. Cutting over to Tavistock, grab a bite at Quehl's Restaurant for a homemade hearty meal, past Innerkip and back into Woodstock. No sit back with a cold drink and delicious meal. You earned it!
Gravel Road Cycling
Ready to hit the gravel road? Whether you're a seasoned pro to the style or you're just getting to know it, gravel road cycling can be a thrill. Check out these short and long options.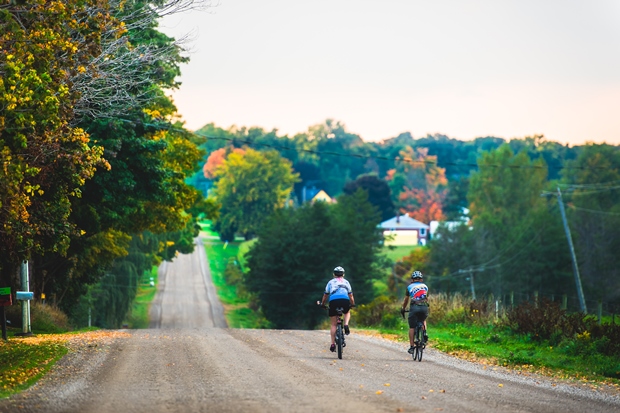 4. Short: Stage Coach Bandit (28km)
The Stage Coach Bandit route is a 28km easy-moderate ride that brings you through the heart of Oxford's rural farmland. Head out just south of Woodstock from Oxford Centre and loop along quiet, flat roads with wide-open vistas.
A quick detour down Gunn's Hill Road or Substation Road will bring you some magnificent finds. Along Gunn's Hill Road, check out Wild Comfort Body Care where owner Danielle Paluska crafts her own skincare line on her farm property.
Just minutes down the road, Gunn's Hill Artisan Cheese makes award-winning cheese in their state-of-the-art facility. Fill your paniers with goodies, grab fresh curds if it's a Friday or enjoy a cheese sampling plate out on the picnic tables.
Not far off on Substation Road, Berrylicious Fruit Farm offers up pick-your-own opportunities when blueberries and raspberries are in season as well as a farm stand full of delicious flavours. Looking for something extra special? Pair your ride up with their Picnics in the Patch experience where you'll enjoy a private picnic in the berry patch.
On your way back around, jaunt up Cedar Line for some pretty, meandering roads or cut over to Firehall Road as an equally stunning alternative.
Want more? The Gravel King Route is just 4 extra km and is also an easy, short ride!
5. Long: Big Bad Wolve (73km)
If you're up for a challenge, you'll find it along this 73km Big Bad Wolve route. Head out from Roth Park in Woodstock, cross the dam and head off-road on the Hickson Trail. You'll hop off the trail on Braemar Rd. for a gruelling but scenic, tree-lined ride with dips and drops, creeks and occasionally, a wetland.
Need a break? No worries. The Trails Edge Tavern in Plattsville is a short detour off the route and a good place to stop and catch your breath.
Continuing, you'll head through Pittock Reservoir and Conservation Area for a truly scenic end to your trip.
Glutton for punishment? If you want to check out another long ride, we recommend our 67km Billy Goats Duff run.
Trail Rides
Options are the name of the game! Choose from a ride at a local conservation area or a trail that spans the entire country!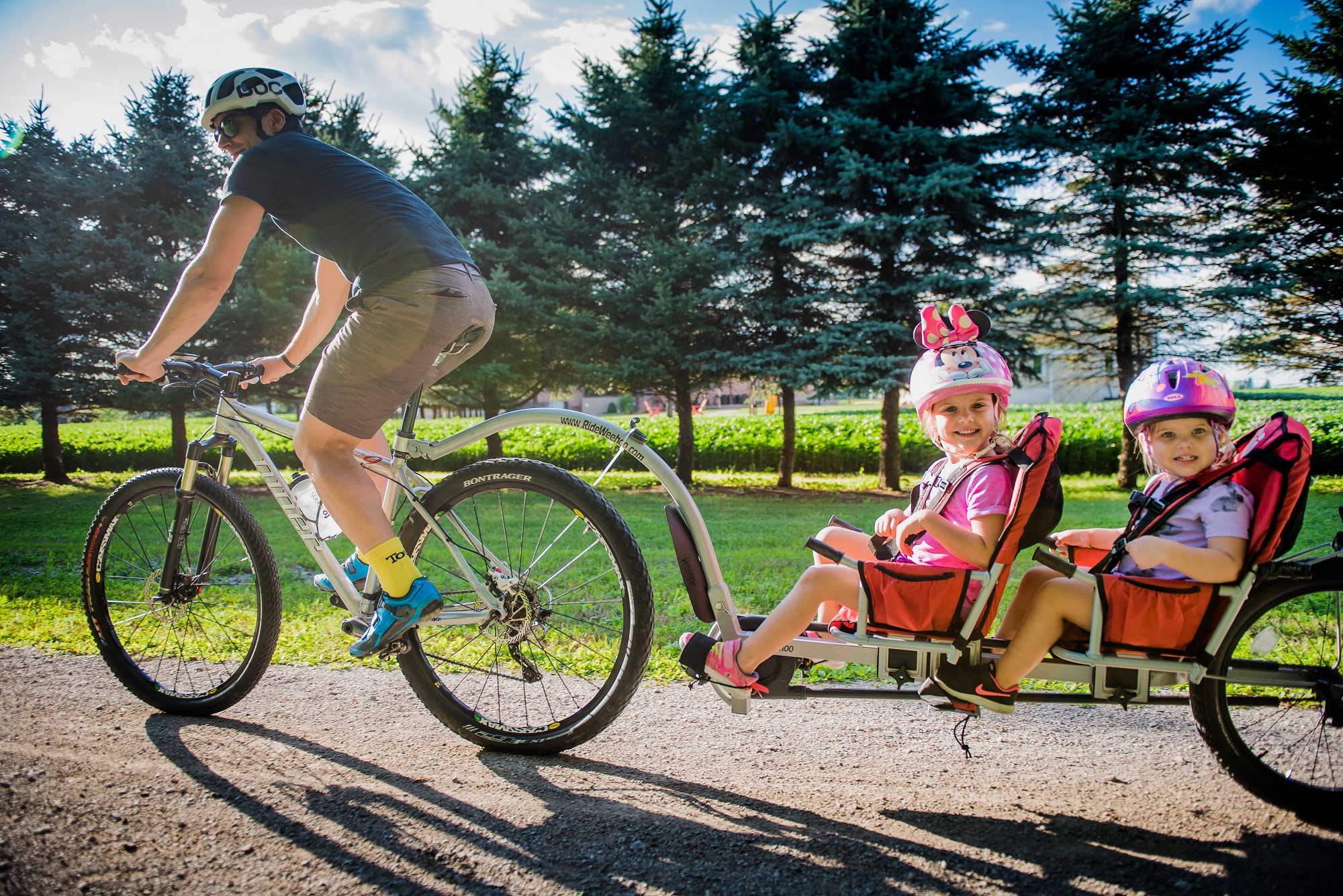 Wildwood Conservation Area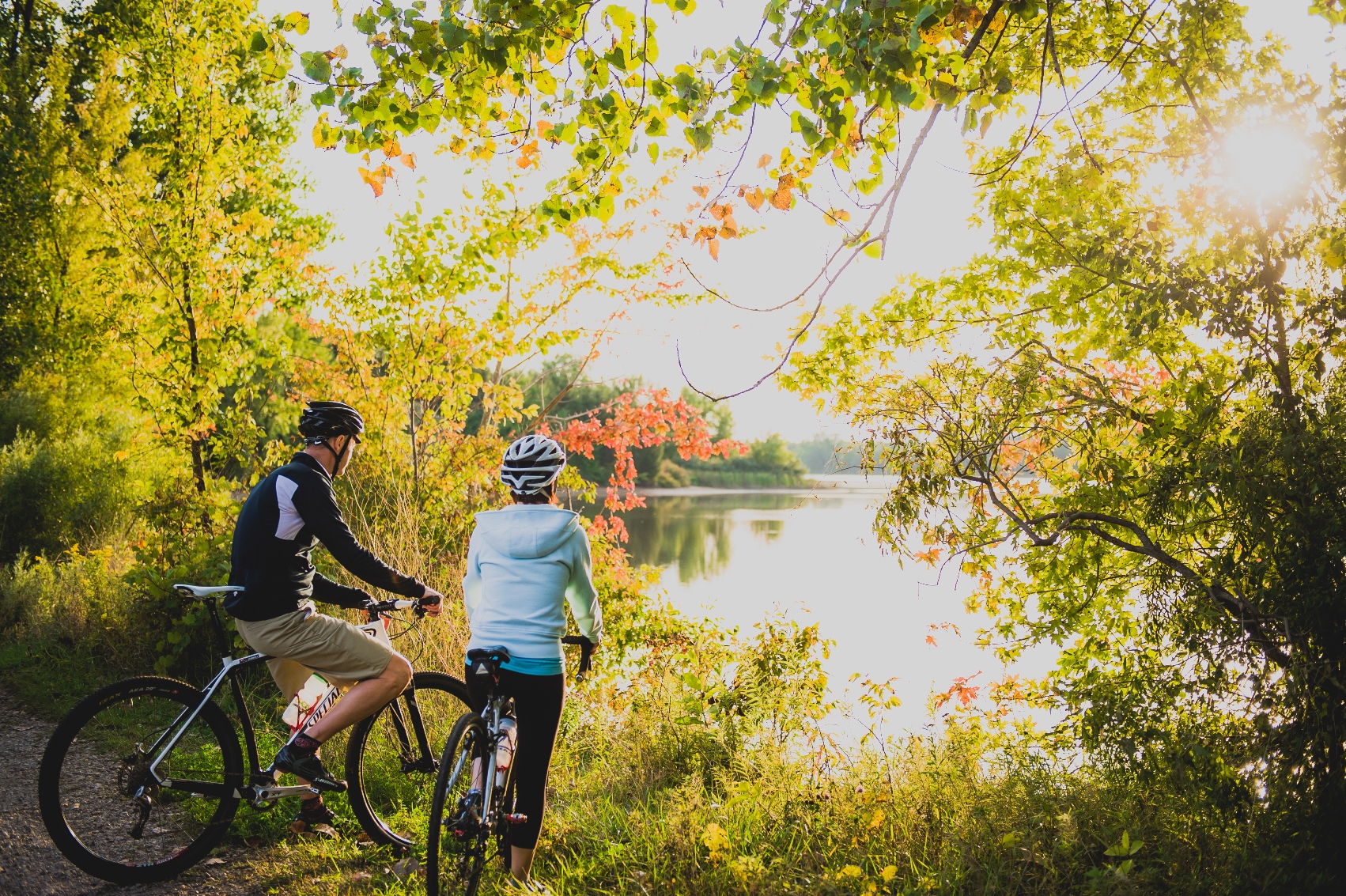 At Wildwood Conservation Area, there is 30km of trails with routes that suit everyone. Mostly single track, riders going out as a family will enjoy the Green (1km) and Red Trails (4km) close to the trailhead.
For intermediate riders, The Lake Trail North (7km) and Lake Trail South (14km) provide the perfect escape.
Finally, advanced riders can check out the 24km Lake Trail with two 1.5 km off-chutes that provide a difficult challenge of steep hills and rugged terrain.
The best part? Stay the night and camp out under the stars as you take advantage of some of the awesome amenities on-site, some of which include a swimming area, BBQ stations, fishing, hiking and geocaching.
Wildwood is also home to a bike wash station as well as a bike maintenance and repair station so you don't have to be worried about repairs or putting a dirty bike back into your vehicle.
The Trans-Canada Trail)
The Trans-Canada Trail stretches thousands of kilometres across the entire country. In Oxford, a 17km stretch runs through starting in Tillsonburg. This trail provides a lovely rail-trail ride through Tillsonburg past a flower farm.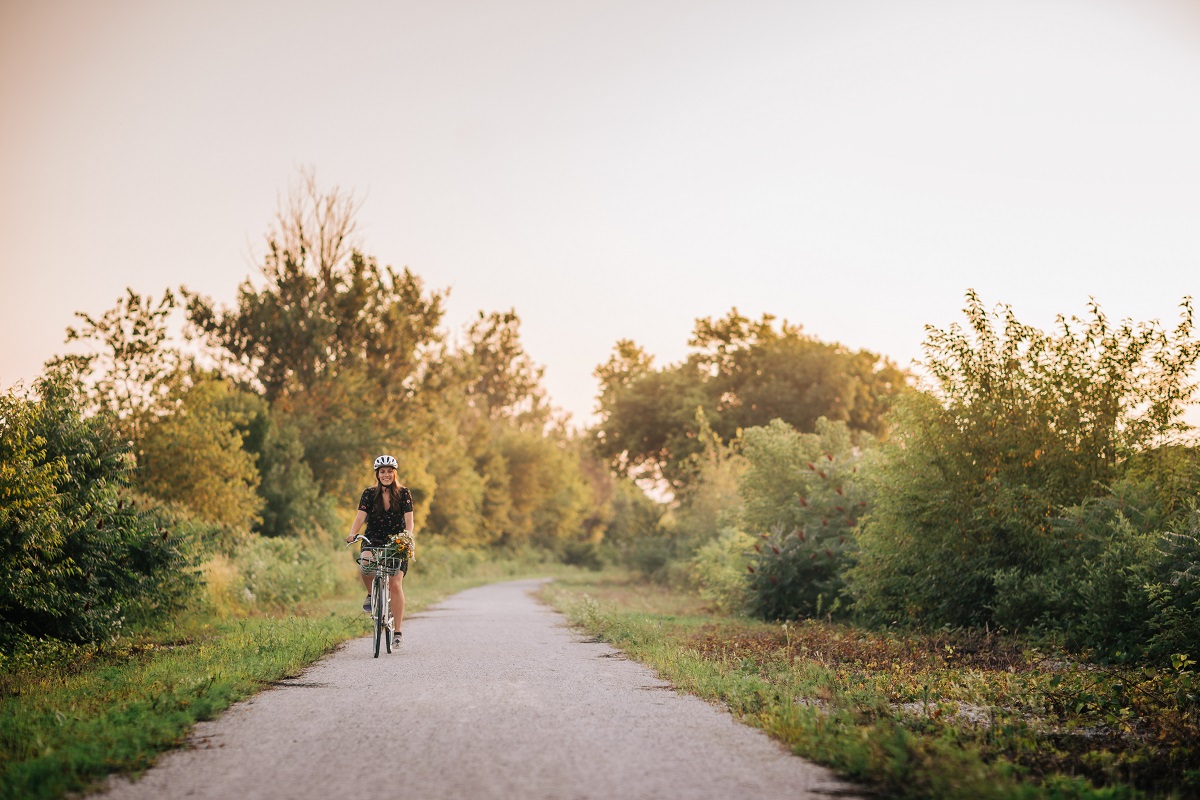 Before your start, consider fueling up at The Indigo Lounge, then hopping on the trail down the street on Tillson Ave. Pop into Makkink's Flower Farm (entrance right on the trail) to grab a freshly cut bouquet or sign up for the pick-your-own experience along your ride!
Want more awesome cycling adventures? Sign up for our newsletter!