Mountain Biking Destination - The Pines
*Please note that The Pines in Woodstock is currently experiencing a high volume of cyclists using the trail network. We recommend considering a different trail for now.
Home of the Woodstock Cycling Club, The Pines is usable all year round (for fat biking in the winter). Lush forest and a range of trail levels make it a sure bet for cyclists. Located on the east side of Woodstock, The Pines has approximately 14 km of trails suitable for all skill sets ranging from a 1 km kid-friendly loop and pump track to the more difficult (and aptly named) black diamond trails like Bloody Lung. Enjoy the pine treed forest that offers up a unique ride experience, while getting your heart rate up on this fun and well-signed trail network.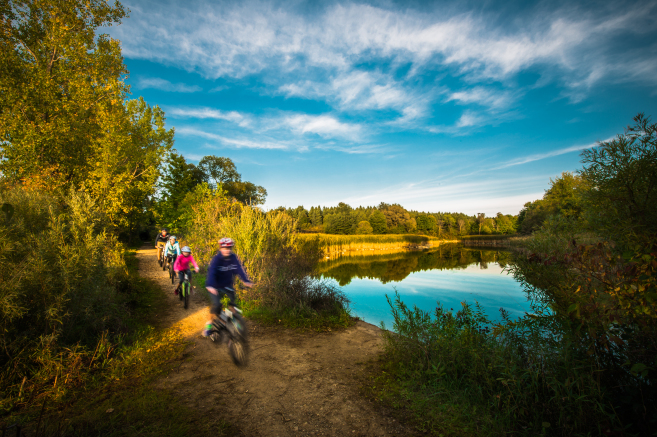 • Address: 745749 Township Rd 4, Woodstock, Ontario, N4S 7V9
• Website: www.woodstockcyclingclub.ca
• Phone: (519) 539-3681
• Trail Map: bit.ly/1Sza3Wk

Key features
• Compact soil, suitable for riding in all conditions. Singletrack, some double track, featuring berms and rougher sections with roots and rocks. Some boardwalks, rock gardens and pump track.
Trails:
Easier
• Pump Track 0.1 km
• Green Loop 1.4 km
Intermediate
• Root of Hell 0.2 km
• Dead Chicken 0.3 km
• Ridge Run 0.5 km
• The Bridge 0.5 km
• 23 SkiDoo 0.6 km
• Deer Run 0.6 km
• Twisty 1 0.7km
• Twisty 2 0.8 km
• Broken Shoulder 0.9 km
• Cardiac Hill 0.9 km
• Bruno's 1.2 km
• 354 2.2 km

Difficult
• Toilet Bowl 0.5 km
• Fork U 0.2 km
• Lake Shore 0.1 km
• Bloody Lung 1.1 km
• Doug's Delirium 1.2 km

Other Kid Friendly Options
• Roth Park Trail (7 km) and Husky Trail (5 km) both off-road trails suitable for children located close to The Pines, in the Pittock Conservation Area
What's Onsite
• Washroom (Port-o-Potty)
• Picnic Tables
Access, Fees & Etiquette
Access: Cyclists can park at gravel parking lot located off Township Road 4 or ride to The Pines from Woodstock along the 6 km Roth Park Trail and connecting along Township Rd 4. Trails are open from dawn to dusk and all season long. Winter riding permitted, trails not groomed. With a soil base that is sandy, the trails are open in all conditions
Fees: Riders must purchase trail membership (from $30) online.
• Visit www.woodstockcyclingclub.ca/membership
User Groups: Mountain bikers
Best Bet Patios & Eats
Woodstock (9 km)
• Accommodation (camping at Pittock Conservation Area, B&B's and Hotels)
• Cafes and Restaurants
o Fine Dining with Patio at Six Thirty Nine
o Great local food and drink at Charles Dickens Pub
Tillsonburg (46 km)
• Accommodation (Inn and Hotel)
• Cafes and Restaurants
o Great comfort food at the historic Mill Inn & Eatery
o Go Organic at the Indigo Lounge

Local Bike Shop
• Pedal Power - 590 Dundas St, Woodstock (www.pedalpower.ca/)
Additional Resources
• www.OntarioByBike.ca/southwestontario
• www.RideOxford.ca
• www.TourismOxford.ca
• www.OntariosSouthwest.ca