Mountain Biking Destination - Wildwood
A visit to Wildwood Conservation Area can mean big time fun! For the avid mountain biker or for those just looking for a fun route, Wildwood has you covered. The area has approximately 30 km of trails, including a 24 km loop route around Wildwood Reservoir. The loop is mostly single track trails with some double track on the north side of Lake Trail. If you're riding with younger kids, explore the Green and Red trails located close the trailhead. If you're an experienced rider and looking for more of a challenge, ride the entire Lake Trail loop and take both of the Black Diamond trail offshoots. Lake Trail is a directional loop meaning that on even-days it rides clockwise and on odd-days, counter-clockwise.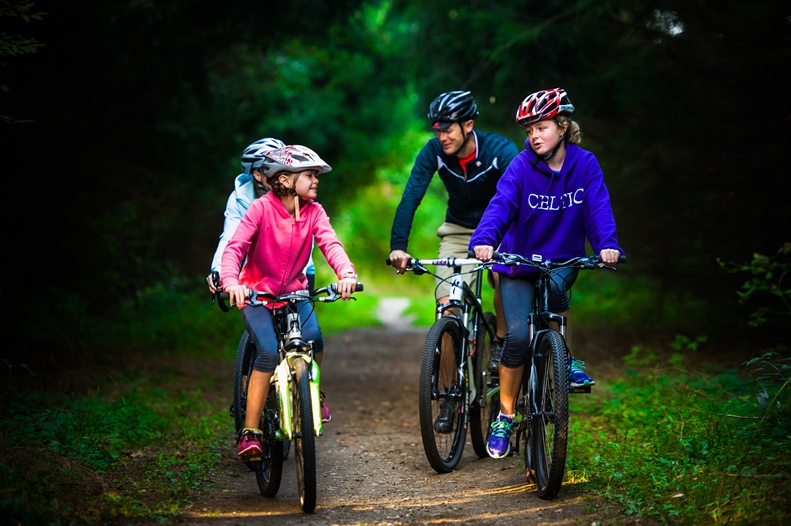 • Address: 2549 Road 119, St Marys, ON N4X 1C5
• Website: www.wildwoodconservationarea.ca/
• Phone: +1 (866)-668-2267
• Trail Map: bit.ly/1Qh7fhB

Key features
o Flat and rugged terrain with areas of steep hills, exposed roots, rocks and some boardwalks. Use extra caution as sections of the Lake Trail require riding on
roads.

Trails:
Easier
• Green Trail 1 km
o Suitable for children/younger riders (include appropriate icon)
• Red Trail 4 km
o Suitable for children/younger riders (include appropriate icon)
Intermediate
• Lake Trail North 7 km
• Lake Trail South 14 km
Difficult
• Field of Burrs Trail 1.5 km
• Hardwood Trail 1.5 km

What's Onsite
• Camping
• Washrooms
• Drinking water
• Bike Wash Station
• Bike Maintenance and Repair Station
• Laundry
• BBQ stations
• Swimming and beach access
• Volleyball courts
• Fishing, Hiking and Geocaching  
Access, Fees & Etiquette
Access: Parking is available at the conservation area. All cyclists must enter the trail via the trail head located at the gatehouse. Trails are open from dawn to dusk and all season long. Winter riding permitted, trails not groomed.
Fees: Adult trail passes are required and are available for $6 per day. Enquire about a seasons passes which gives access to other mountain bike facilities in the area.

User Groups: Mountain bikers and hikers

Best Bet Patios & Eats
Tavistock (23 km)
• Accommodation
o Caboose Bed & Breakfast
• Cafes and Restaurants
o Local Country Comfort at Quehl's
o Grab something fresh and local at DD Homestyle Cuisine

Woodstock (45 km)
• Accommodation (camping at Pittock Conservation Area, B&B's and Hotels)
• Cafes and Restaurants
o Licensed patio – Counter-service light pub fare at Brickhouse Brewpub
o Casual Fine Dining with Patio - Six Thirty Nine
o Great local food and drink at Charles Dickens Pub

Local Bike Shop
• Pedal Power - 590 Dundas St, Woodstock (http://www.pedalpower.ca/)

Additional Resources
• www.OntarioByBike.ca/southwestontario
• www.RideOxford.ca
• https://tourismoxford.ca/
• www.OntariosSouthwest.ca
Trip Ideas
What is better than taking a refreshing, energizing walk in the spring? Taking a walk among thousands of...
Discover the best cycling rides in Ontario when you point your two wheels towards Oxford County. There's...