A Taste of Farm Life (Family Friendly)
Experience Udderly Ridiculous Farm Life
Give your family a window into farm life – without all the farm chores!
$85 CAD | Per Person
$55 CAD | Per Child Ages: 2-9 (Under 2 Years No Charge)
Join Cheryl & Greg on their third generation farm and the birthplace of their company Udderly Ridiculous- producing award-winning goat milk ice creams. Learn the zany stories of life on a farm as you cuddle or do agility training with a lively pack of goats, get up close and personal with the chickens, learn about alpacas, get a sniff from a guard Llama, see the Highland cows and take a walk through the hayfield to learn about soil and life on a farm.
You will tune into the sights, sounds, tastes and yes, the smells, of farm life. Tailored specifically to families you will learn in a fun and engaging way what goes into producing food, the personalities and traits of animals and get to ask all the questions you want! Trust us when we say, there are no silly questions.
Cheryl will introduce you to a "cast of characters" that help weave together the importance of the farm's history, the land, the community and our food production. You will enjoy tasting products along the way and of course, you'll finish off your experience with a special ice cream treat and a new appreciation for what it means to be a part of a living, thriving farm. Whether you're walking with a new goat friend or eating ice cream, we think you'll agree, farm life isn't so baaaad. Get it?
Important to Know
Consider bringing:
– Refillable water bottle
– Hat and sunscreen in the summer
– Shoes you don't mind getting a little dirty and wet
The price is on a per-person basis and includes the experience itself as well as any tasting along the way.
Trip Ideas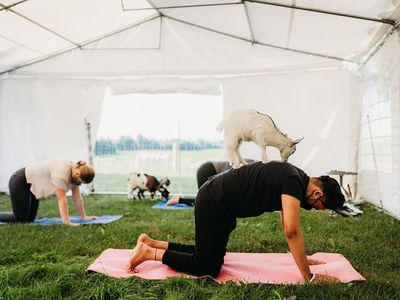 Explore new hidden gems as you discover the best Ontario experiences this summer in Oxford...