Makkink's Flower Farm & Bakery Café
Looking for a breath of fresh air? Step into a field of flowers at Makkink's Flower Farm.
The Makkink's own and operate this charming, small family flower farm located in Tillsonburg, Ontario. They have over 35 beautiful flowering plants to share with you including dahlias, sunflowers, zinnias and strawflowers.
Here you can experience the flower farm by, wandering through the fields of flowers, cut your own flowers and take home a beautiful bouquet. Or join in a Flower Farm workshops, where you can learn about the farm, the many flowers they grow and how to make beautiful, seasonal arrangements and holiday décor.
If you don't have time to cut your own, stop in the farm store, where they offer beautiful, fresh bouquets from their own flower fields. Perfect for gifts for special occasions or someone special or maybe just for yourself.
Take a moment to treat yourself, and wander through a field of colourful fresh flowers, while you relax, get close to nature and a take breath of fresh air.
A visit to the Flower Farm would be incomplete without a trip to the bakery café. Choose from a selection of sandwiches or delicate pastries adorned with seasonal fruits, you'll be sure to find something that will satisfy a grumbling tummy. Don't forget to grab a cup of their specialty coffee or tea, the perfect accompaniment to your treat.
Visit Makkink's website for more information on their farm, their Flower Farm Experiences, and Workshops.
Contact Information
164604 Kellett Rd, Tillsonburg, ON
Trip Ideas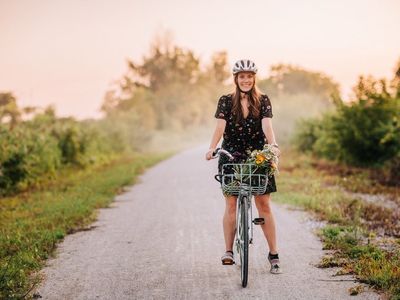 During the late summer and early fall, The Trans Canada Trail comes to life with stunning deep greens into...