SWOXify: Seven stops in South-West Oxford we can't stop talking about
South West Oxford, or SWOX as its affectionately called, is one of the coolest little corners of Oxford County if we do say so ourselves. In this small section of the county you'll find big flavours, exciting experiences, interesting heritage and SO much more. Read on for some amazing spots we highly recommend you check out!
1. Red Dragon Dairy
Where: 383723 Salford Rd. RR#1 Salford, ON. (View Map)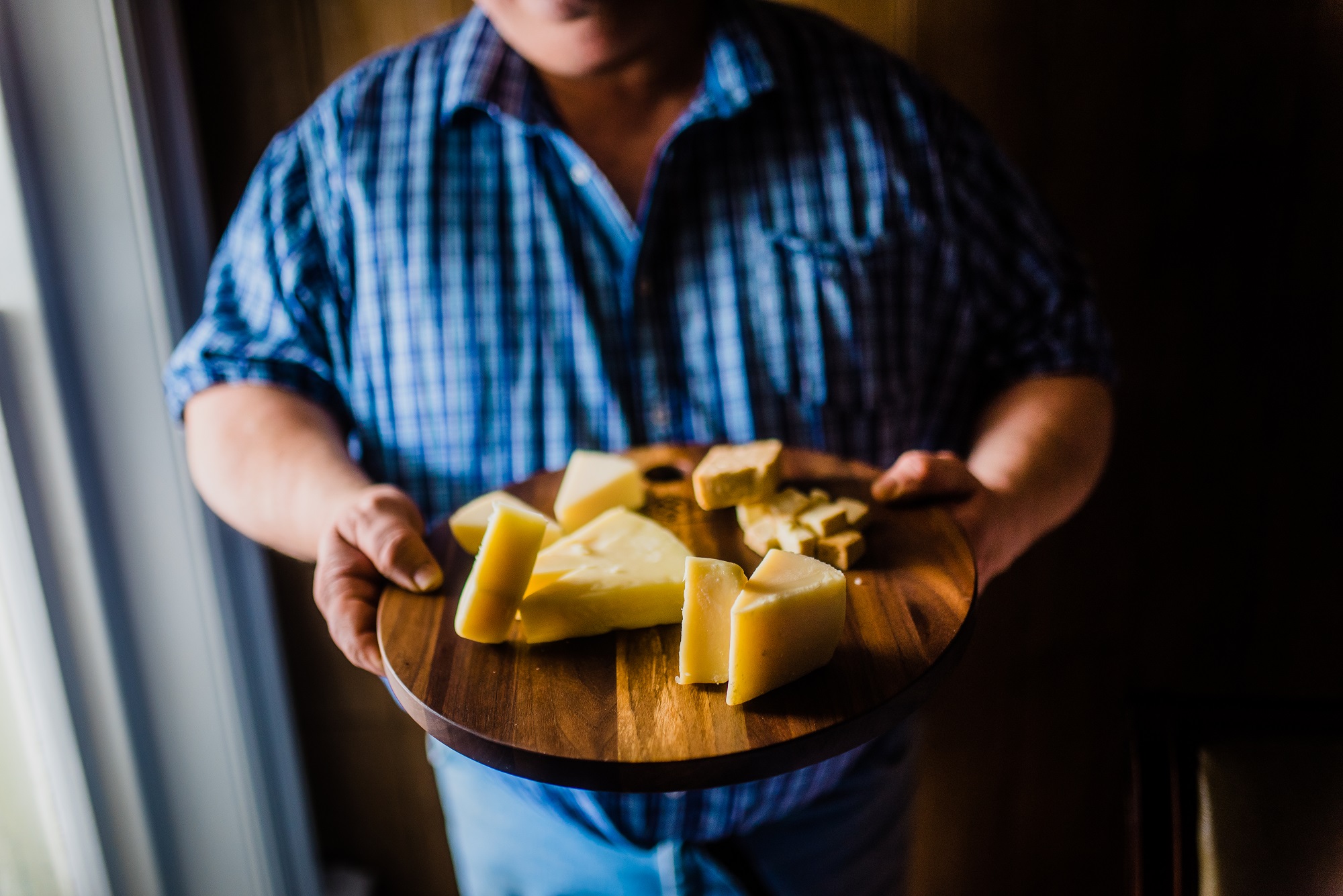 Oxford's newest cheese factory has just opened and it's definitely something to write home about! Red Dragon Dairy in Salford makes sheep's milk cheeses in a variety of styles including manchego, pecorino, feta (and smoked feta) and even cream cheese spreads in lemon pepper and red pepper basil flavours. Also pop by for fresh curds made in house!
Cheese isn't the only thing they carry though! The folks at Red Dragon Dairy sell delicious baked goods, lamb meat, a selection of UK groceries and several local goods like coffee, chocolate and more! Stop in and enjoy a beverage and a snack on their bistro set outdoors or just grab and go!
2. The Oxford Hills
Where: 324183 Mount Elgin Rd. Mount Elgin, ON. (View Map)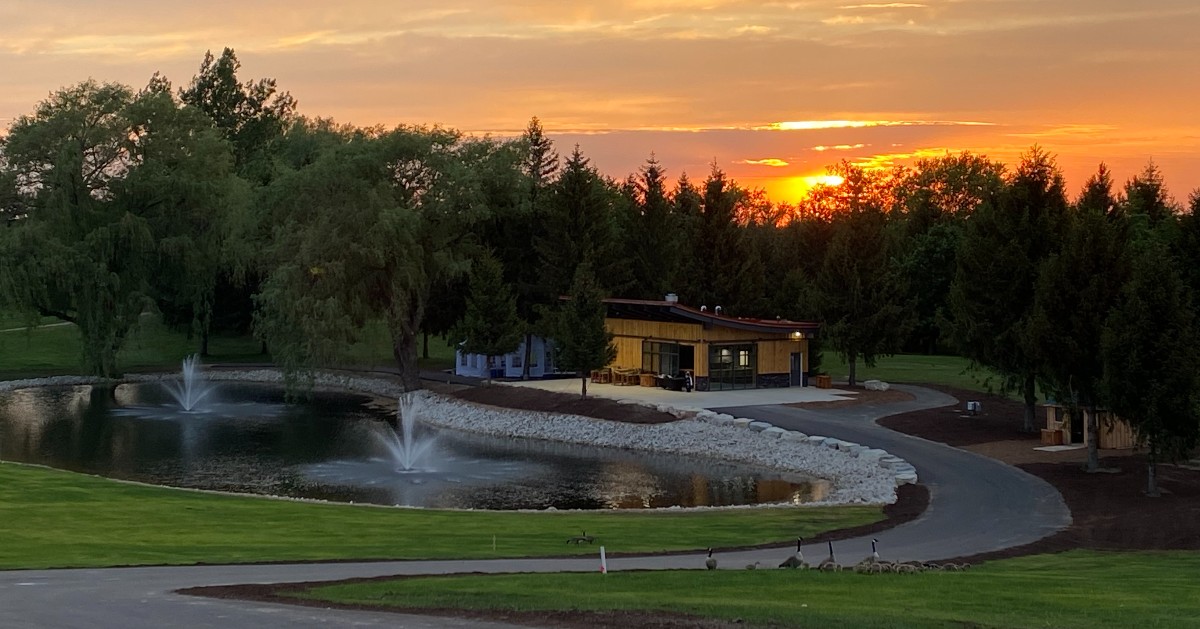 Newly opened, The Oxford Hills Golf Club in Mount Elgin is a hole in one! This 18-hole park-style public golf course offers play to members and the public alike. Enjoy gorgeous, well-manicured greens that are great for any golfer.
Afterwards, grab a seat on the patio at Kalo's, the clubhouse restaurant with a full menu of delicious eats including wood-fired pizza, Artic char, fried chicken, burgers and more plus discover a number of fun events hosted there regularly.
3. Orange Door Acres
Where: 323804 Mount Elgin Rd. Mount Elgin, ON. (View Map)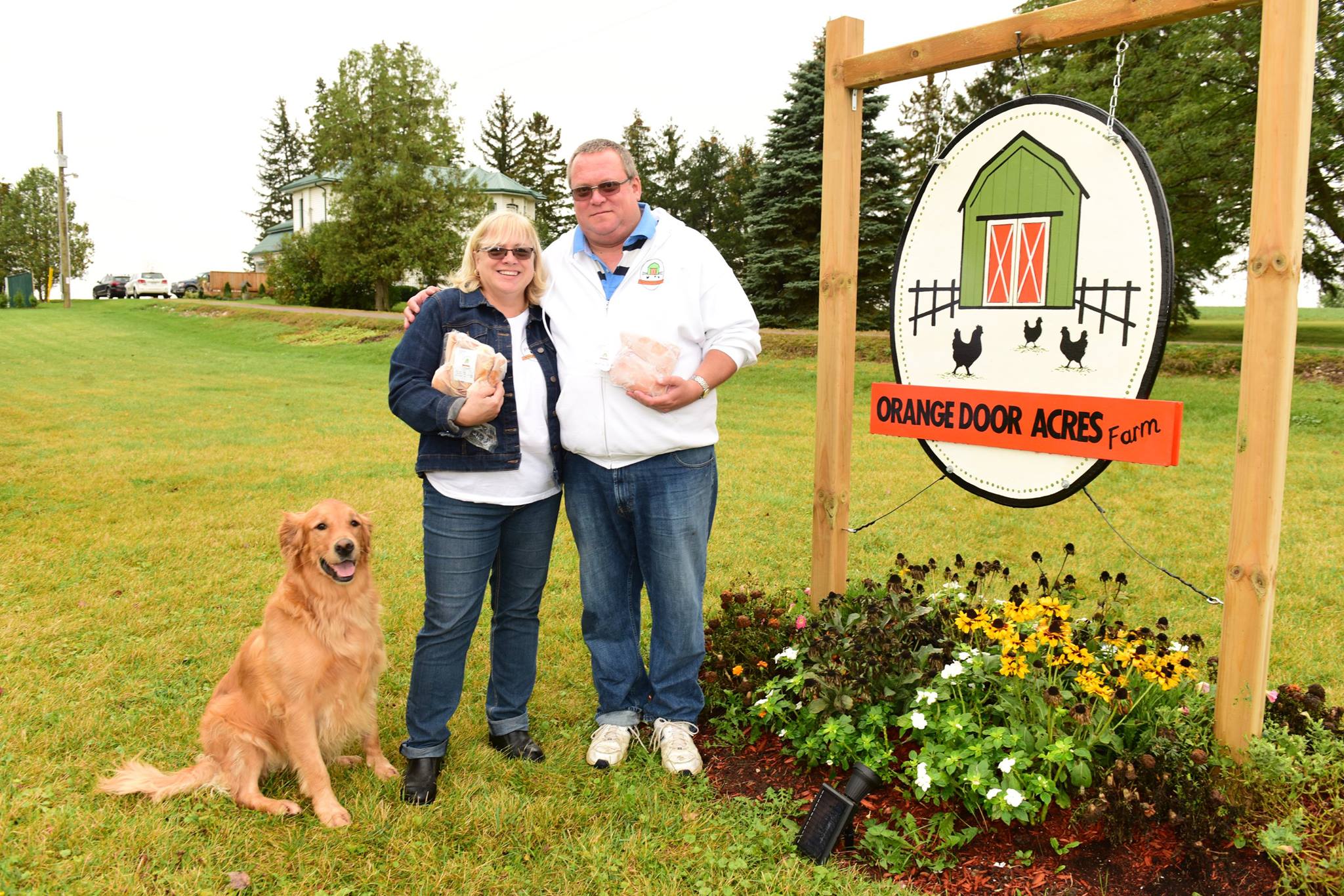 Opening in 2014, Orange Door Acres has been such a great addition to the county, offering up fresh, raised-on-pasture chicken alongside their specialty rubs, spices and more. Stop into their farm store to pick up their delicious chicken in a variety of cuts as well as a number of other local goods.
Want to learn more about how owners Tim and Donna raise their chicken? Time permitting, they're always happy to show you around! Sitting on 5 ½ acres of farm property, they're able to give the chickens plenty of space to run around and catch fresh bugs. The coops are spacious and it's clear they put a lot of care into raising high quality chicken.
4. Bre's Fresh Market
Where: 224276 Ostrander Rd. Tillsonburg, ON. (View Map)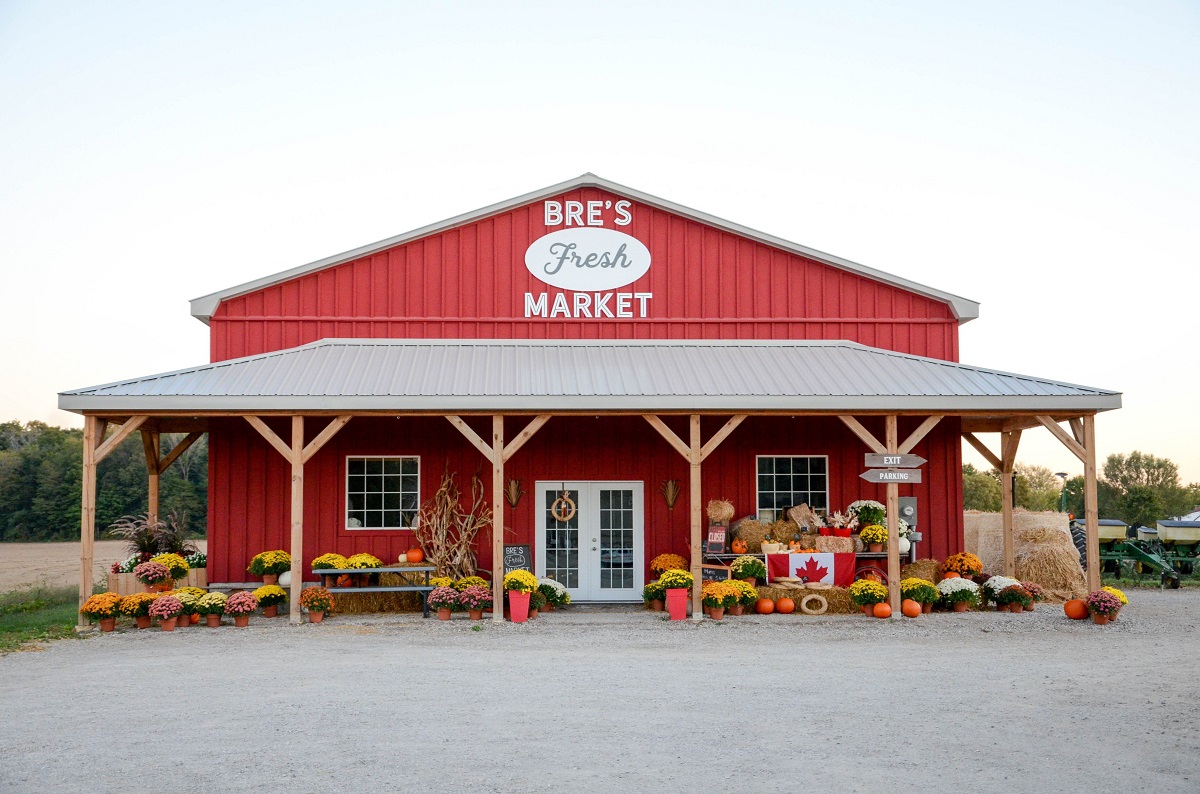 Discover farm fresh flavours at Bre's Fresh Market in Ostrander. Selling produce they grow themselves including their famous sweetcorn as well as local goods from neighbouring farms, it's a great place to do your grocery shopping! If you have kids be sure to say hit to the goats outside in their pen before heading in to shop a wide selection of local produce, baked goods, chips, cheese, preserves, fresh bouquets and more. Also stay tuned on their Facebook page for special events and visitors like Hayes Maple Syrup's Crepe Trailer serving up homemade crepes or corn roasts from Chef Jeff.
5. Makkink's Flower Farm
Where: 164604 Kellett Rd. Tillsonburg, ON. (View Map)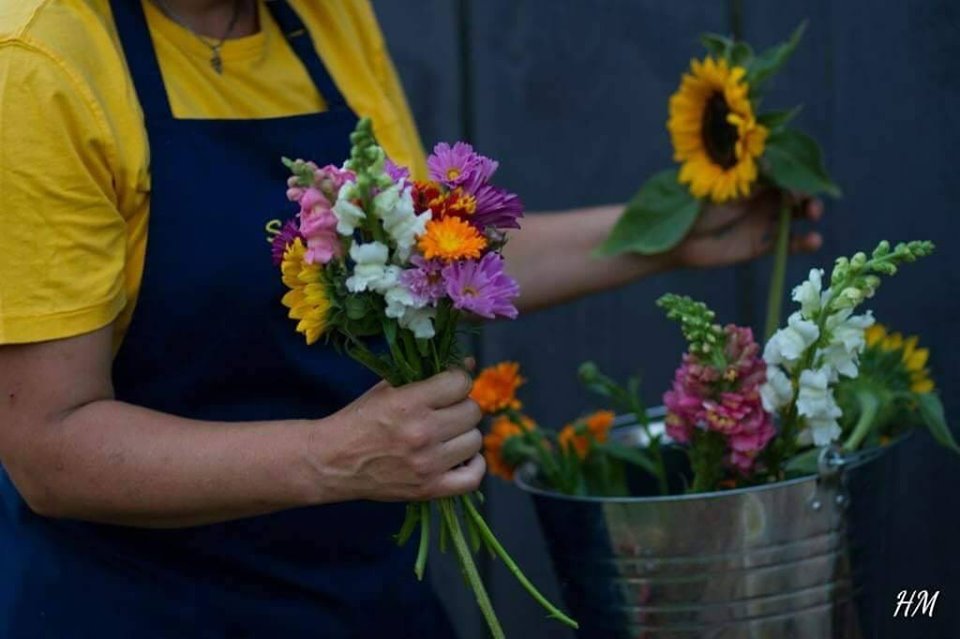 Relaxation awaits at Makkink's Flower Farm. Located on a beautiful rural property, Makkink's Flower Farm grows over 30 different varieties of blooms that include everything from Bells of Ireland and dahlias to zinneas, poppies and their famous sunflowers. Check out their farm store onsite for pre-made arrangements, beautiful containers and a few local goods like handcrafted soap, baked goods and more.
For those looking for a lovely late summer or early fall activity, Makkink's hosts cut-your-own flower experiences. Walk through the field with an apron and bucket and cut your own array of beautiful fresh flowers. When you're done, bring it into the farm shop and the staff arrange what you've cut into a beautiful arrangement. If you want a little more, you can also check out Makkink's variety of other workshops and experiences.
6. Coyle's Country Store
Where: Corner of Airport Rd. & Highway 19, Tillsonburg, ON. (View Map)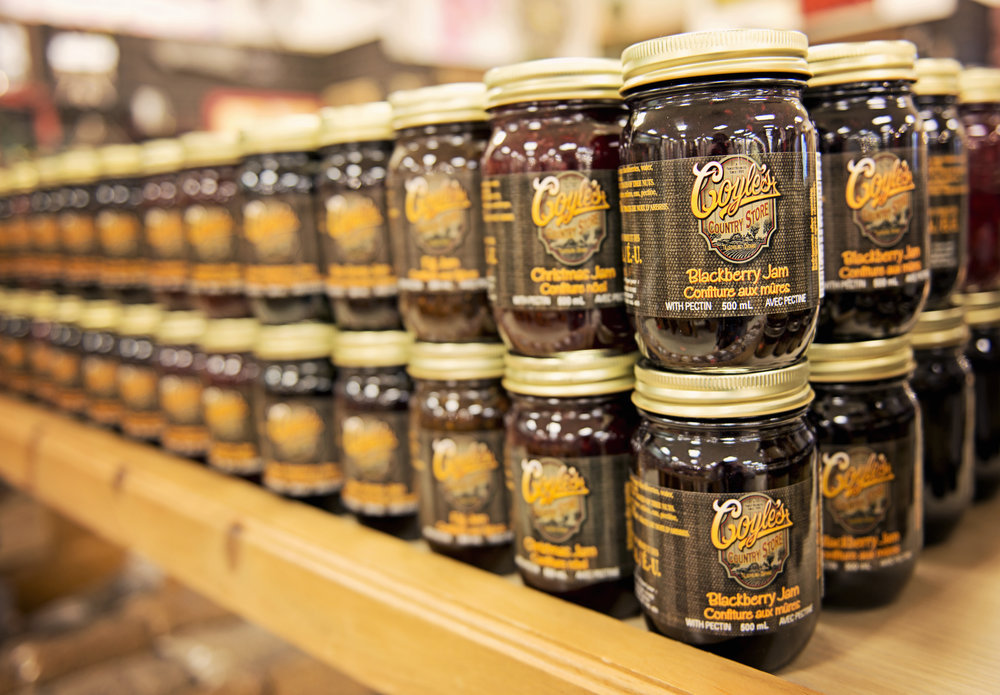 Coyle's Country Store has been a local favourite and visitor destination for many years. Known for their nuts roasted in house as well as their huge selection of confectionary products, you can spend a long time wandering the aisles and finding loads of local treats. Those who love to shop will also enjoy perusing their houseware section full of unique finds for decorating your home or gifting to others.
7. The Canadian Harvard Aircraft Association and Skyway Cafe
Where: 244411 Airport Rd. Tillsonburg, ON. (View Map)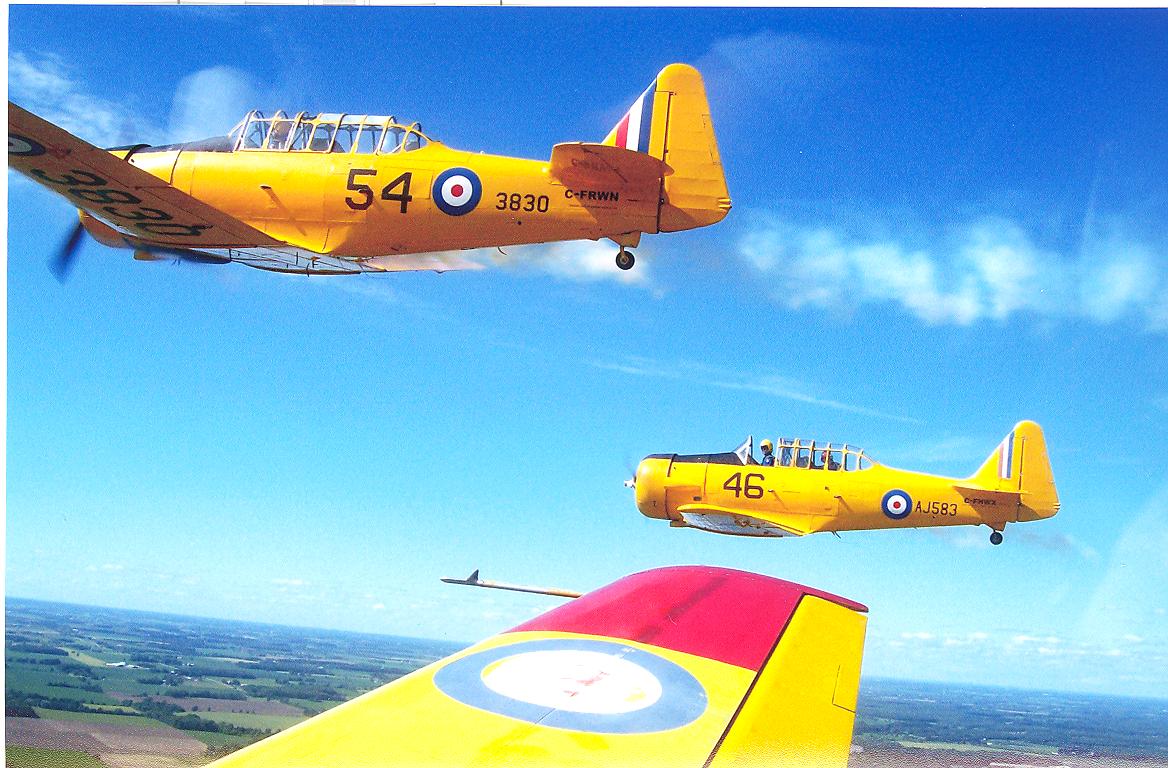 Enjoy your breakfast as you watch private, commercial and heritage planes hit the skies at the Skyway Café. This café located inside the Tillsonburg Regional Airport serves up diner classics like eggs, bacon and home fires that really hit the spot. With a great selection of patio seating and a large viewing window, you'll be able to see pilots working on their planes and a wonderful view of the runway.
Also on site, the Canadian Harvard Aircraft Association specializes in restoring military heritage planes back to their former glory. Named for the Harvard, a bright yellow training aircraft, you'll see a number of different planes in house, all worked on by volunteers. On Tuesdays and Saturdays, enjoy touring through and hearing from volunteers about all the amazing stories behind the planes.
So there you have it! Eight awesome stops in South West Oxford. Enjoy exploring!
Trip Ideas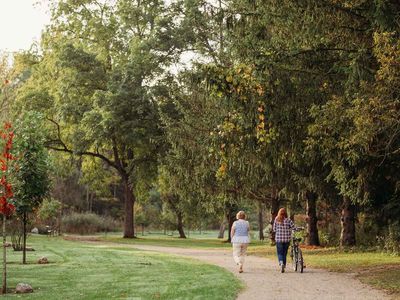 Tillsonburg is a town of many talents and therefore has many interesting things to do! From a fascinating...