A New Experience: Paddling the Lower Nith River in Early Spring
We joined Grand River Experiences Outdoor Adventure Company to learn the ins and outs of paddling rapids and experience something new this spring. YAY!
Paddling the Nith River in Spring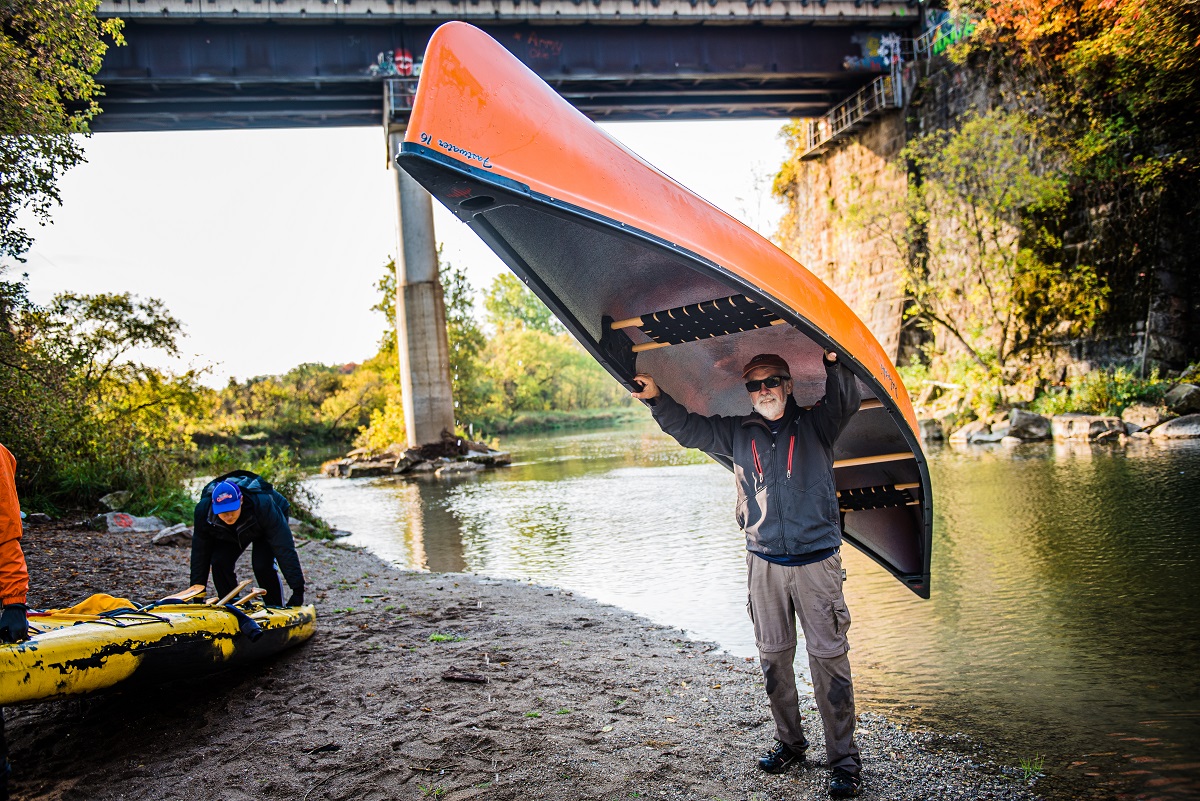 If you've never heard of the Nith River, you're not alone. A tributary of The Grand River, a Canadian Heritage River, the Nith River is often unknown, even by locals.
However, when the conditions are right it's a great opportunity to learn a bit more about paddling and the amazing history of the river. Read all about our paddling trip and what you can expect.
Want to watch a video instead? No problem!
Paddling the Lower Nith River in Early Spring
Spring is a beautiful time of year to experience the awakening wildlife of the area, see interesting geographic features and take advantage of the river at its highest levels.
Starting with some paddling instruction on the shore, we piled into canoes and kayaks with the Grand Experiences guides to learn a little bit more about the Nith River and pick up some new paddling skills.
Next, we headed out for a wonderful adventure.
Views on the Nith River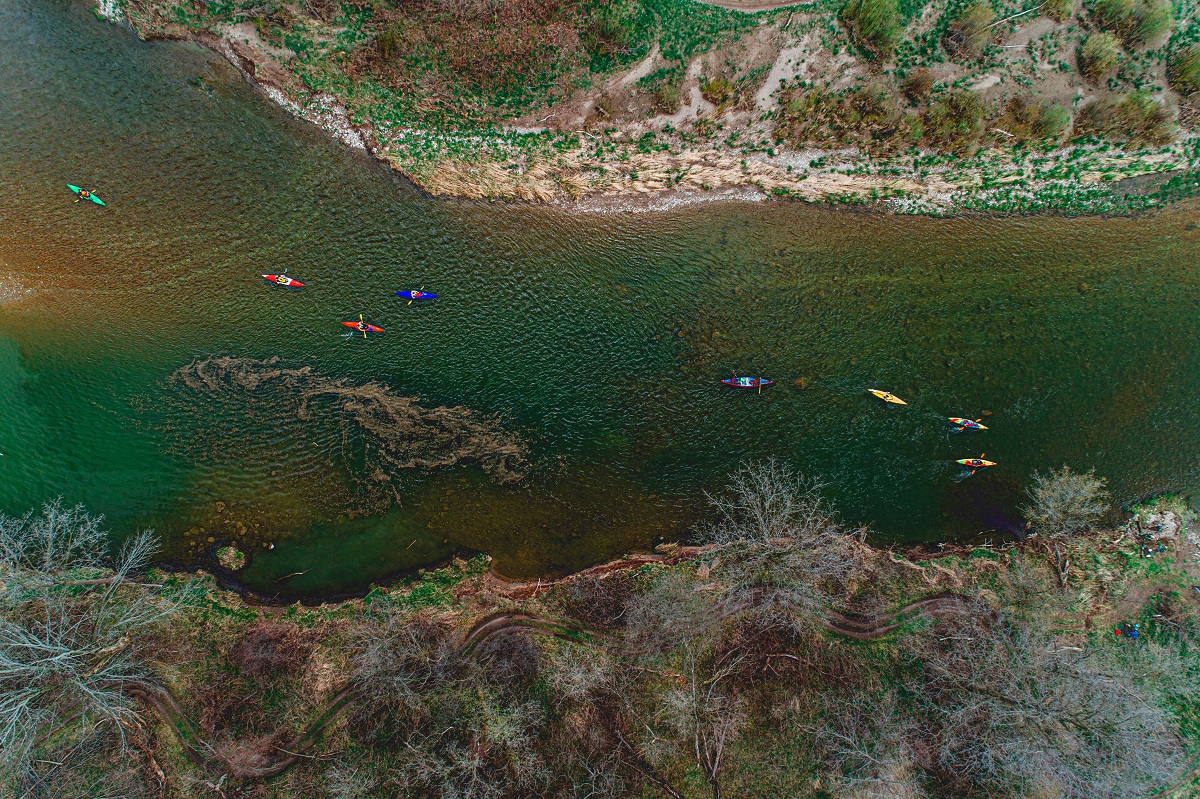 A paddle along the Nith gives you the opportunity to see some truly spectacular things along the way.
Large bluffs with interesting geographic features, white-tailed deer, flocks of ducks and more greeted us on our paddle.
There are also chances to see beavers, bald eagles and osprey!
One of the coolest things we saw was the large shelves of ice that had been pushed up onto the shore as water levels rose. They were noisy as they cracked and popped in the sun and looked really neat.
Starting Our Paddle on the Nith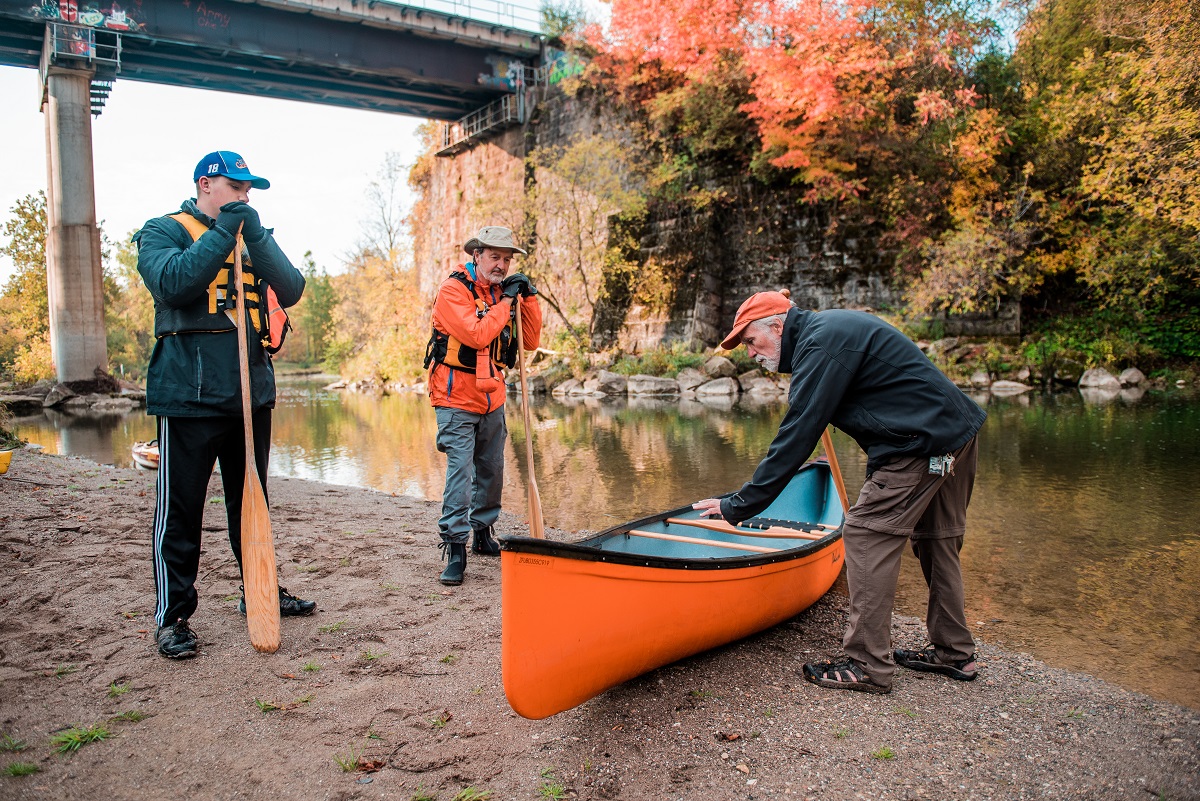 Heading out in our boats, we were paired up with Jamie, the owner of Grand Experiences. What a treat!
Jamie knows so much about the history of the area and the people who have called it home over the years. He also has ties to some really interesting Canadian canoe heritage (be sure to ask him)!
The start of the river is fairly calm with some opportunities to experience smaller rapids.
It's a great chance to learn from the guides as they coach you through the smaller rapids, sharing tips and techniques for later in the paddle.
There were a few tips (the river was really running that day!) but nothing serious. In 25 years of business, Grand Experiences has never had a serious accident.
There were guides certified in swift water rescue as well so we felt very safe with them.
Fire-Warmed Chilli Along the River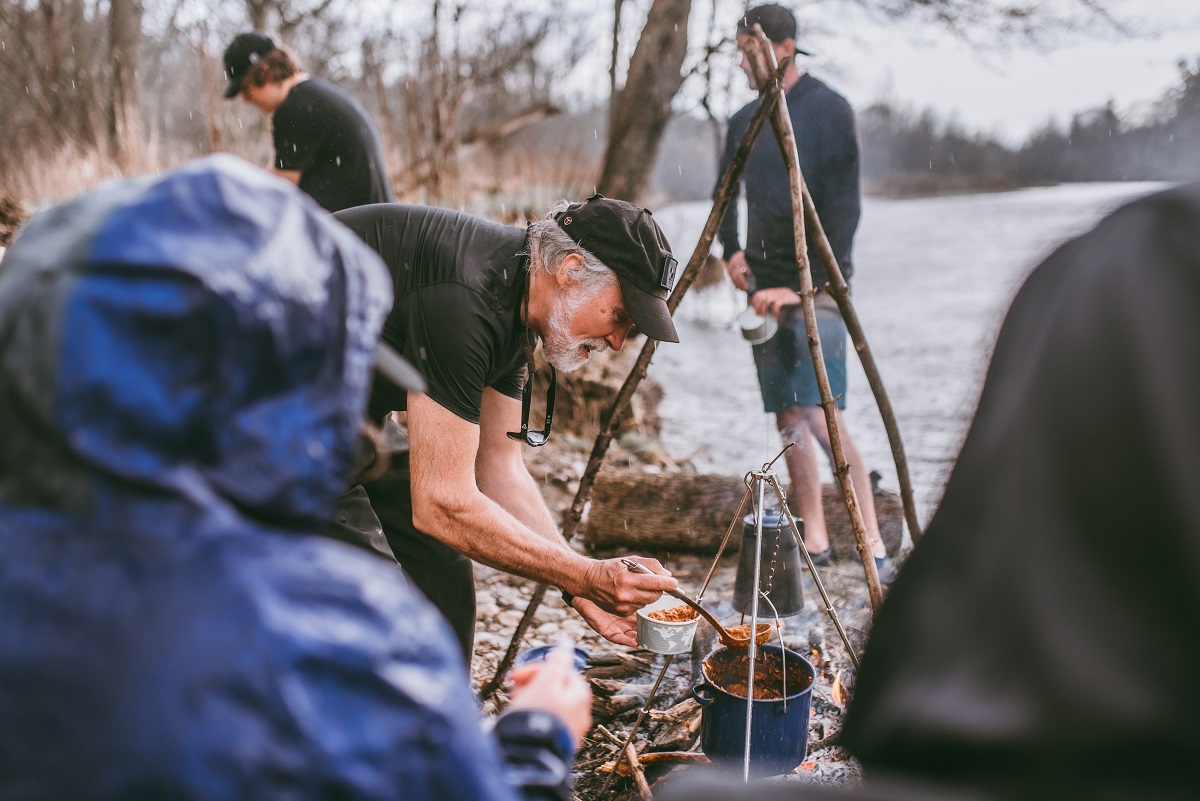 Just past the halfway point of our paddle, we pulled up along the shore for a delightful lunch!
Hungry from all that exercise, the team at Grand Rivers set about making a fire to warm a big pot of their homemade maple chilli over.
We enjoyed lunch along the shore, dipping fresh buns into the chilli and getting back in touch with our inner child to skip stones with the flat rocks we found along the shoreline.
The team also took this opportunity to educate us on what we could expect ahead on the river. Some more in-depth paddling instructions were given, including techniques for drawing and getting through the bigger rapids that we would see down the river.
All prepared for what was to come, we set out!
The Rapids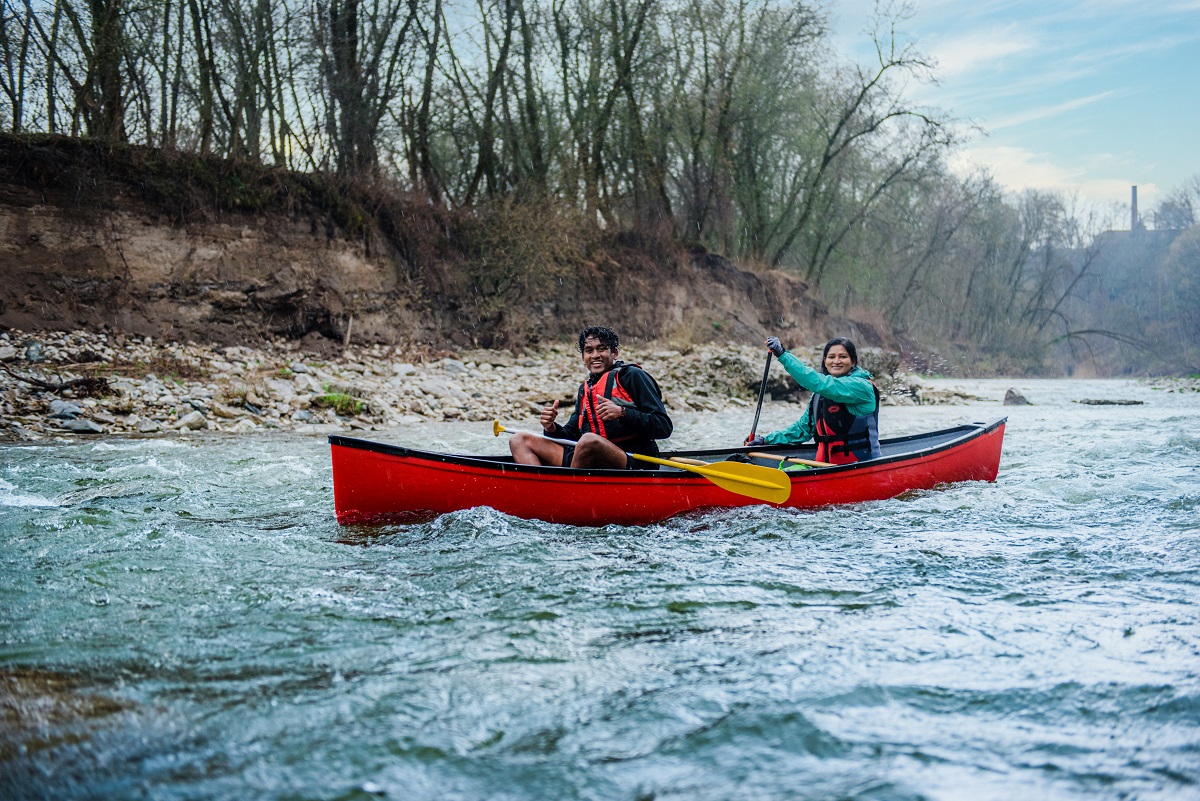 Now it was time to put what we'd learned throughout the day to good use!
The river was becoming more challenging and we were about to go through three sets of rapids: two straight and one that wrapped around a big curve in the river.
We watched as a few guides demonstrated how to go through and then it was time to go through ourselves. We had chosen to go out in a polyethylene canoe that day but you can also choose to paddle in a kayak, which most guides opted for.
Getting down onto our knees, we started heading through the rapids and they were certainly an adventure.
The first one was fun, the second one was really fun. The curve creates an odd pull with your canoe and we took on some water.
Think you want to get some serious air? Book yourself into a white water rafting tour!
Pulling over to the shore, we dumped the water out of our canoe (a definite team effort), then we set out for the final rapid.
Some furious paddling later and we were pulling up onto the shore in Paris, Ontario, all done our paddle.
With a definite feeling of accomplishment and awe at what we had seen (and experienced!), we left the river and awaited our shuttle back to our cars with majorly full hearts.
What You Should Know
We'll start with a few points about safety.
There is a chance you could tip your canoe and kayak on this trip (like us). You'll be in a life preserver and if you choose, a wet suit, so all should be good but there are some strong rapids so if you're not a swimmer, you may want to consider a more easy-going paddle.
The nice thing is, there are guides trained in swift water rescue so we felt quite safe.
Next, let's talk about the river. The Nith River can change quickly based on rain conditions, weather, etc. If you're looking for a great paddle with lots of rapids, spring is your time to shine but in some years, late fall can also offer rapids.
It's best to check with the folks at Grand Rapids who always have their fingers on the pulse. While the Lower Nith can only be paddled for a short season, the Upper Nith offers a much longer season with fewer rapids and the opportunity to go for a long, twisty paddle without seeing other people usually.
The folks at Grand Experiences do have dry bags for guests which is great. That being said, we still recommend packing as lightly as possible.
If somebody can drop you off and pick you up at the launch point so you don't need anything, that's even better! No worries if you take a few things as we did though.
Ahead of your trip, you'll also get a list of what to wear. These include things like quick-dry material, old sneakers or waterproof shoes and light, non-cotton clothing which gets heavy in the water.
That being said, if you're opting for a wet suit, that's not really an issue.
Luckily, Grand Experiences takes care of the rest- a major perk of paddling with them!
Quieter Paddles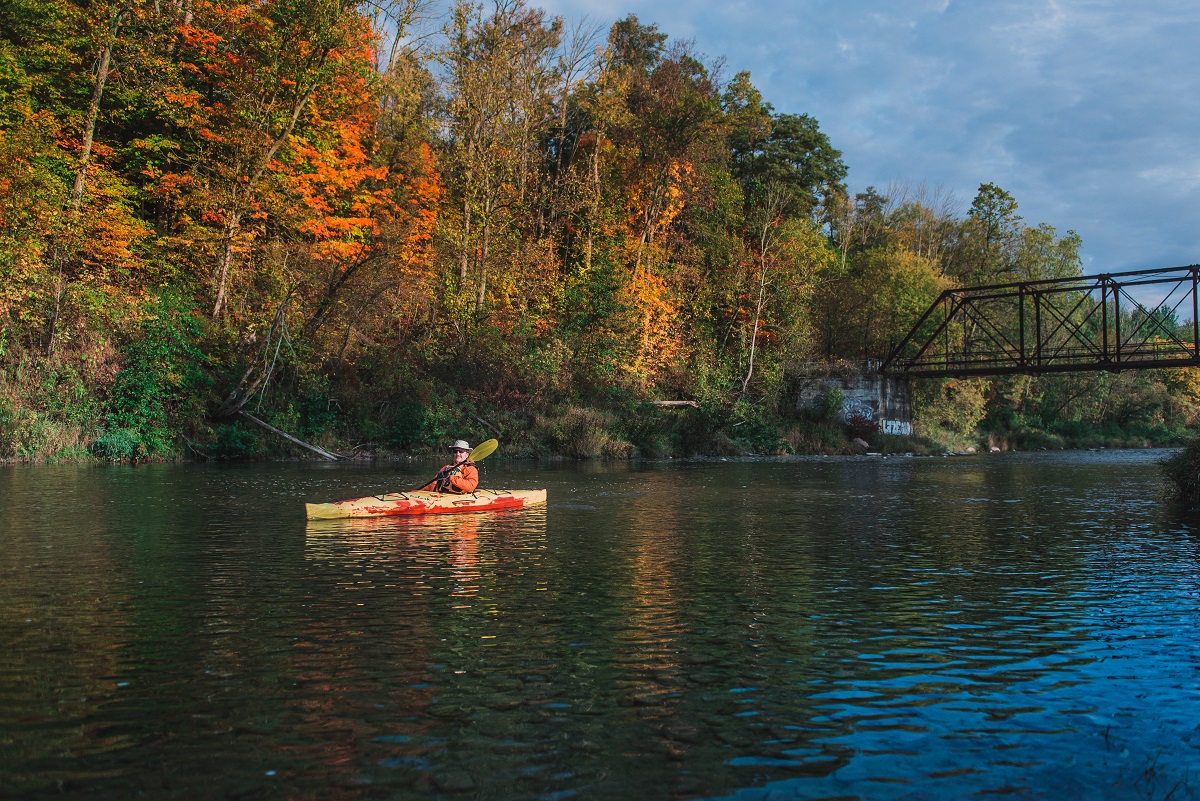 Love to paddle but not so sure about the rapids? No problem! Grand Experiences also does several other paddles that are equally scenic and unique but a little less adventurous.
Discover their paddling trips along The Grand River in Brant County (a designated Canadian heritage river), the Upper Nith, Big Creek and newly, the Otter Creek near Otterville and Tillsonburg.
If you're looking for a calming paddle is a really unique and still rarely explore spot, Otter Creek might be the paddle for you. Launching from Otterville, you'll discover this unique village and the creek that runs through it.
Grand Experiences also offers guided instructional canoe trips for those looking to really up their paddling game.
Other Excursions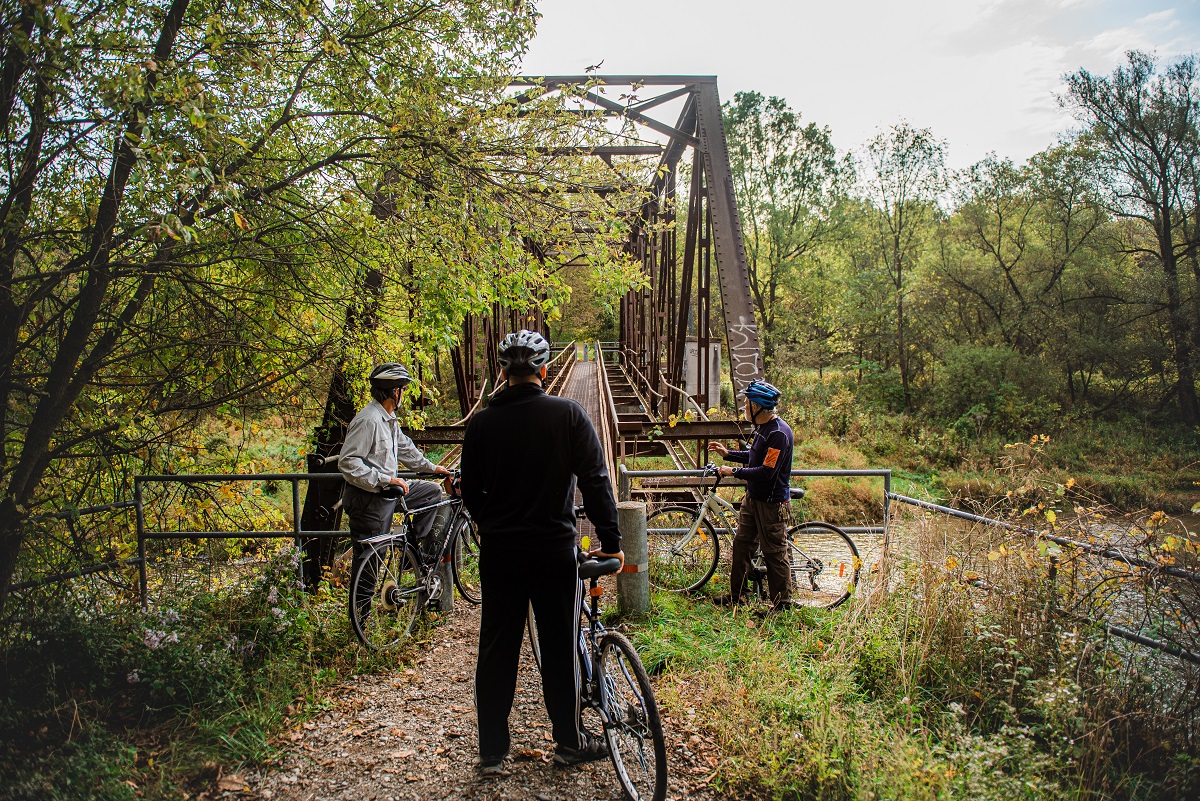 Keen to try some other adventures or pick up other new skills? Good on ya!
Grand Experiences offers hiking, cycling AND paddling adventures and even some hybrids so you can pick and choose what you'd like to try. Go for a beautiful cycle in rural Ontario and then stop for beers and food after? Done. An instructional paddle workshop where you'll really get to hone your skills? They have that too!
How about hiking a forgotten forest in the winter or cycling along the river's edge? These are all ways that you can explore Oxford County and beyond with Grand Experiences Outdoor Adventure Company!
See you on the river!
Have questions? Check out our frequently asked questions section or shoot us an email. We'd be happy to chat and help you plan your next visit to Oxford County!
I'd like to plan something custom for my group. Is that possible?
The folks at Grand Experiences are super flexible!
Contact
them to see how you can work together.
We'd like to make this an overnight. Where can we stay?
No worries! Check out our
accommodations
page for a full list of places to stay in Oxford County.
Do I need to bring my own equipment?
Nope! Whether you're biking or paddling, Grand Experiences will take care of the boats, paddles, bicycles, helmets and more. That being said, if you prefer to bring your own, that's ok too!
Trip Ideas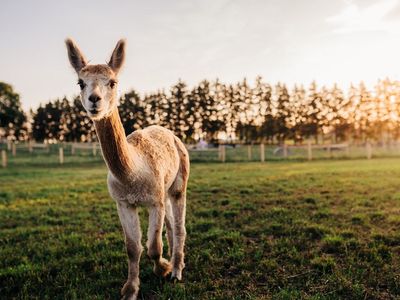 The time has never been better to explore Ontario's scenic back roads. Rather than a busy city or small...