Your Guide to the Oxford County Cheese Trail: Where to go, what to do and how to eat as much cheese as humanly possible
Exploring the Oxford County Cheese Trail is one delicious excursion but we know it can be a little overwhelming to digest all the info available. So we've made a round-up of info we think you should know when planning your Cheese Trail geta-whey.
A guide to the Oxford County Cheese Trail
It's time to discover The Oxford County Cheese Trail in all its oeey-gooey and oh-so-delicious glory.
You may find yourself wondering: What's open? What can I do? HOW CAN I POSSIBLY CRAM MORE AWARD-WINNING CHEESE INTO MY DIET?! Sit down and take a deep breath. We've got all the legendairy details to make your Cheese Trail getaway one to remember.
Now first thing's first! You should definitely download and print our Cheese Trail guide or email us for a hard copy.
Want to get the info you need quickly? Skip ahead:
How to Travel Along the Oxford County Cheese Trail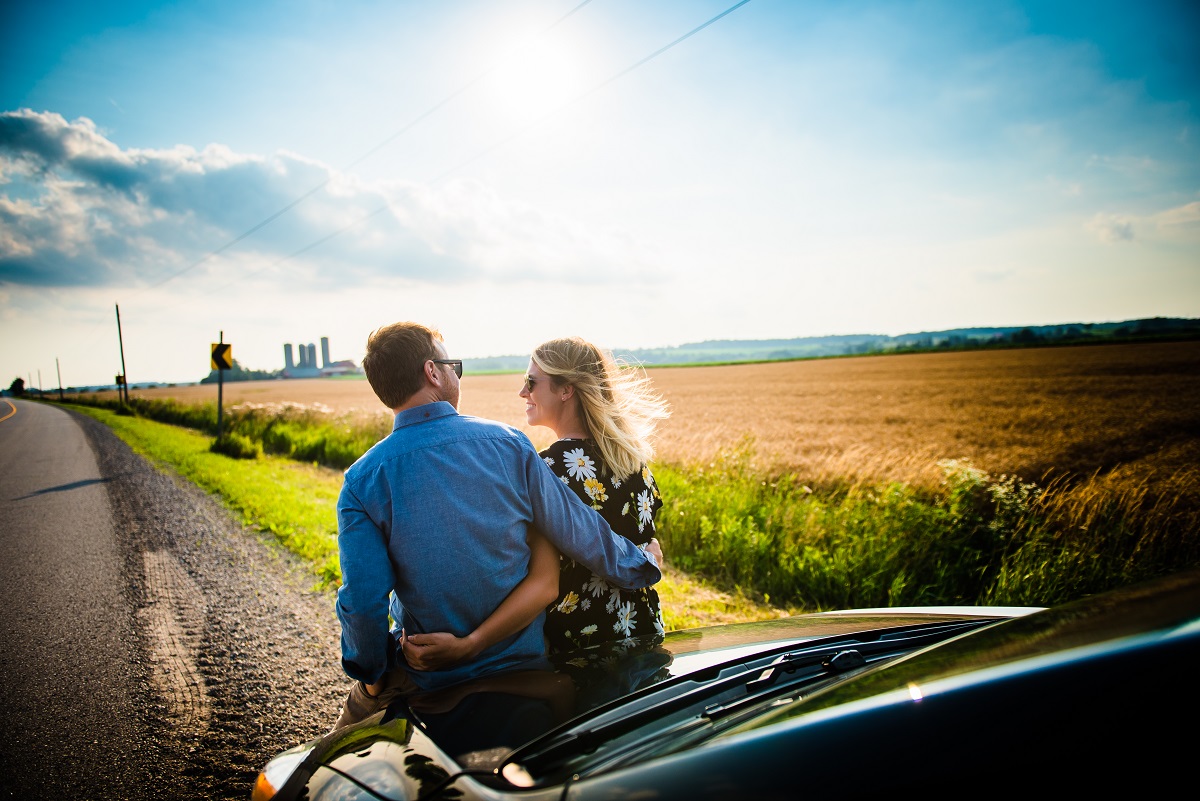 The Cheese Trail is a self-guided tour that runs all year long. With 24 cheese and dairy-related stops that spread across Oxford County. You drive to each one to enjoy incredibly cheesy flavours and activities.
With so many things to see (and eat), you couldn't possibly see all the stops in one day or even a weekend! That's why we recommend travelling by hub: Ingersoll, Woodstock and our rural stops. That way you'll get to see several stops in one area without having to drive too far.
Finally, we should note that the Cheese Trail does not have a single price or run on a particular day. These are businesses that are open with regular hours and their cheese offers are available for purchase. So for example, a local restaurant may feature a local cheese item on their menu (deep-fried curds, anyone?) as their Cheese Trail offer.
Where to Stay for an Un-brie-lievable Escape
The Elm Hurst Inn and Spa, 415 Harris St. Ingersoll, ON. (View Map)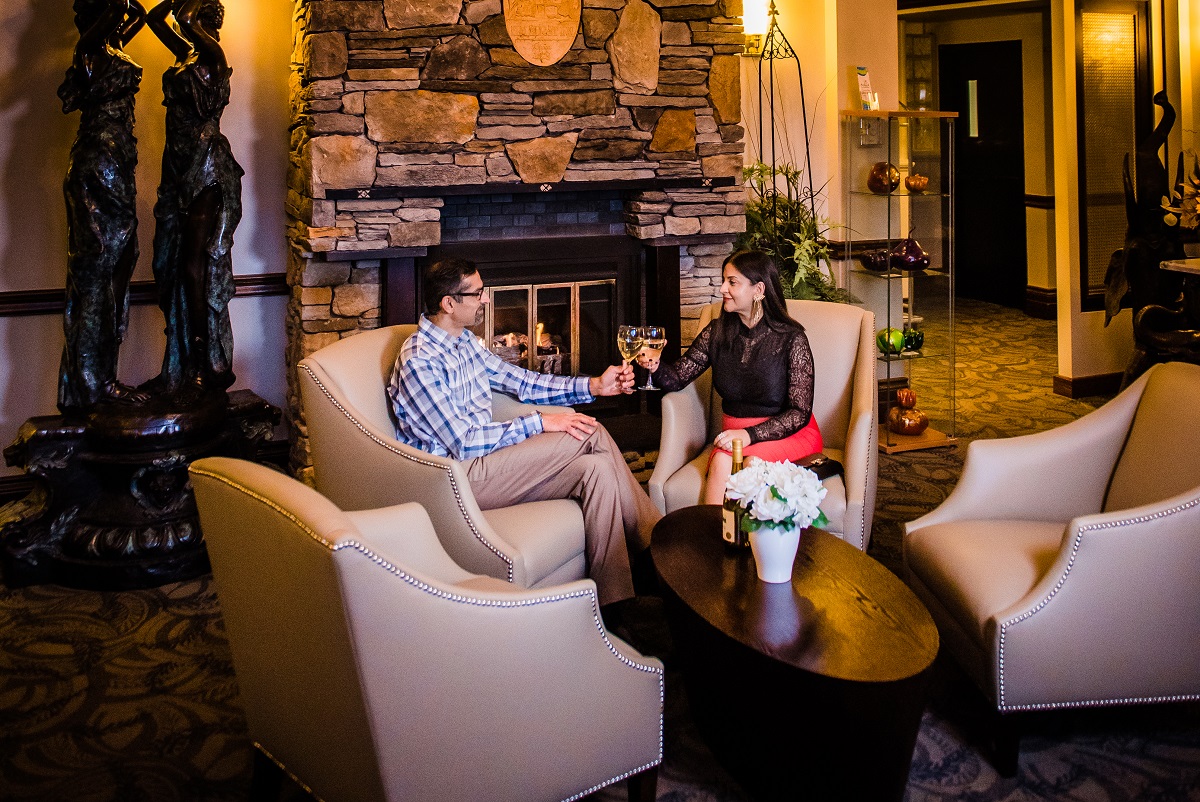 For those not familiar with The Elm Hurst Inn and Spa, let us paint a picture. Your drive along a tree-lined path to a stately mansion-turned inn. The grounds are stunning with water features and trails and the rooms are luxurious and cozy.
Built on the site of the infamous mammoth cheese, this home once belonged to renowned cheesemaker James Harris and has since been converted to the Ontario's Finest accommodation that stands there today.
If you're looking for a real treat (yes please), check out the Oxford County Cheese Trail Package. This package includes a tray of award-winning cheese found along the trail brought to your room with a bottle of local wine as well.
It's a great way to kick off your adventure! There is also a tasty restaurant on site where you can dine on the patio or have the food brought right to your room. Look at you getting all relaxed!
The Elm Hurst Inn is our official Cheese Trail accommodation but if you'd like some more ideas, you can check out our accommodations page.
Where to Eat
Several restaurants call the Cheese Trail home and each one has upped its menu by using our locally-crafted cheeses!
Woodstock Cheese Trail Restaurants
Where: The Brickhouse Brewpub, 190 Fairway Rd. Woodstock, ON. (View Map); Charles Dickens Pub, 505 Dundas St. Woodstock, ON. (View Map); SixThirtyNine, 639 Peel St. Woodstock, ON. (View Map)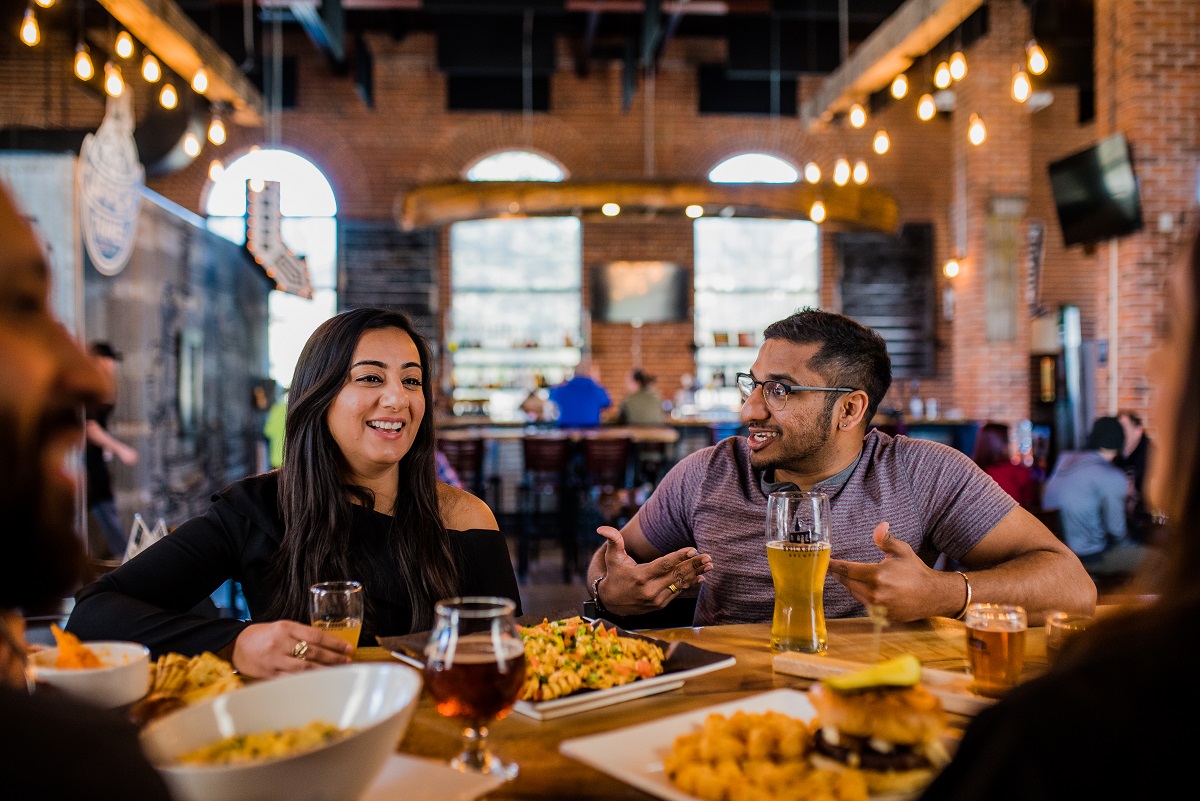 In Woodstock, you have a choice between delicious pub-style eats and casual fine dining.
The Brickhouse Brewpub serves up 24 Ontario independent craft beers including 12 made by their sister company and fellow Cheese Trail stop, Upper Thames Brewing Company. Stop here for a cozy atmosphere, a great patio and delicious cheese-beer combos like their house-made pretzels with beer cheese dip or their Timberbeast burger featuring Gunn's Hill cheese curds.
Across town, Charles Dickens Pub is owned by a British ex-pat who serves up amazing, classic pub food with some of their twists. For something truly spectacular, try their shepherd's pie or Mountainoak Cheese Philly Sandwich. Using almost every cheesemaker on the trail on their menu, you can always order a new dish! They also have a patio right on the main drag in the warmer months.
Finally, SixThirtyNine offers fine dining in a relaxed atmosphere. Discover a menu that changes with the season and always focuses on hyper-local ingredients. For their Cheese Trail offer, be sure to order the cheese arancini balls using 5 Brothers Cheese from Gunn's Hill Artisan Cheese. They also have a lovely outdoor seating area and the option to book a table right in the kitchen!
Ingersoll Cheese Trail Restaurants
Where: Louie's Pizza and Pasta, 440 Bell St. Ingersoll, ON. (View Map); The Olde Bakery Cafe, 120 Thames St. S. Ingersoll, ON. (View Map); The Elm Hurst Inn's Mansion Restaurant, 415 Harris St. Ingersoll, ON. (View Map)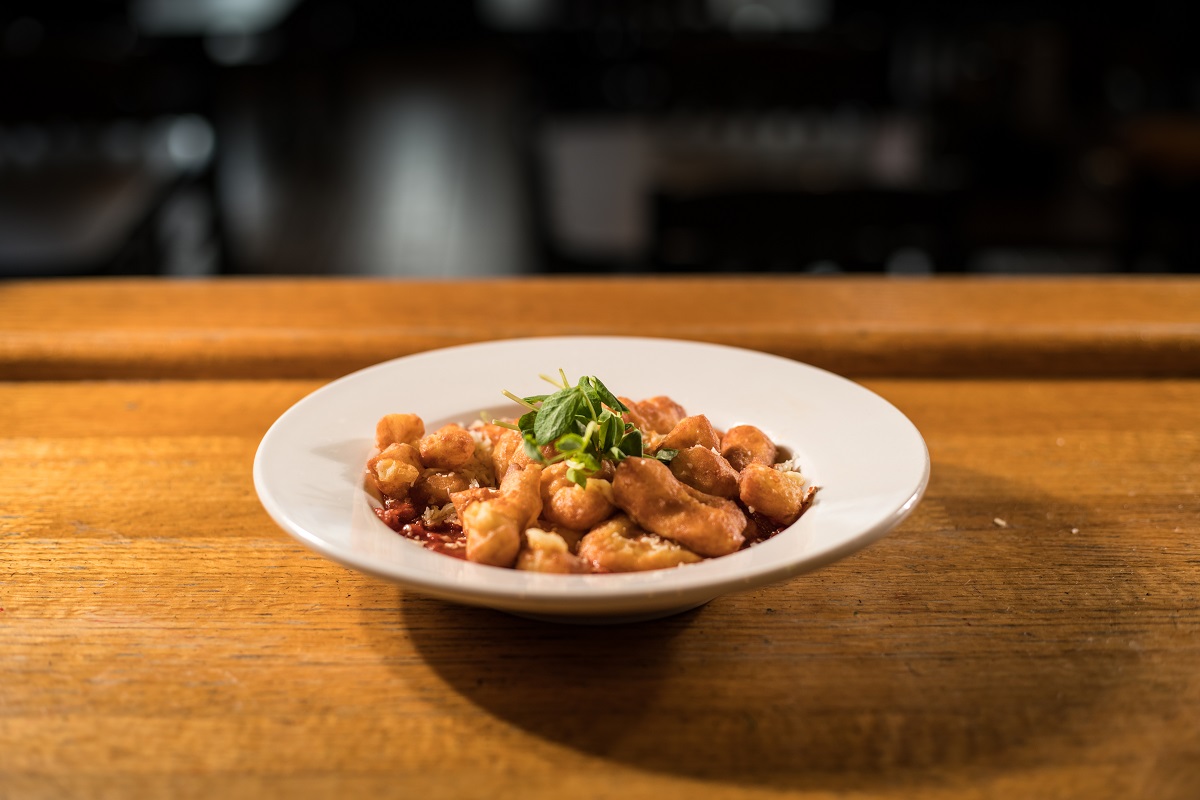 In Ingersoll, Louie's Pizza and Pasta will make you feel right at home when dining in-house or on the patio with a mammoth panzerotti, deep-fried curds or smoked mac n' cheese using Gunn's Hill Cheese. Featured on You Gotta Eat Here, it's an awesome stop for those travelling with wee ones in toe.
If you're looking for a light lunch, tasty breakfast or just an awesome cup of coffee, check out The Olde Bakery Cafe. This bakery features made-from-scratch baked goods as well as local coffee, sandwiches, scratch-soups and more. We love their Gunn's Hill Breakfast Sandwich and their cajetta latte made with local goat's milk caramel for a not-too-sweet kick.
Finally, The Mansion Restaurant at The Elm Hurst Inn welcomes people to sit inside the historic inn or on the patio for a cheese board featuring the Cheese Trail cheese makers or grilled lamb, seafood linguine and more. If you're staying the night (and indulging in their Cheese Trail package perhaps), be sure to check out their breakfast too. We love their eggs benedict!
Cheese Factories
From spots to tour and learn about the cheese-making process to filling up your cooler with all that cheesy delight, we've got you covered.
To Shop in House
Where: Mountainoak Cheese, 3165 Huron Rd. New Hamburg, ON. (View Map) or Gunn's Hill Artisan Cheese, 445172 Gunn's Hill Road, Woodstock, ON. (View Map), Red Dragon Dairy, 383723 Salford Rd. Salford, ON. (View Map)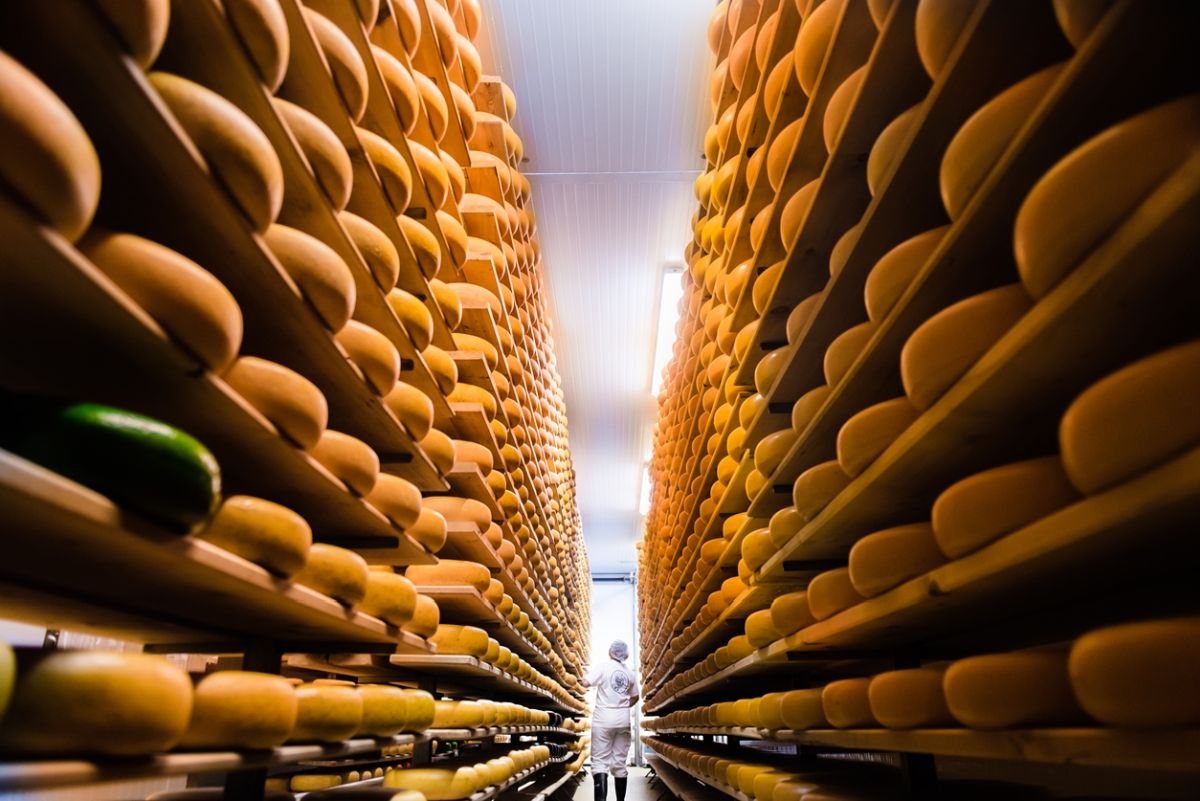 Over 20 different varieties of beautifully aged gouda cheeses await at Mountainoak in New Hamburg. This cheese factory is run by Adam and Hannie Van Beirjeik who studied cheese making in the city of Gouda before coming to Canada and knocking our socks off with amazing multi-award-winning cheese. While you're there be sure to try their fresh curds and quark too!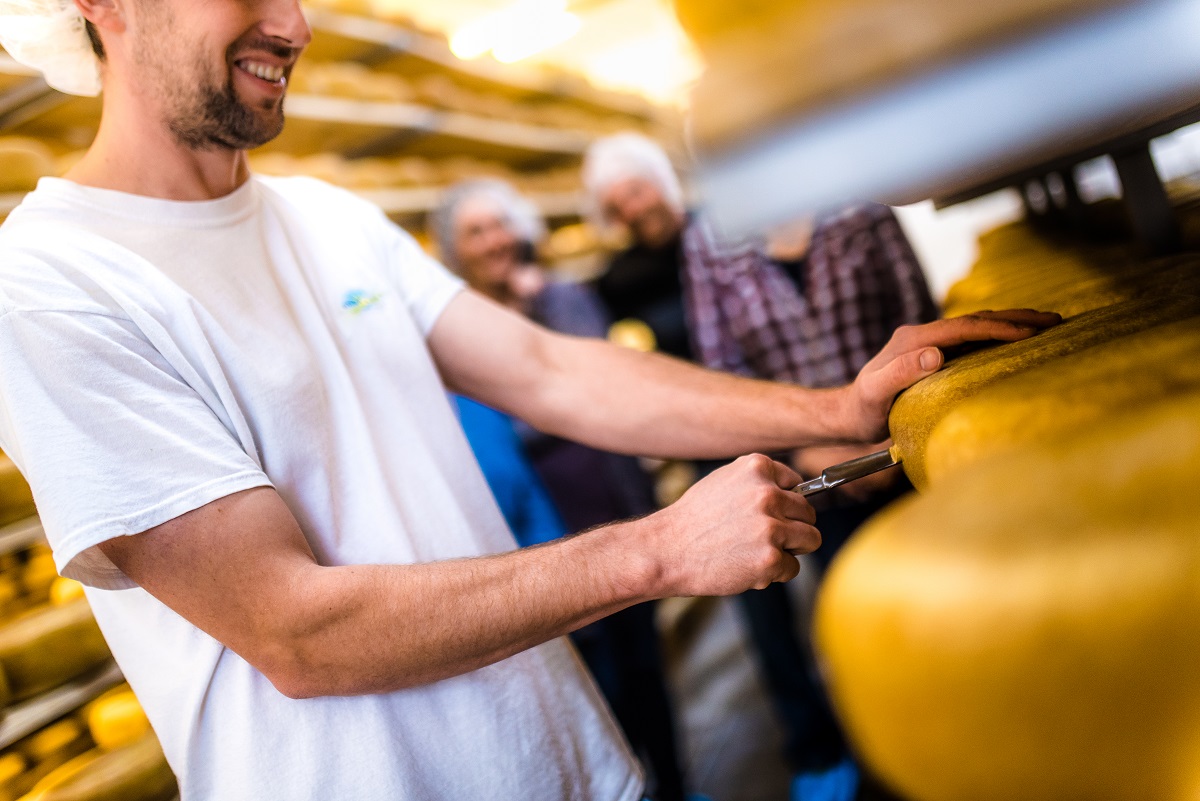 Gunn's Hill is nestled on a quiet gravel road just outside of Woodstock. Known for their Swiss-inspired cheeses crafted by cheesemaker Shep Ysselstein, this popular cheese destination is a can't-miss stop along the trail.
Shop their fantastic cheeses in the farm store as you look onto the production through a viewing window and shop some other local goods if you're so inclined! If the weather is nice, you can purchase a cheese-tasting plate to enjoy out on the picnic tables.
Red Dragon Dairy in Salford specializes in sheep's milk cheeses that are lovely additions to any dinner plate. Their brand-new facility is a wonderful addition to the trail and so is their cheese, of course! From pecorino and gruyere to cream cheeses, yogurt and more, there are so many new ways to enjoy.
Red Dragon also sells several other local goods like fresh produce, coffee and chocolate as well as a lovely selection of United Kingdom treats like chocolate, juice concentrate, curry sauce and more!
Curbside Pickup
Where: Bright Cheese and Butter, 816503 Oxford Rd. 22, Bright, ON. (View Map)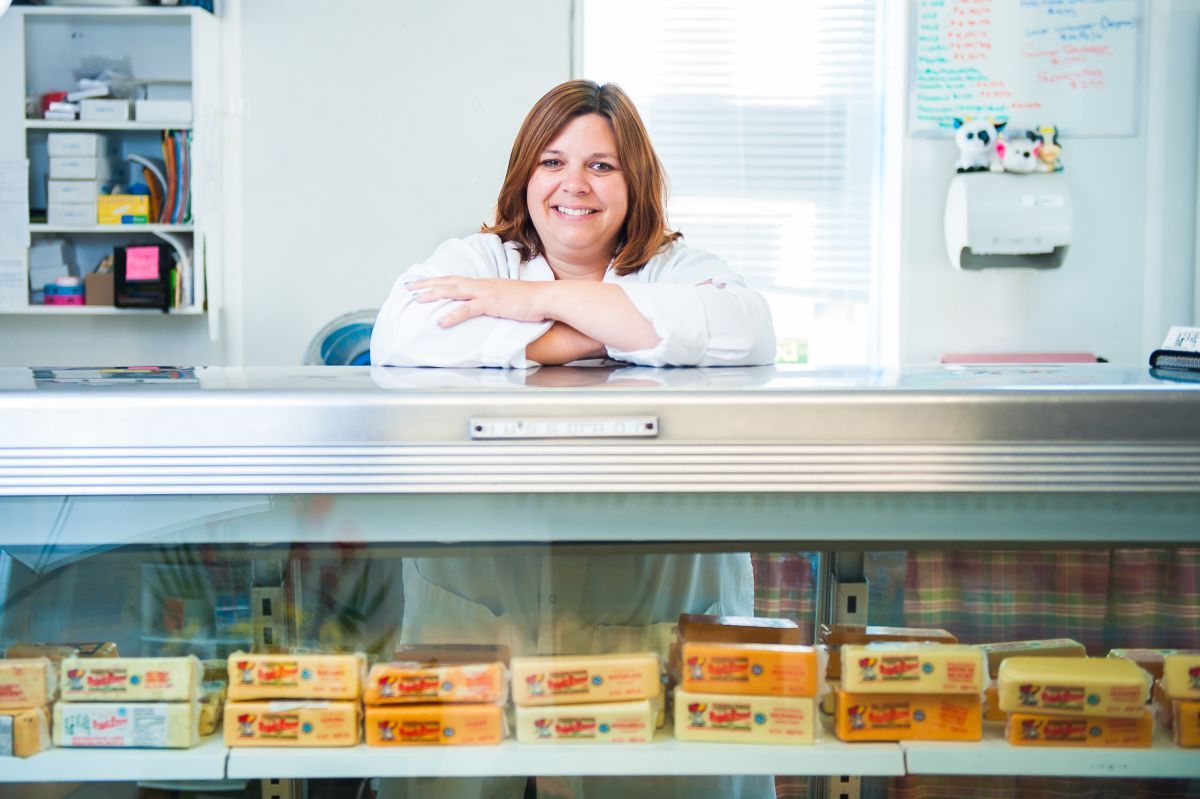 Oooh, we love Bright Cheese and Butter! From simply better cheddars to an out-of-this-world asiago, Bright has been perfecting cheese making in Oxford County since the 1800s and is the trail's oldest cheesemaker.
Currently, Bright Cheese and Butter is only open for curbside pickup as they are undergoing construction but be sure to call them at (519) 454-8600 to place an order for pickup! It's worth it.
Other Foodie Stops + Retail
What would the Cheese Trail be without some snacks in between meals and cheese factory tours?
Woodstock Foodie Stops + Retail
Where: Habitual Chocolate, 389 Dundas St. Woodstock, ON. (View Map), Upper Thames Brewing Company, 225 Bysham Park Dr. #9, Woodstock, ON. (View Map), Your Farm Market, 39 Young St. Woodstock, ON. (View Map)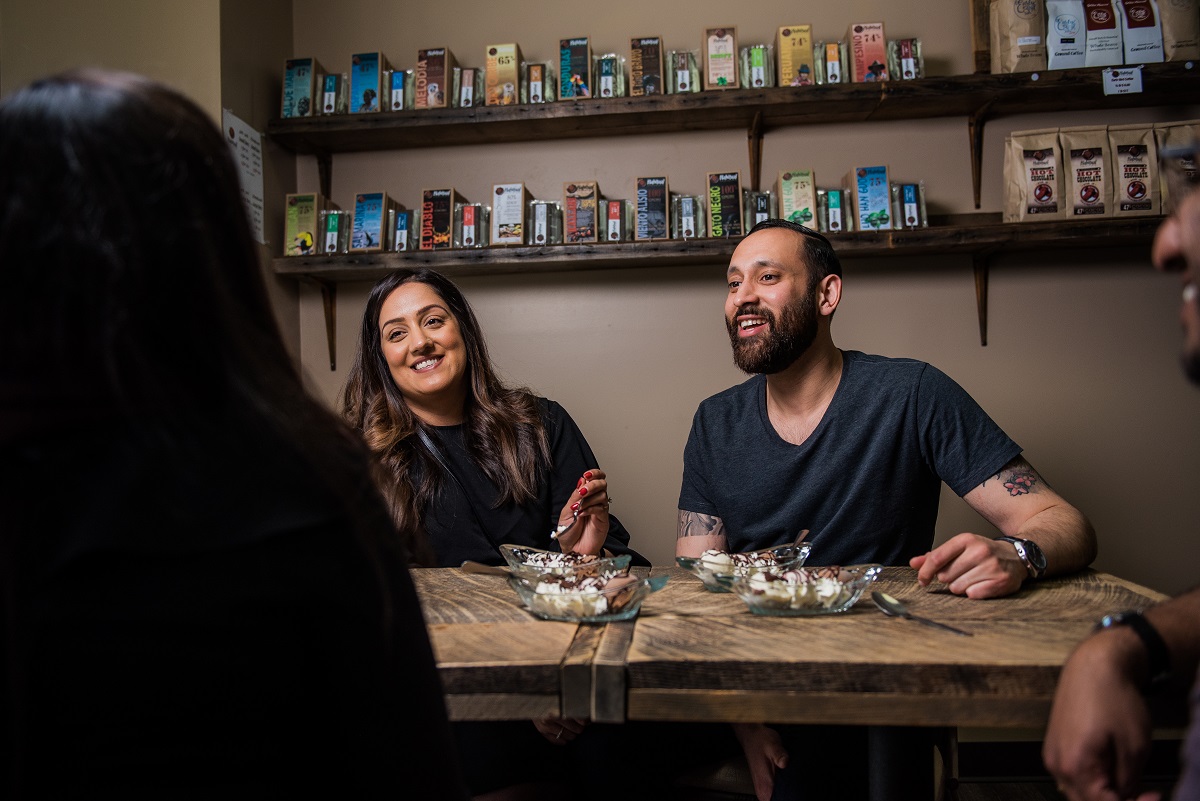 Habitual Chocolate in downtown Woodstock is run by Philippe Lehner, a Swiss, artisan chocolatier with a passion for making delicious bars with just a few ingredients.
Much like a wine tasting, a chocolate tasting at Habitual is all about the growing region of the cacao beans and what flavours that brings out in the bar. He doesn't add artificial flavours so you can taste the differences between each bar. For their Cheese Trail offer, Habitual crafts ice cream right in-house using local milk and other local flavours like coffee, strawberries and even beer.
Try their Cheese Trail sampler ice cream pack which includes beer ice cream using beer from Upper Thames Brewing, chocolate drizzle using their chocolate, local fruit or produce ice cream that rotates seasonally and a brie ice cream using Gunn's Hill Artisan Cheese's brie. It's out of this world.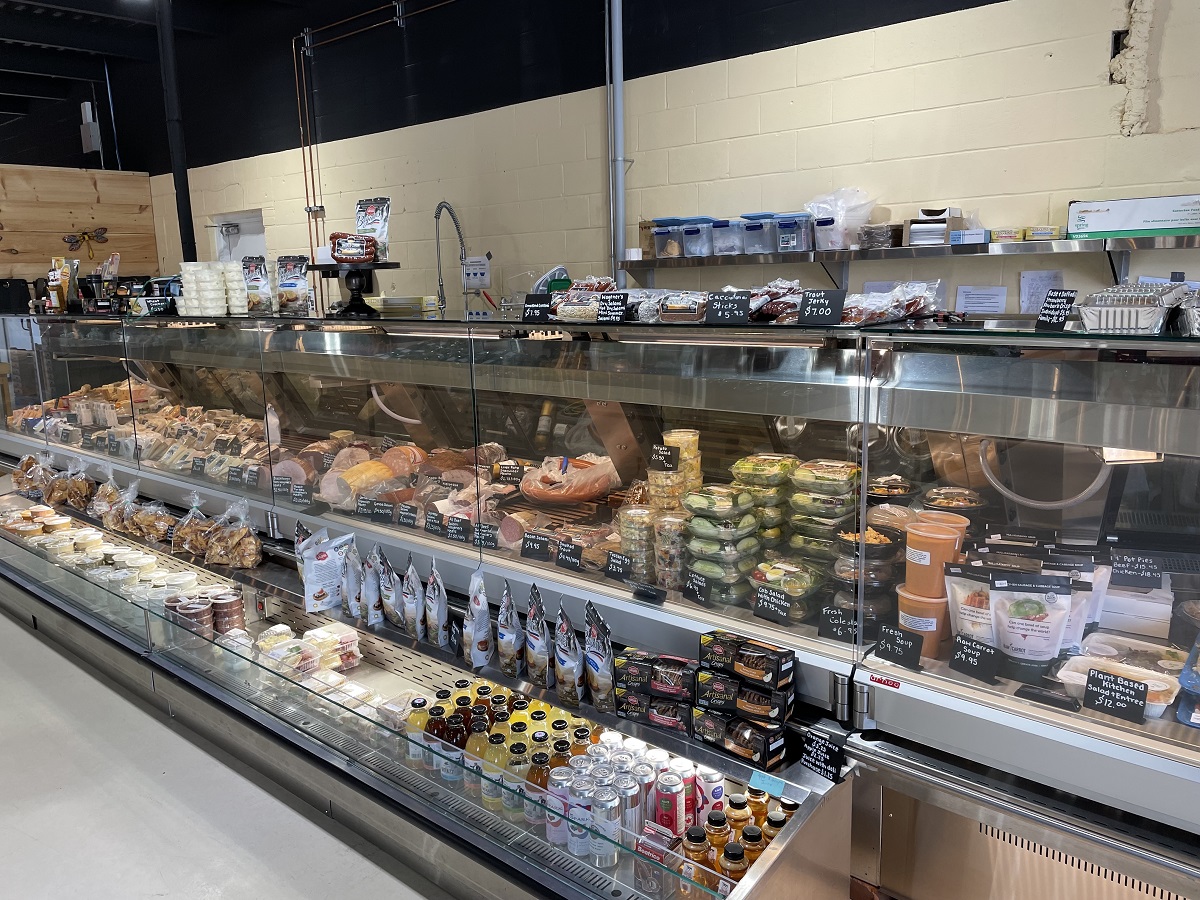 Not too far away, Your Farm Market is a great spot to do all your grocery shopping locally. From fresh produce from neighbouring farms to local cold brew, baked goods, bread and root beer, you'll be able to find tons of local goodness all in one place.
We love them for their epic cheese counter and deli which features every single cheesemaker on the trail as well as a few others! Want to go for a picnic? Pick up their Staff Pick Cheese Trail Sampler Pack for a delicious treat to settle down with.
Across town, Upper Thames Brewing Company makes delicious craft beer, always with local in mind.
Try their Dark Side of the Moo Flight which features a sampler of Habitual Chocolate, their Welcome to the Dark Side stout which is made with Habitual Chocolate's cacao nibs and Dark Side fo the Moo cheese from Gunn's Hill which is bathed in that beer! It's all about partnership.
Ingersoll Foodie Stops + Retail
Where: Ingersoll Wine Cellar + Cheese Shop, 118 Thames St. S. Ingersoll, ON. (View Map), Patina's Gifts of Art & Craft, 112 Thames St. S. Ingersoll, ON. (View Map)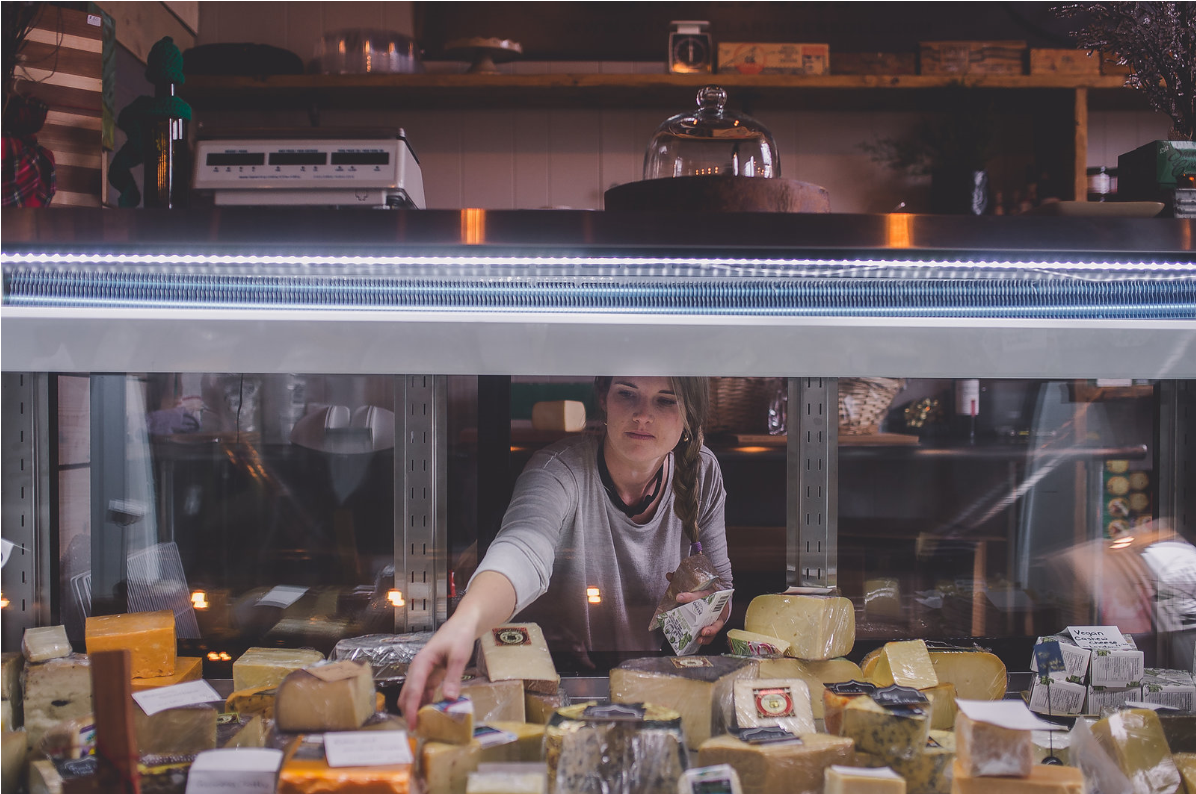 The Wine Cellar and Cheese Shop in Ingersoll is a grate place to stock up on all the accoutrements and condiments for your next cheese board. Perhaps the one you'll make when you get home with all this delicious cheese?
Shop a variety of local and international cheeses as well as Ontario-made condiments (think jams, jellies and mustards), charcuterie and cheese accessories like fondue pots and raclette sets.
On the next block down, Patina's Gifts of Art & Craft sells a huge selection of Canadian-made pottery, games for kids, select clothing, jewellery and home decor. We love their beautiful pottery brie bakers! They make the perfect hosting gift or addition to your collection.
Rural Foodie Stops + Retail
Where: Greener Pastures Eco Farm, 774766 Oxford Rd. 14 (View Map), Thames River Melons,765875 Township Rd. 5, Innerkip, ON. (View Map), Jakeman's Maple Farm, 454414 Trillium Line, Beachville, ON. (View Map), Udderly Ridiculous Farm Life, 906200 Township Rd. 12 Bright, ON. (View Map), Coyle's Country Store, 244282 Airport Rd. Tillsonburg, ON. (View Map), Wild Comfort Body Care, 445300 Gunn's Hill Rd. Woodstock, ON. (View Map)
In addition to all those delicious foodie and retail stops in our small towns and cities, our rural stops need some love too! Here you'll find beautiful scenery, more amazing flavours and lots of wide-open spaces.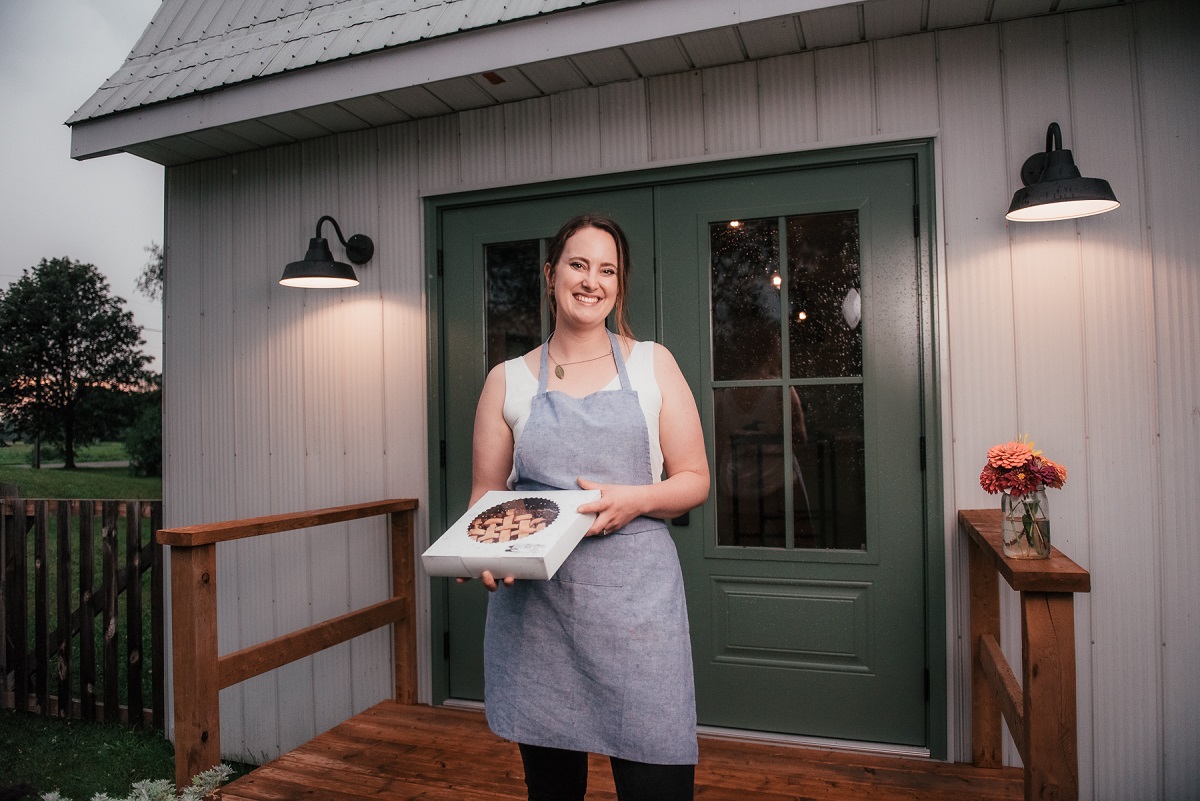 Thames River Melons is a beautiful produce farm where you can pick your fruits and veggies. Visit their farm store to shop their signature melons (even yellow watermelon!), produce that ranges from raspberries to leeks, fresh baked goods and their homemade condiments that use their produce. We love their onion scape jelly as an addition to any cheeseboard.
Udderly Ridiculous Farm Life is a spot you'll want to check out time and again. This farm which is home to the award-winning Udderly Ridiculous goat milk ice cream also runs several awesome experiences that bring you into the heart of the farm. More about that later! Shop their farm store to grab some ice cream or several other Ontario-made goods like goat milk cheeses, sparkling wine and more.
Just outside of Woodstock, Greener Pastures Eco Farm focuses on farming with the environment in mind. They raise rotationally-grazed beef, pork and chicken and also have several other local groceries inside their farm store. Want to know more? Book a tour of the farm in advance.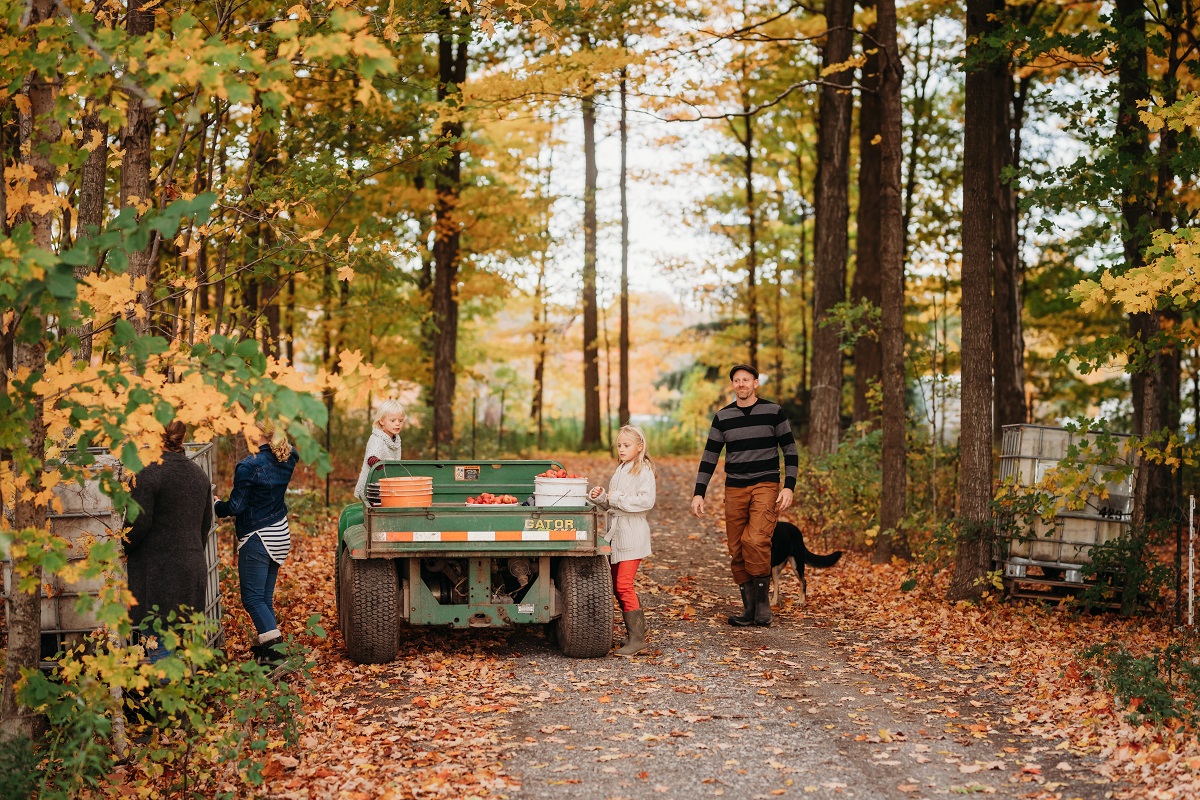 Not far away, Wild Comfort Body Care makes soaps using natural ingredients in-house. You'll be greeted by a delightful scent at the door as you peruse their skincare products. We love their cheese trail offer which is a soap made using local goat's milk for an extra-luxurious wash.
Jakeman's Maple Farm can be a quick addition to stops in Woodstock or Ingersoll. Located in the small village of Sweaburg, this maple farm and store has all the mapley goodness you can get your hands on.
Maple cotton candy, maple coffee and even maple popcorn line the shelves. Try their cheese trail offer, a maple cranberry brie-making kit or their signature maple ice wine syrup for a sweet treat that makes anything taste like blueberry pancakes!
In Tillsonburg, Coyle's Country Store has been a staple in Oxford for well over 100 years and is known for its wonderful selection of confectionery products, roasted nuts and home decor. Try their Cheese Trail Trail Mix if you're looking for a quick and delicious snack on the go!
Cheese Trail Experiences
One of our favourite ways to travel the trail is by adding in a hands-on experience where visitors can interact with local artisans and food producers and create or enjoy something together.
Udderly Ridiculous Experiences
Where: Udderly Ridiculous Farm Life, 906200 Township Rd. 12, Bright, ON. (View Map)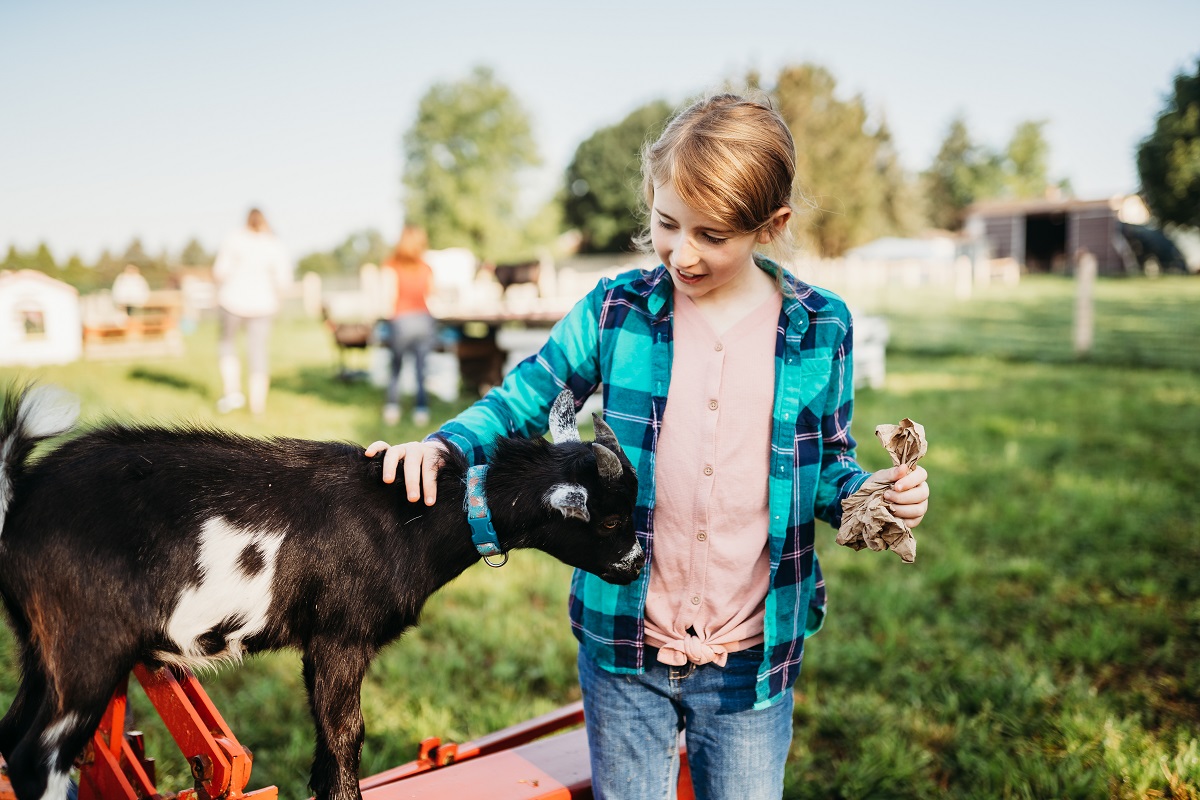 Goat yoga, alpaca encounters and some ice cream that couldn't be cheddar await you at Udderly Ridiculous Farm Life, our newest Cheese Trail partner.
Co-owner Cheryl Haskett has dreamt up some truly unique and fun ways to get you engaging with the farm including their signature Taste of Farm Life experience where you'll get to walk an alpaca with a friend, play with goats, eat ice cream (duh) and see the farm through Cheryl's eyes- a former city dweller turned farm girl.
You're sure to walk away with a full belly and a newfound appreciation and humour for what rural living is.
Want a slightly shorter experience that is just as sweet? No worries! Udderly Ridiculous has an array of experiences including picnics with alpacas, goat recess, alpaca walks, alpaca encounters and goat yoga!
Harvest Brunch
Where: Thames River Melons' Pick-Your-Own Patch and Farm Market, 775530 Blandford Rd. Innerkip, ON. (View Map)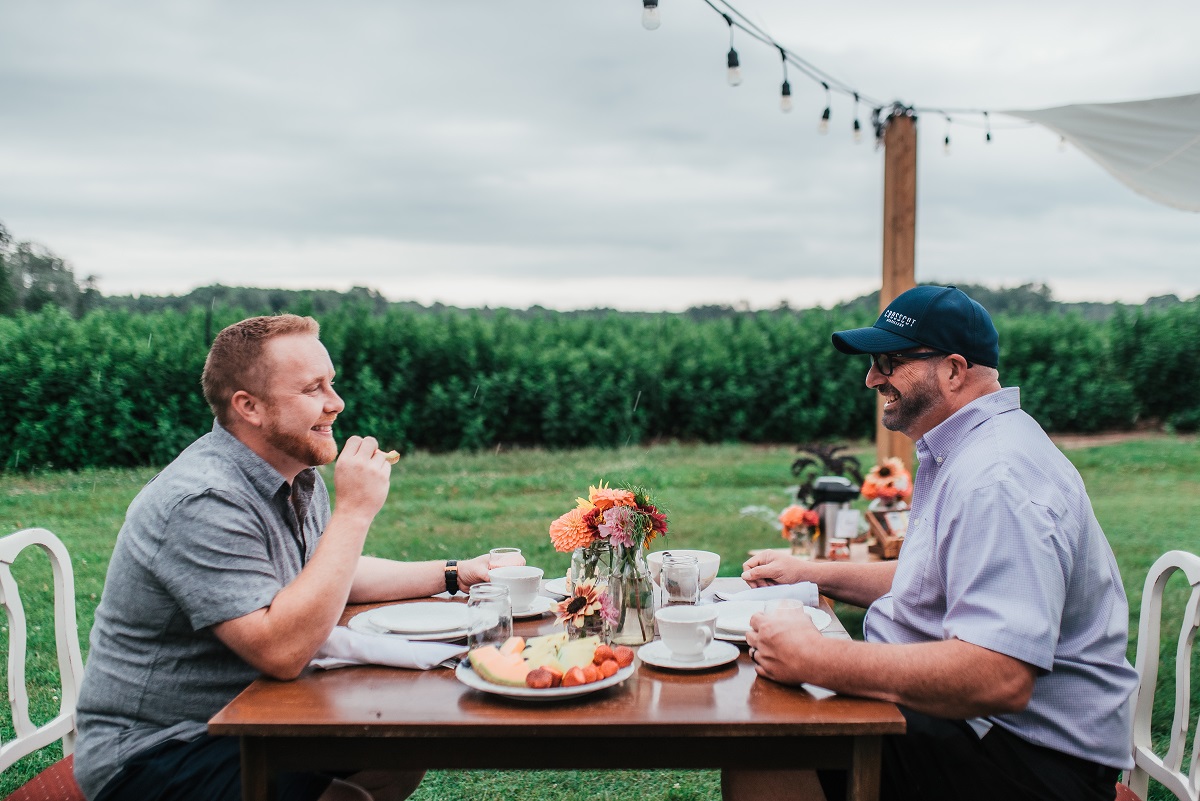 Thames River Melons has just launched their brand new Harvest Brunch experience! Join registered dietician and farmer, Alex Chesney, out in the farm field as you harvest the ingredients to make your brunch!
Next, you'll head into the farm kitchen to craft a beautiful and simple frittata and some delicious oven potatoes.
Finally, you'll gather with your group around a beautiful long table brunch either outside on the farm or if the weather is poor, inside their brand new event space. Savour local coffee, fresh produce from the farm and of course, the fruits of your labour.
Tree to Table
Where: Ottercreek Woodworks, Tillsonburg, ON.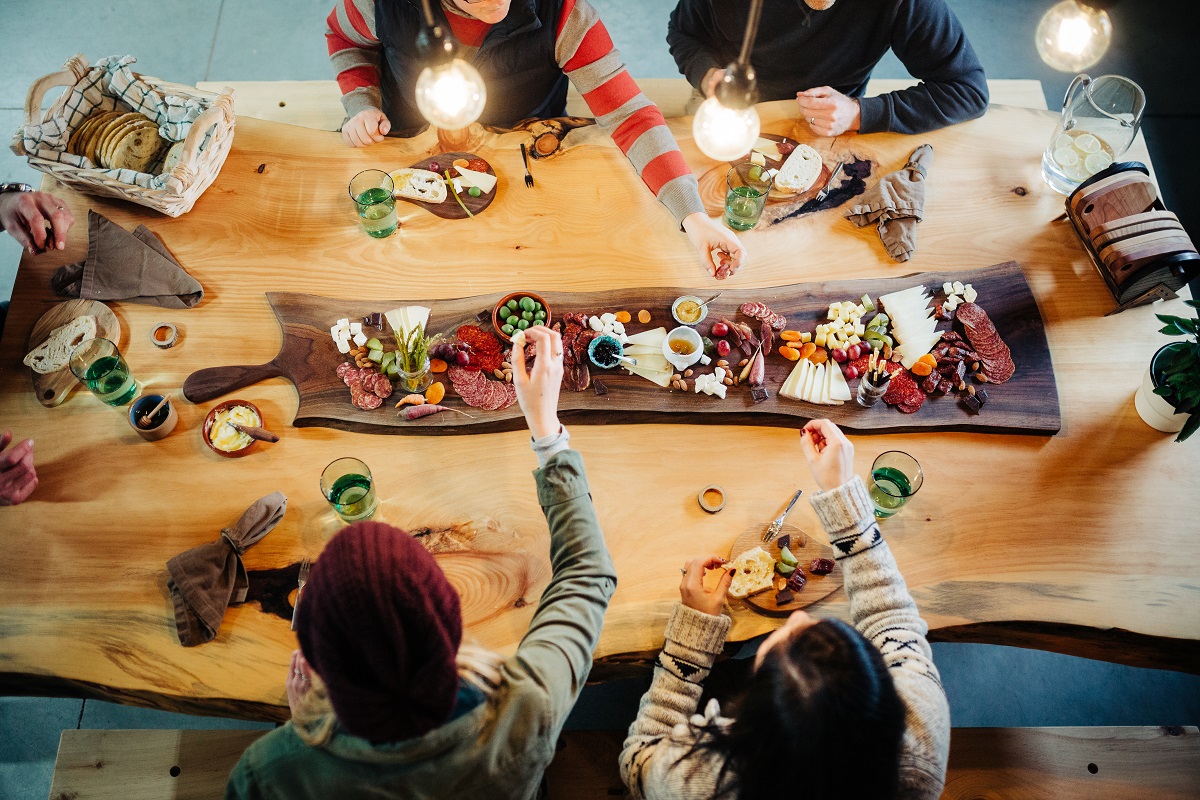 Reconnect with Mother Nature as you join artisan woodworker David Schonberger for a build-your-own charcuterie board experience. You'll start the day around the fire before joining David on a guided forest walk.
Next, you'll head back to his woodshop to craft your board out of sustainably sourced, raw wood. Using a wide variety of tools including some of David's grandfather's, you'll finish the day with a beautiful piece you'll be proud to display and use at home!
Finally, gather around the feasting table for a delicious spread of local charcuterie and great conversation.
Affinage 101
Where: Gunn's Hill Artisan Cheese, 445172 Gunn's Hill Rd, Woodstock, ON. (View Map)
Please note this experience is currently on hold due to COVID-19. Stay tuned to Gunn's Hill's website for details.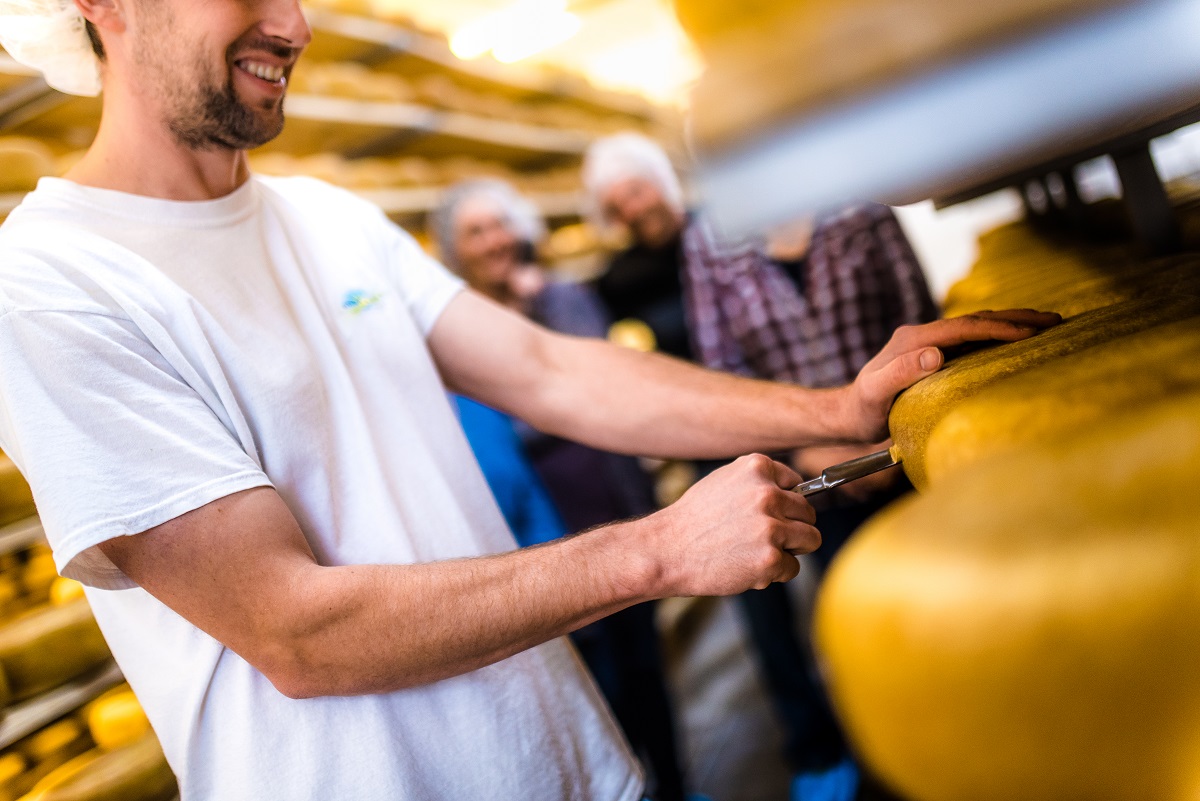 Learn about the art of ageing cheese with cheesemaker Shep Ysselstein of Gunn's Hill Artisan Cheese. You'll join Shep in the ageing room as he shows you the ins and outs of flipping and washing wheels of cheese.
Next, join Shep for a side-by-side tasting of their award-winning cheeses from different batches and ageing lengths. You'll be amazed at the differences!
Finally, gather round in the milk bay as you craft a few different fondues using their cheese to enjoy as a group with some tasty, crusty bread.
Chef's Table
Where: SixThirtyNine, 639 Peel St. Woodstock, ON. (View Map)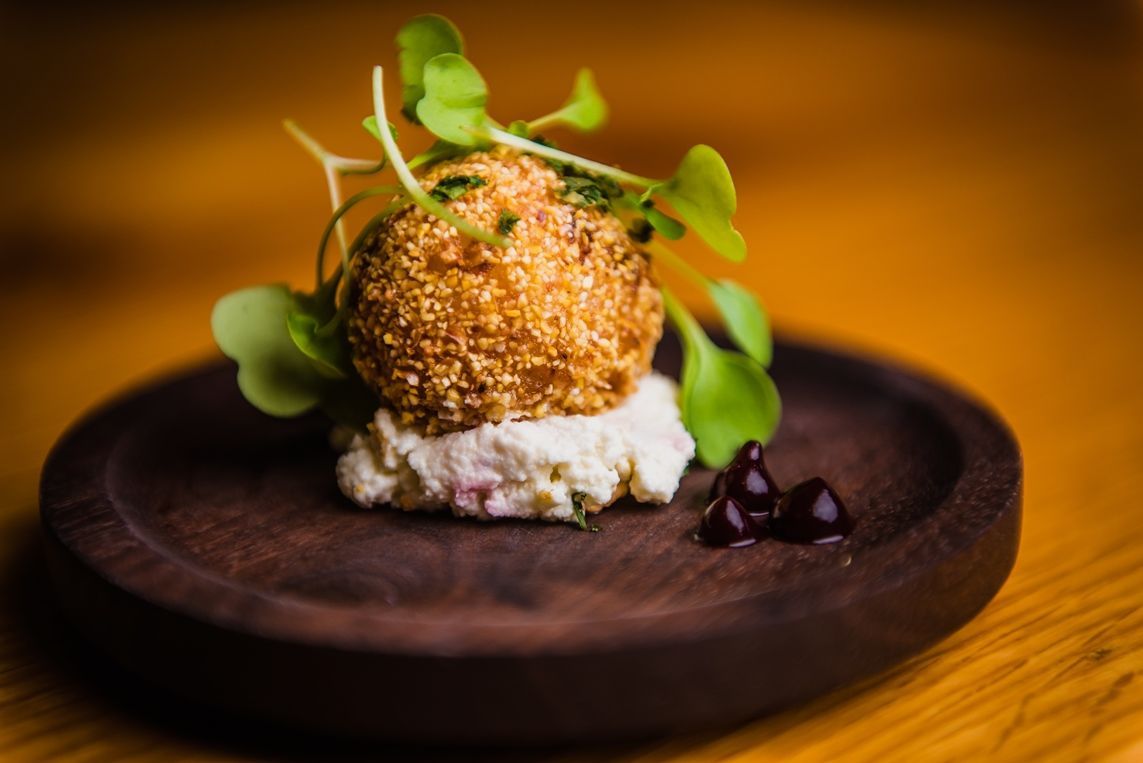 Dine in the heart of the kitchen at SixThirtyNine in the Chef's Table Experience. You'll get the chance to watch as your delicious dinner comes to life before your eyes.
Chat with the chef, enjoy some special tastes along the way, and most importantly, eat a great meal with a cool view.
Soap and Solace
Where: Wild Comfort Body Care, 445300 Gunn's Hill Rd, Woodstock, ON. (View Map)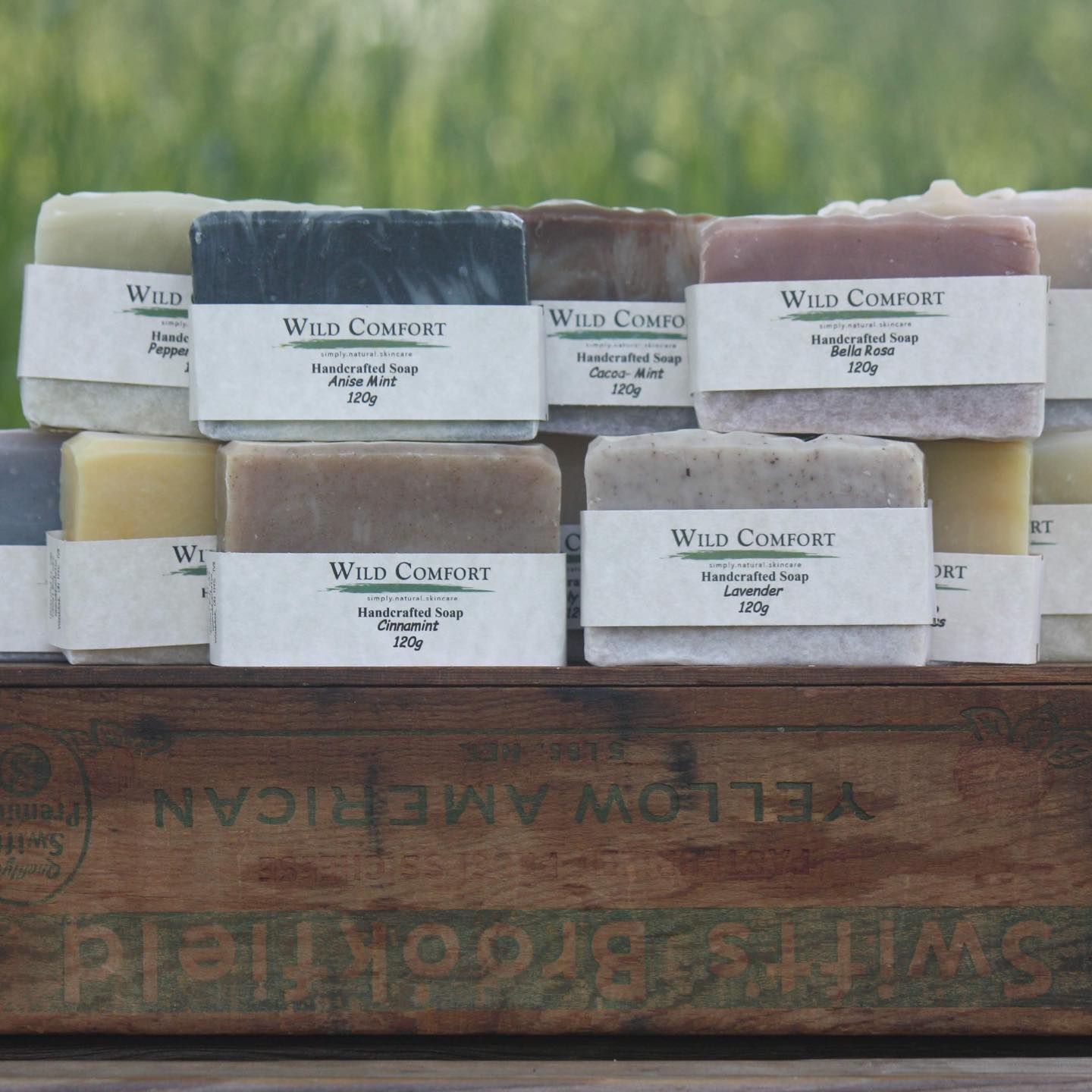 Join owner and soapmaker Danielle Paluska in her workshop. This experience is all about relaxing and reconnecting with yourself as you make your batch of soap. Choose the natural colours and scents that go into your soap as you're guided along by Danielle.
Next, learn to felt a bar of soap so that you have something to use when you get home while your batch of soap ages.
So, what are you wheyting for? Oxford County's back roads and wide-open spaces are here when you're ready.
We hope to see you soon!
Whether you're coming for a day, a weekend or your next vacation, we can't wait for you to #TryTheTrail.
What are the best days to try the trail?
You can explore the Cheese Trail any day! That being said, cheese factory tours are currently available for Saturdays only. It's also important to note that several stops are closed on Sundays and Mondays.
Do I have to purchase a pass?
Nope! The Cheese Trail is self-exploratory meaning you go to whichever stops you want to visit during regular visiting hours. Cheese Trail offers are available for purchase.
I'm still overwhelmed by the info. Can you help me plan my trip?
Absolutely! We're in the office Monday-Friday between 8 am and 4 pm.
Send us an email
and try to give us a week's notice before your trip if possible.